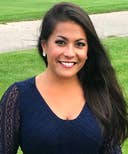 Heather Brinkmann
Senior Digital Content Producer and Meteorologist
Heather Brinkmann is a Meteorologist and Senior Digital Producer for the FOX Weather team. 
Heather was born in Honolulu, Hawaii, but grew up in Aurora, Illinois, a suburb of Chicago. She graduated with her degree in Meteorology and a minor in Journalism from Northern Illinois University. Heather has lived all over the United States and has experienced everything from hurricanes in New Orleans to tornadoes in Texas to blizzards in Green Bay. She even chases tornadoes from time to time! While she enjoys covering weather in all parts of the country, she currently lives in Denver, Colorado, where she says it is the perfect mix of all weather. 
When Heather isn't standing around staring at clouds, you can find her playing and watching football, checking out the newest restaurants, or hiking with her husband and two dogs, Dirk and Halen.