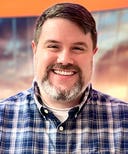 Aaron Barker
Aaron Barker has been a senior digital content producer at FOX Weather since 2021.
He is an award-winning journalist based in Houston, Texas, who is also a meteorologist.
Aaron grew up in Alabama. He is also an alumnus of Mississippi State University and has worked all over the U.S.
During his time in Houston, he has covered major weather events such as Hurricane Harvey, Tropical Storm Imelda and the Great Texas Freeze.
In his free time, Aaron enjoys photography, a good plate of barbecue and spending time with his dachshund-beagle mix named Addison.