What you should do if you encounter a downed power line
Extreme weather can take down power lines, adding an extra layer of danger to a post-storm environment.
Power lines crisscrossing the country bring electricity into our homes and businesses, but those lines can be taken down by a variety of extreme weather.
From hurricanes to tornadoes to ice storms, downed power lines add another element of danger to an already frenzied recovery process.
Here's what you should do if you come across a fallen or damaged power line.
Stay away
According to guidance from Pacific Gas and Electric, people should assume that any felled power line is energized and stay far away from them.  
"When a live wire touches the ground, electricity fans out through the ground, similar to when a pebble hits water," safety guidance from Austin Energy reads. "You could be shocked when in the area of a downed power line.
The minimum safe distance from a fallen electrical wire is 35 feet, according to Austin Energy. This is about the length of an average school bus.
Make sure you keep children and pets away from that wire, as well.
14-YEAR-OLD MICHIGAN GIRL KILLED BY DOWNED POWER LINE THINKING IT WAS STICK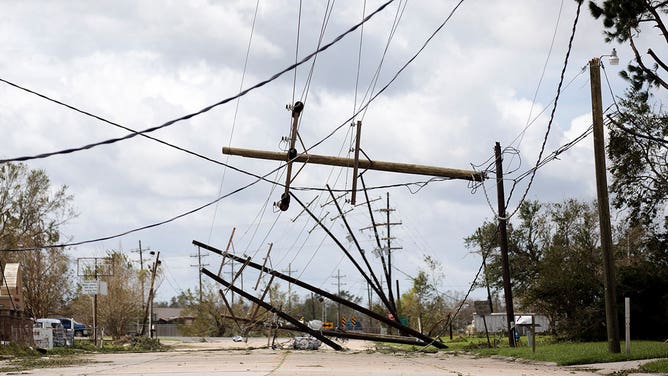 Don't touch
Anything that is touching the downed power line – trees, vehicles, fences, pipes, playground equipment – can be electrified. If you touch that object, you could suffer a shock.
According to Centerpoint Energy, this includes people who have come in contact with the wire.
"You can't help if you become a victim," the utility company's guidance reads. "Call 911."
PG&E also advises people not to use objects, such as a stick, broom or pole, to touch the line.
"Rubber gloves and rubber-soled shoes will not protect you from electrocution," the guidance from Austin Energy reads.
Even puddles near the downed line can be energized, according to Centerpoint Energy.
HOW MUCH ICE IS NEEDED TO KNOCK OUT POWER, DAMAGE TREES?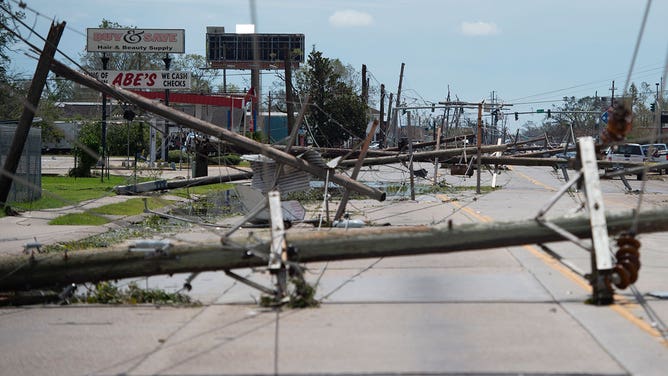 Power lines and vehicles
According to PG&E, motorists should stay in their vehicles if a power line falls on it and there is no fire. The ground around the vehicle may be energized and will shock you if you step onto the ground.
"Sound the horn, roll down your window and call for help," PG&E guidance rads. "Warn others to stay away."
Drivers should call 911 and wait for emergency workers to say it is safe to exit the vehicle.
If the vehicle catches fire or begins to smoke, PG&E advises people to remove loose items of clothing before leaping as far away from the car as possible. Once you're out of the car, keep both feet together and shuffle away from the vehicle. Don't pick up your feet.
According to Austin Energy, drivers who are forced to abandon their vehicle should never touch the vehicle and the ground at the same time.
If you find someone trapped in a vehicle by a downed power line, call 911 immediately.
POPULAR GRADUATION BALLOONS FESTIVE BUT DANGEROUS IF RELEASED, ENERGY COMPANIES WARN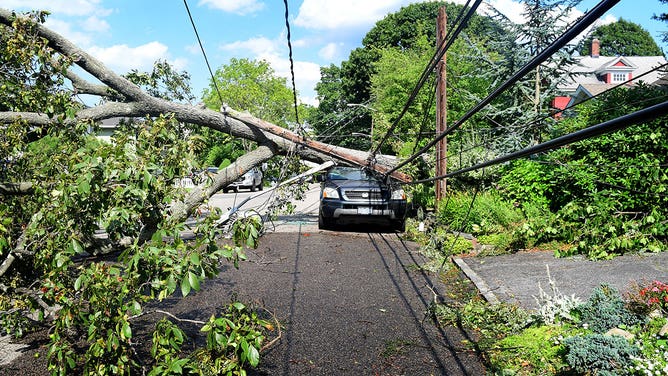 Call for help
Downed power lines should be reported to the power company in the area.
If there is an emergency because of a fallen electrical wire, call 911.