What is a tropical storm?
Tropical storms have a closed low-pressure center and are made up of strong winds and torrential rainfall. Wind speeds are almost always greater in a tornado than a tropical storm, but due to a tropical storm's large envelope, they can do much more damage because a greater area is impacted. Tropical storms are serious and can pose significant hazards to coastal and inland residents.
A cyclone is declared a tropical storm when maximum sustained winds reach at least 39 mph, and much like its fellow tropical depressions and hurricanes, impacts can be significant. 
To be classified as a tropical storm, a complex of thunderstorms must have a low-pressure center and winds that reach the minimum threshold.
Many tropical storms start out as tropical depressions and gradually gain strength over the warm waters of the Atlantic or Pacific oceans.
Forecasters say water temperatures of at least 78 – 80 °F are typically needed to produce enough heat energy for these cyclones to organize.
Sea surface temperatures start to reach minimum thresholds in the late spring and earlier summer and will stay sufficiently warm through most of the fall.
Despite their weaker wind speed and high pressure than a hurricane, tropical storms can be serious and produce heavy rainfall, tornadoes and damaging winds.
WHAT IS A TROPICAL DEPRESSION?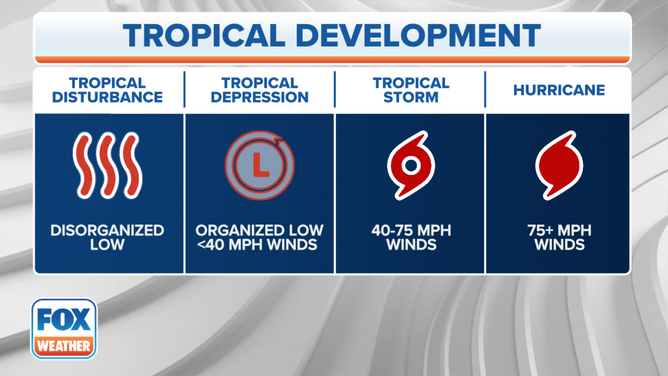 When does a storm in the Atlantic or Pacific get a name?
A system with sustained winds of at least 39 mph guarantees the cyclone a name. The name is assigned to the cyclone by the National Hurricane Center.
Names are used from designated lists that are created by the World Meteorological Organization.
A season's list has 21 available names with the option of going to a supplemental list during busy hurricane seasons.
HERE ARE THE HURRICANE NAMES FOR THE 2023 ATLANTIC SEASON
An organized naming convention did not start until 1953, when the U.S. used lists of solely female names. Lists were expanded in 1979 to include the use of male and female names.
The average number of named storms that form every year has gradually been increasing since the weather satellite era began keeping track of cyclones during the 1960s.
From 1971 to 2000, an average of ten named storms formed during the 30-year period. The average increased to 12 from 1981-2010, and the current average is the highest the figure has ever been at 14 tropical storms per year.
5 DIFFERENT NAMES FOR HURRICANES AROUND THE WORLD
Tropical weather alerts
The NHC and local offices of the National Weather Service can issue weather alerts ahead of the arrival of tropical cyclones.
For a tropical storm, alerts come in two forms – a Tropical Storm Watch and a Tropical Storm Warning.
A Tropical Storm Watch is issued when a system poses a possible threat within 48 hours. The alert is solely issued based on the probability of wind speeds reaching 39-73 mph.
The watch is supposed to provide a sufficient lead time for communities to prepare for the onslaught of dangerous weather.
A Tropical Storm Warning is issued when sustained winds of 39-73 mph are expected within 36 hours. Similar to a watch, the warning does take into account the threat of storm surge, flooding or tornadoes. Separate watch and warning products are issued for these hazards.
7 FACTS TO KNOW ABOUT HURRICANES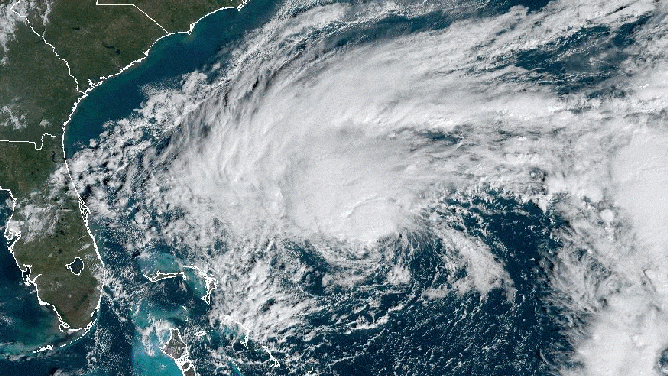 Historical tropical storms
Due to their usual disorganization, few tropical storms have ever reached the threshold for their names being retired after causing significant damage and loss of life.
Since the early 1950s, only two named storms that failed to reach hurricane strength have been retired by a committee at the WMO.
The name Allison was removed after the 2001 hurricane season when the tropical storm devastated communities around the Houston metro. Damage estimates topped $8 billion, and dozens of people were killed in Texas and Louisiana.
The name Erika is the latest and only other non-hurricane to have its name removed from the rotation of six re-cycled lists.
According to the NHC, Erika left a trail of destruction behind in the Caribbean in 2015 despite having just 50 mph sustained winds.
The tropical storm caused an estimated $500 million in damage and was blamed for nearly three dozen deaths from the Lesser Antilles to Hispaniola.
The WMO replaced the name Allison with Andrea, and it has been used in the 2007, 2013 and 2019 hurricane seasons. Erika was replaced by the Elsa and has only been used once, in 2001.
To see this season's tropical cyclone names or a future list, scroll through the photo gallery below.