5 different names for hurricanes around the world
We know tropical cyclones as hurricanes in the Atlantic and Eastern Pacific, but that's not the case in other ocean basins. Hurricanes are called different names depending on where they're located on Earth.
Residents of the East and Gulf coasts of the U.S. are very familiar with hurricanes in the Atlantic, but different terminology is used for tropical cyclones in other ocean basins around the world.
Here are five weather terms you might hear for weather systems spinning in the tropics. It's important to note that these storms all exhibit the same features; they are just called different names depending on where they're located on Earth.
1. Hurricane: Atlantic and Eastern, Central Pacific oceans
What is a hurricane? The term hurricane is used for all tropical cyclones with sustained winds of 74 mph or higher in the North Atlantic Ocean, Caribbean Sea, Gulf of Mexico and the Eastern and Central Pacific Ocean (from the west coasts of Mexico, Central America and the continental U.S. to the Hawaiian islands).
These tropical storms are monitored by the Miami-based National Hurricane Center, except for the ones in the Central Pacific, which are monitored by the Central Pacific Hurricane Center in Honolulu, Hawaii.
Hurricanes in these basins are rated using the Saffir-Simpson Hurricane Wind Scale based on their maximum sustained winds.
MANY MORE COUNTRIES THAN U.S. COUNT ON NATIONAL HURRICANE CENTER'S WATCHFUL EYE
2. Typhoon: Western Pacific Ocean
What is a typhoon? In the Western Pacific, hurricane-equivalent tropical cyclones are called typhoons.
Depending on where they are located in this basin, they can be monitored by the China Meteorological Administration, the Hong Kong Observatory, the Japan Meteorological Agency or PAGASA in the Philippines.
In addition to the national meteorological services of each country, the U.S.'s Joint Typhoon Warning Center, headquartered in Pearl Harbor, Hawaii, also monitors the Western Pacific Basin to help protect U.S. military bases jointly operated with other countries, as well as any military ships or aircraft that might be in harm's way.
The JTWC refers to a typhoon with maximum sustained winds of 150 mph or higher as a super typhoon. That's the equivalent of a high-end Category 4 or Category 5 hurricane on the Saffir-Simpson Hurricane Wind Scale.
HOW ARE HURRICANES RATED? THE SAFFIR-SIMPSON HURRICANE WIND SCALE EXPLAINED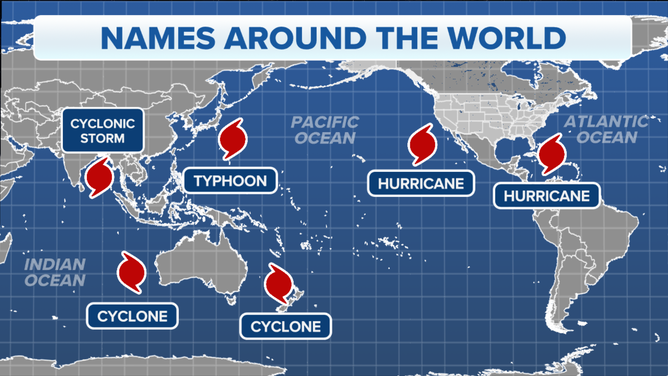 3. Cyclonic storm: Northern Indian Ocean
What is a cyclonic storm? Tropical cyclones in the Northern Indian Ocean, which consists of the Arabian Sea and the Bay of Bengal, are called cyclonic storms once their winds reach 39 mph, equivalent to a tropical storm in the Atlantic. At 55 mph, they become severe cyclonic storms, and at 74 mph, they are called very severe cyclonic storms – equivalent to a Category 1 hurricane on the Saffir-Simpson Hurricane Wind Scale. From there, the storm is called an extremely severe cyclonic storm at 104 mph and a super cyclonic storm at 138 mph.
All cyclonic storms in the Northern Indian Ocean are monitored by the India Meteorological Department, as well as the JTWC for any U.S. interests in the region.
HERE ARE THE BUZZWORDS YOU'LL BE HEARING DURING HURRICANE SEASON
4. Tropical cyclone: Southern Indian Ocean
The Southern Indian Ocean's terminology is quite easy to remember, as it refers to hurricane-equivalent tropical cyclones simply as tropical cyclones. As they gain strength, they can be called intense tropical cyclones (104 mph) and very intense tropical cyclones (133 mph).
Météo-France's La Réunion tropical cyclone centre monitors this ocean basin, which stretches from Africa to 90 degrees east longitude. It's also covered by the JTWC to keep any U.S. interests informed during a storm.
Tropical cyclones in the Southern Indian Ocean spin clockwise because weather systems in the Southern Hemisphere spin in the opposite direction as they do in the Northern Hemisphere.
5. Cyclone: Southwestern Pacific Ocean
What is a cyclone? The most basic of all is the Southwestern Pacific Ocean, where tropical cyclones are just referred to as cyclones.
This basin and climate, east of 90 degrees east longitude, is monitored by the Fiji Meteorological Service; New Zealand's MetService; Indonesia's Badan Meteorologi, Klimatologi, dan Geofisika; Papua New Guinea's National Weather Service; and the Australian Bureau of Meteorology. Any U.S. interests in those regions are covered by the JTWC as well.
The Australian BOM uses its own 1-to-5 scale to categorize cyclones in its area of responsibility. This Australian tropical cyclone intensity scale uses different wind speeds for its ratings than the U.S. uses for the Saffir-Simpson Hurricane Wind Scale.
Since this is also the Southern Hemisphere, cyclones spin clockwise, opposite the counterclockwise spin we observe with all cyclones – any area of low pressure – in the Northern Hemisphere.