How to watch FOX Weather
FOX Weather is available on YouTube TV, Amazon News, The Roku Channel, DIRECTV Stream, Fios TV, fuboTV, Amazon's Freevee, Wow! and Xumo.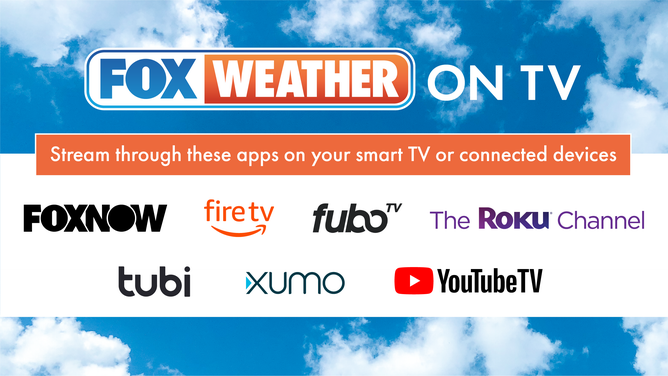 There are multiple options to watch FOX Weather on every device, no matter where you are. 
Watch FOX Weather on TV:
You can stream FOX Weather for free through the Fox News, Fox Business, Fox Nation, and FOX NOW OTT apps, as well as Tubi, Xumo, Amazon News, and The Roku Channel.

FOX Weather is also available on YouTube TV, fuboTV, DIRECTV Stream, Amazon's Freevee and Wow!

On September 28, 2022, FOX Weather expanded its distribution to Verizon Fios. FOX Weather will be available to all Fios TV subscribers on channel 113 (SD) and channel 613 (HD) throughout major markets including Washington, DC, Baltimore, Norfolk, VA, Richmond, VA and parts of the New York metropolitan area.
Additionally, FOX Weather is accessible across FOX Television Stations' (FTS) Diginet footprint in 17 cities including New York, Seattle, and San Francisco. 

In addition, FOX Weather simulcasts its live weekend programming on Fox Business Network (FBN). FBN viewers are able to watch America's Weather Weekend live from 6 a.m. - 9 a.m. ET every Saturday and Sunday.

Following the two-hour simulcast, FBN viewers can continue to watch America's Weather Weekend through 2 p.m. on the FOX Weather app and all other platforms.
Watch FOX Weather on your phone:
You can watch FOX Weather's 24/7 stream by downloading our free app on iOS and Android by clicking here.
FOX Weather's 24/7 stream is also available to watch for free on the Fox News and Fox Business mobile apps.
Watch FOX Weather online:
The FOX Weather stream is also available on all of FOX's owned and operated television stations across the country on their websites, mobile apps and OTT apps. 
Below you will find a list of all of FOX's owned and operated stations linking to their websites: