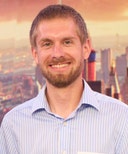 Brian Donegan
Senior Digital Content Producer/Meteorologist
Brian Donegan joined FOX Weather in May 2021 as a Digital Content Producer and Meteorologist. He was promoted to Senior Digital Content Producer in June 2022.
Based in upstate New York, Brian specializes in winter weather. Before joining America's Weather Team, he spent four years covering the weather across the U.S. as a Digital Meteorologist at The Weather Channel.
Originally from southern New Jersey, Brian witnessed countless nor'easters growing up and gained firsthand knowledge of weather patterns along the East Coast.
At times, you might hear Brian provide weather updates for the entire country on the FOX Weather Update podcast.
Brian received his bachelor of science degree in meteorology from the State University of New York at Oswego and later earned a master of science degree in geosciences from Mississippi State University.
When not covering America's weather, you can find Brian spending quality time with his family, which often includes hiking the scenic trails of upstate New York.