Why rare 'high risk' flood days need to be taken seriously
More than half of 'high risk' flood days have at least one fatality or injury
Parts of the Northeast were under a rare "high risk" of excessive rainfall on Wednesday, and it's important to take such a threat seriously because this magnitude of flooding can have destructive impacts.
NOAA's Weather Prediction Center is the agency responsible for issuing daily excessive rainfall outlooks. The outlooks use four categories – marginal, slight, moderate and high – to indicate the probability of excessive rainfall leading to rapid-onset flooding within 25 miles of a point.
When a high risk – the highest risk level that can be issued – is in place, it means severe, widespread flash floods are expected in the highlighted areas.
"Areas that don't normally experience flash flooding, could," the WPC says. "Lives and property (are) in greater danger."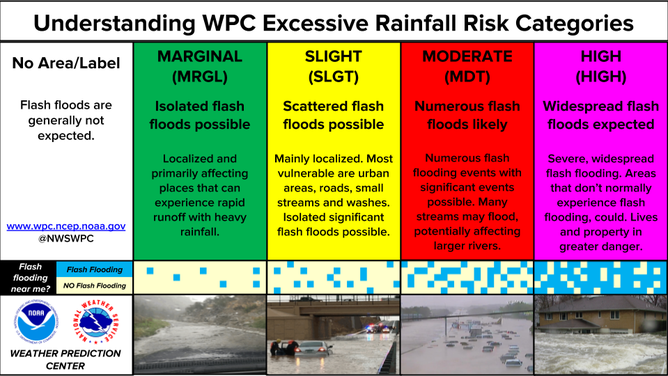 High risks are only issued on about 4% of days (including tropical and non-tropical events), but this risk category accounts for 39% of flood-related fatalities and 83% of flood-related damages in the continental United States, according to research by WPC meteorologists.
What's more, 46% of high-risk flood days have at least one fatality or injury, and 62% of such days have at least $1 million in damages, Greg Carbin, forecast operations branch chief at the WPC, noted in the research.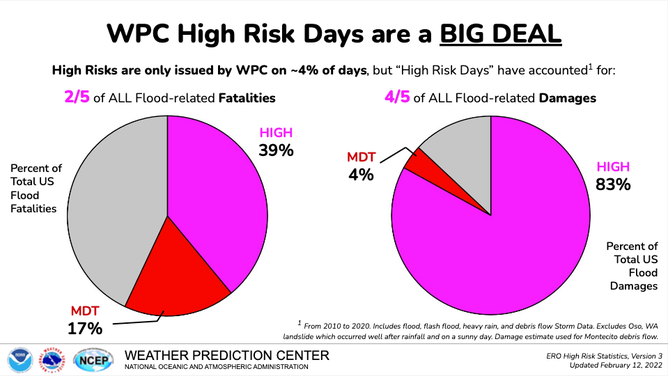 The remnants of Hurricane Ida triggered Wednesday's high risk of excessive rainfall in the Northeast.
A broad area from the mid-Atlantic to southern New England was predicted to receive 3 to 8 inches of rain, with isolated higher amounts, Wednesday into Thursday.
"Significant and life-threatening flash flooding is likely from the mid-Atlantic into southern New England, especially across highly urbanized metropolitan areas and areas of steep terrain," the WPC said in its 11 a.m. Eastern advisory on Ida. "Widespread moderate and major river flooding impacts are forecast from northern West Virginia and western Maryland into southern Pennsylvania and New Jersey, particularly in the Monongahela, Potomac, Susquehanna, Delaware, lower Hudson and coastal Connecticut River basins."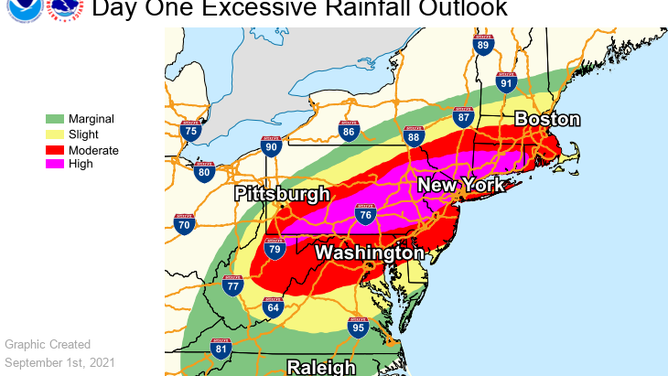 This is not your typical flash-flood threat.
Your commute to work or school, the subway system, a parking lot, the street on which you live or even your home are all areas that could become inundated by floodwaters on a high-risk flood day. This can include areas that have never flooded in the past.
Many people underestimate the force and power of water.
"A mere 6 inches of fast-moving floodwater can knock over an adult," the National Weather Service says. "It takes just 12 inches of rushing water to carry away most cars, and just 2 feet of rushing water can carry away SUVs and trucks. It is NEVER safe to drive or walk into floodwaters."
And remember: turn around, don't drown. Almost half of all flash-flood deaths happen in vehicles, according to FEMA.
Be sure to pay close attention to your FOX Weather app and any government-issued alerts from the NWS that will warn you of life-threatening flooding at your location.