From 3 inches of snow to 80 degrees, Mardi Gras has faced all sorts of extreme weather
Had the Mardi Gras celebration commenced in 2021, it would have been the coldest on record
NEW ORLEANS – Mardi Gras 2022 in New Orleans is Tuesday, March 1, and the weather should be about average for this time of year with sunshine and high temperatures in the upper 60s.
But the annual celebration in "The Big Easy" has featured some wild weather over its long history. The National Weather Service office based in Slidell, Louisiana, has been keeping records of temperatures, rain and snow for Mardi Gras since 1874.
The festivities were canceled twice in that 147-year period of record: in 1874 due to the yellow fever epidemic and in 2021 due to the COVID-19 pandemic.
Interestingly, had the Mardi Gras celebration commenced last year, it would have been the coldest on record. The high temperature on Feb. 16, 2021, was only 33 degrees.
That's a stark contrast to the warmest Mardi Gras on Feb. 20, 1917, when temperatures topped out at 83 degrees.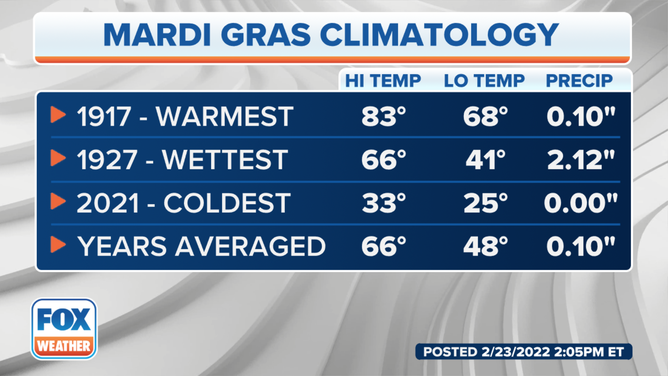 The NWS records also show 47 out of 147 Mardi Gras days have received measurable rainfall (at least 0.01 inches), meaning it has rained about 32% of the time. The wettest day featured 2.12 inches of rain on March 1, 1927.
'IT'S A GULLY-WASHER' AND OTHER WAYS SOME PEOPLE SAY, 'IT'S RAINING'
New Orleans has seen measurable snow (at least 0.1 inches) only 17 times in weather records dating to 1852, and one of those instances happened to be two days before Mardi Gras 1899.
On Feb. 14, 1899, 3 inches of snow and ice was on the ground in The Big Easy for that year's Mardi Gras festivities following a winter storm on Feb. 12. More than a century later, that day still holds the record for the snowiest Mardi Gras.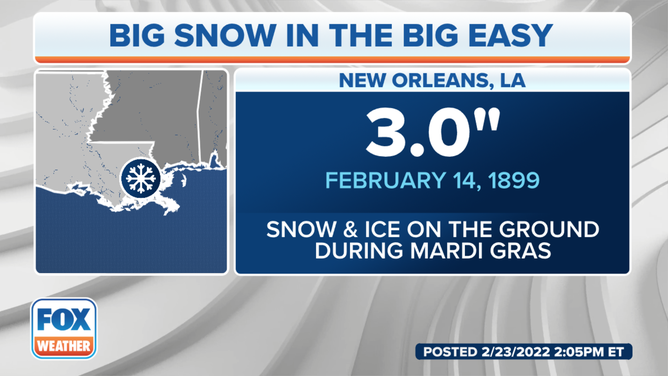 When averaging all 147 years of Mardi Gras weather records between 1874 and 2021, the average high temperature for the annual celebration is 66 degrees, the average low is 48 degrees, and the average rainfall is 0.10 inches.