Here are the hurricane names for the 2023 Atlantic season
The Atlantic hurricane season officially begins on June 1 and ends on Nov. 30. This six-month period was chosen by the National Hurricane Center because it accounts for 97% of all Atlantic tropical storms and hurricanes. Here are the names of the 2023 Atlantic hurricane season.
We're getting closer to the start of the Atlantic hurricane season, and it's never too early to prepare before the next tropical system forms. 
What are the storm names for the 2023 Atlantic hurricane season?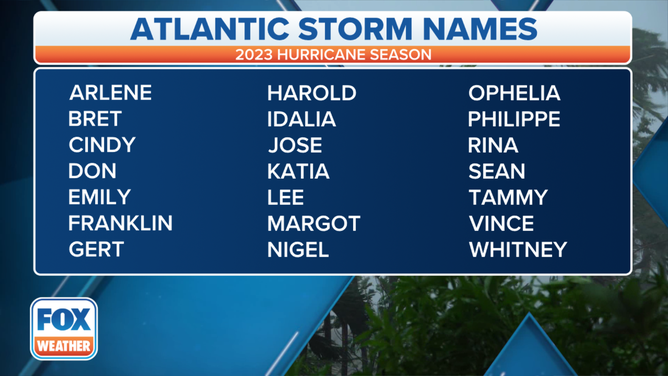 There are 21 names on the list of Atlantic storm names in 2023, using almost every letter of the alphabet.
The Atlantic hurricane season storm names in 2023 are: Arlene, Bret, Cindy, Don, Emily, Franklin, Gert, Harold, Idalia, Jose, Katia, Lee, Margot, Nigel, Ophelia, Philippe, Rina, Sean, Tammy, Vince and Whitney.
If we have an active season and run through the entire list of names, a supplemental name list will be used.
WHERE TROPICAL STORMS, HURRICANES TYPICALLY OCCUR DURING EACH MONTH OF ATLANTIC HURRICANE SEASON
This year's primary list of names might look familiar to the one from 2017. That's because these name lists rotate every six years – a practice which began in 1979 – unless a particular storm is so destructive and/or deadly that the World Meteorological Organization votes to retire that name from future use, such as Harvey, Katrina, Michael or Sandy.
Four storms from 2017 do not appear on the 2023 list because they were retired: Harvey, Irma, Maria and Nate. 
THE BEASTS OF THE ATLANTIC: 94 RETIRED HURRICANE OR TROPICAL STORM NAMES
When does the Atlantic hurricane season begin and end?
The Atlantic hurricane season officially begins on June 1 and ends on Nov. 30 every year. 
The National Hurricane Center chose this six-month period because it accounts for 97% of all Atlantic tropical storms and hurricanes, according to NOAA's Hurricane Research Division.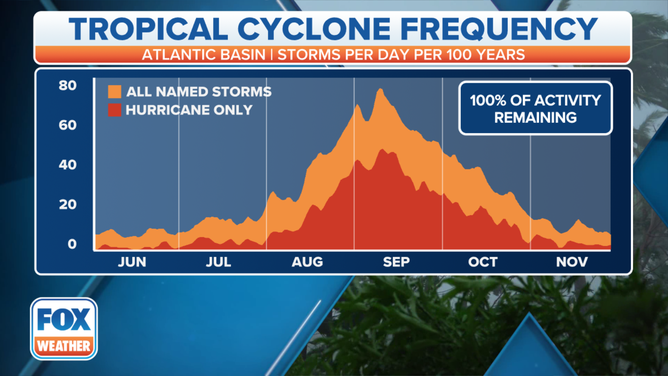 That means only 3% of Atlantic tropical cyclones occur outside those hurricane season dates, with the majority of out-of-season activity occurring in May or December. However, there has been either an Atlantic tropical storm or hurricane every month of the year.
WHAT'S THE DIFFERENCE BETWEEN A TROPICAL DEPRESSION, TROPICAL STORM AND HURRICANE?
How to prepare for hurricane season
With the Atlantic hurricane season starting on June 1, now is the perfect time to prepare you and your family.
Preparing for a hurricane or tropical storm before the season begins will ensure you have plenty of time to gather supplies and stock up on other resources before a storm sets its sights on your location.
First, determine what kind of risks you face in the event of a landfalling hurricane or tropical storm. Are you in an evacuation zone? Do you have somewhere to go if you're told to leave? 
It would be best to keep that in mind when creating a hurricane preparation plan.
WHAT IS MY HURRICANE EVACUATION ZONE?
It's also important to assemble a hurricane supply kit that you can use to survive before a storm bears down on your location.
It's also essential to check on your insurance policy. Call your agent soon to ensure coverage is adequate if you experience any damage or loss during a storm.
PROPERTY SUSTAIN HURRICANE DAMAGE? HERE'S WHAT YOU SHOULD DO
And make sure your home is prepared. Install storm shutters, make sure your garage door can withstand extreme winds and trim tree branches near your home to prevent any from falling on your roof.