Hurricane Harvey: By the numbers
Look back at the catastrophic 2017 storm with this stunning data.
Hurricane Harvey devastated the Texas Gulf Coast in August 2017. The Category 4 storm not only packed tremendous winds, but also days of torrential rain that produced catastrophic flooding in the Houston area.
This data from the National Weather Service, the National Oceanic and Atmospheric Administration and the National Hurricane Center help tell the story of the record-setting storm.
More than 140-mph wind
Harvey was a Category 4 hurricane when it made landfall on San Jose Island, Texas, the night of Aug. 25. Some anemometers in the area were disabled before the peak winds hit, especially near the eye wall. However, one-second wind gusts of 145 mph and 140 mph were recorded at the Aransas County Airport, according to NWS Corpus Christi, Texas. A gust of 133 mph was recorded in Port Aransas.
HOW TO WATCH FOX WEATHER ON YOUR TV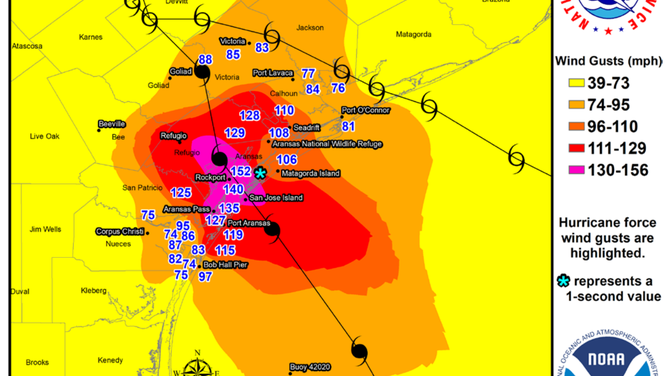 12-foot storm surge
As Harvey inched closer to Texas, the powerful storm churned up the Gulf of Mexico water it was moving over and pushed it toward the coastline. At its height, Harvey produced a storm surge of 12 feet above ground level at the Aransas Wildlife Refuge, according to NWS Corpus Christi. Surge in Port Lavaca measured 10 feet above ground level.
More than 60 inches of rain
Harvey stalled for days after moving inland and produced band after band of torrential rain, this was, by far, the worst aspect of the storm.
In Houston, more than 50 inches of rain fell during a four-day period. That's a little less than the annual average rainfall received in Houston.
The highest rainfall total was reported in Nederland, Texas, where 60.58 inches of rain was recorded. In Groves, Texas, 60.54" of rain was recorded.
"Harvey was the most significant tropical cyclone rainfall event in United States history, both in scope and peak rainfall amounts, since reliable rainfall records began around the 1880s," the National Hurricane Center reported in a January 2018 assessment of the storm.
At one point, a rainfall rate of nearly seven inches per hour was reported in southeast Houston.
WHAT IT WAS LIKE TO NOT ONLY LIVE THROUGH BUT ALSO COVER HURRICANE HARVEY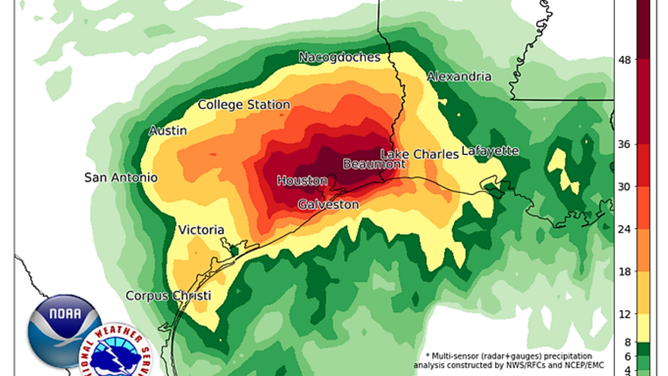 57 tornadoes
Nearly 60 tornadoes touched down during Hurricane Harvey, according to the NHC. About half of them were reported in the Houston area. Despite the large number of twisters, most of them were relatively weak.
68 people died
Nearly 70 deaths have been attributed to Hurricane Harvey, according to the NHC. More than half of them happened in the Houston area. All but three of them were because of flooding. 
Harvey was the deadliest hurricane to hit Texas since 1919. 
$125 billion in damage
According to the NHC, Harvey flooded more than 300,000 structures and more than 500,000 vehicles. All of that flooding combined with the powerful winds, caused an estimated $125 billion in damage. That ties the storm with Katrina in 2005, as the costliest tropical cyclone to hit the U.S. 
HOW TO DOWNLOAD THE FOX WEATHER APP