Has there ever been a tropical storm in February?
The only known tropical storm to ever roam the Atlantic Basin in February began its initial stages of development on Groundhog Day 1952 as an area of low pressure formed near Mexico's Yucatán Peninsula. It went on to brush the Florida Keys with rain and gusty winds before moving across South Florida, where winds gusted as high as 84 mph in Miami.
Although the Atlantic hurricane season runs from June through November, there has been either a tropical storm or hurricane in every month of the year. That includes the typically wintry month of February when you'd likely be expecting a snowstorm rather than a tropical storm.
More than 70 years ago, the only known tropical storm to ever roam the Atlantic Basin in February began its initial stages of development on Groundhog Day 1952 as an area of low pressure formed near Mexico's Yucatán Peninsula.
The low-pressure system moved into the southeastern Gulf of Mexico later that day, then brushed the Florida Keys with rain and gusty winds before moving onshore in Southwest Florida near Cape Sable late in the evening of Feb. 2.
According to data from NOAA's Hurricane Research Division (HRD), tropical-storm-force winds (39-plus mph) were recorded as the area of low pressure moved across South Florida. Miami clocked sustained winds of 68 mph with a gust to 84 mph.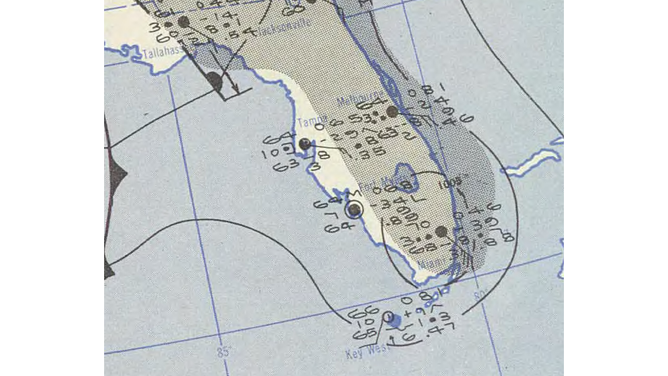 Between 2 and 3 inches of rain accompanied the high winds, which resulted in considerable damage to vegetable crops and knocked down power lines.
On Feb. 3, the low-pressure system exited the east coast of Florida and swiftly moved northward just offshore of the Eastern Seaboard, eventually reaching coastal Maine as a remnant area of low pressure the next day.
TROPICAL DEPRESSION VS. TROPICAL STORM VS. HURRICANE: WHAT'S THE DIFFERENCE?
Not classified as a tropical storm until 63 years later
It took until 2015 for the National Hurricane Center to formally classify the February 1952 low-pressure system as a tropical storm. That was when the HRD conducted an investigation of the 1951-55 seasons as part of its ongoing Atlantic Hurricane Database Reanalysis Project.
The HRD determined that it had become a tropical storm for about 18 hours beginning on Feb. 3 – after it pulled away from Florida – while it tracked northward off the coast of the Carolinas.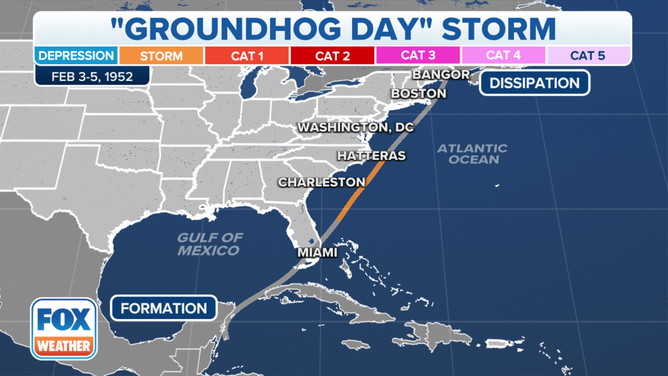 "The consensus is to call it a low-pressure area from the Caribbean across Florida until 1200 UTC (7 a.m. EST) 3 February, then call it a tropical storm similar to what is in HURDAT (Hurricane Databases) now," the HRD wrote in its reanalysis comments for 1952.
This storm's peak intensity reached 70 mph, just 4 mph shy of hurricane strength, as it passed well off the Southeast coast before transitioning into a post-tropical cyclone as it reached cooler waters offshore of the mid-Atlantic states.
HERE ARE THE BUZZWORDS YOU'LL BE HEARING DURING HURRICANE SEASON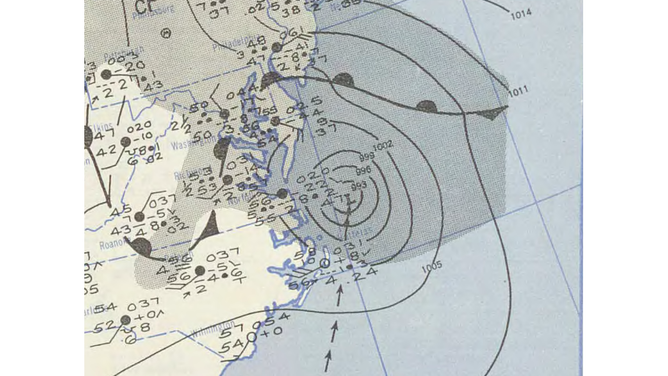 However, since the storm occurred more than a decade before the beginning of the satellite era in 1966, the HRD is still not entirely convinced it fully became a tropical storm.
"Overall, it is likely that if one had satellite imagery, that today this system would be considered a subtropical storm," the HRD noted in the reanalysis. A subtropical storm is sort of a hybrid system that contains characteristics of both a tropical storm and a typical low-pressure system over the U.S. that has cold and warm fronts attached to it.
Why was the February 1952 tropical storm missed by forecasters?
Satellites are an important tool used by forecasters to monitor weather conditions across the world, but they were not available in 1952. The very first weather satellite, TIROS 1, didn't launch until April 1, 1960, and it took another six years for reliable satellite coverage of the Atlantic tropics to begin.
WEATHER SATELLITE EXPLAINED: HOW NASA, NOAA MAKE FORECASTING POSSIBLE
Additionally, the data from Hurricane Hunter reconnaissance aircraft was "extremely unreliable, due to the cumbersome, subjective and uncertain way these data were manually calculated, not instrumentally provided," the HRD noted in its Atlantic Hurricane Database Reanalysis Project.
Computer forecast models were also not available in the early 1950s, another inhibitor to the meteorologists who were responsible for issuing forecasts during that time period.
WHAT ARE SPAGHETTI PLOTS, AND WHY ARE THEY USED TO FORECAST HURRICANES?
But it should also be noted that a tropical storm had never formed in February prior to this 1952 surprise, and there hasn't been one in the final month of meteorological winter since then, so it sparked a disagreement between the National Weather Service offices in New Orleans and Miami (then called the U.S. Weather Bureau). 
"Your estimate of (a) closed low in (the) Caribbean (is) completely unfounded on (the) basis of our reports," one NWS office communicated to the other. "There (is) a closed low centered over western Mississippi at 1830Z with (a) warm front (extending) into (a) sharp trough along (a) Burwood/Isle of Pines/Manzanillo line and (a) cold front extending from (the) low to just south of Vera Cruz. Tropical storms do not form in February."
According to the HRD, 97% of all Atlantic tropical storms and hurricanes form during the six-month hurricane season between June 1 and Nov. 30, but the other 3% occur in the offseason from December through March.