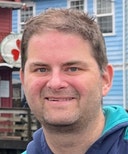 Scott Sistek
Senior Digital Content Producer
Scott is a Senior Digital Content Producer and meteorologist based in the Seattle area.  A native of the Pacific Northwest, Scott has been a weather nut since he was 7. Like most meteorologists, his love for weather grew from a childhood storm experience – in his case, it was a major windstorm along the Oregon Coast.
Scott earned his degree in Atmospheric Sciences from the University of Washington and started at KOMO-TV two days after graduating. He would spend 20-plus years there, first as weather producer, then helping build the station weather brand online through writing daily online forecasts (before they were a thing!) and eventually through his "Partly to Mostly Bloggin' " weather blog. He also co-authored the book "Somewhere, I Was Right."
He loves watching baseball and softball and is a champion for the local pluviophiles (those that love the rain).