2 remain missing in eastern Kentucky as extreme heat, flooding could slow recovery efforts
The death toll after historic flooding devastated parts of eastern Kentucky last week remains at 38, but the number of people reported missing has dropped to two.
HAZARD, Ky. – Recovery efforts continue in eastern Kentucky after catastrophic flooding led to the deaths of at least 38 people, and new dangers are cropping up this week with extreme heat and the potential for more flooding.
High temperatures and humidity will make it feel like it's between 95 and 100 degrees in counties affected by the historic flooding, and those will remain in effect through at least Thursday night.
HOW TO WATCH FOX WEATHER ON TV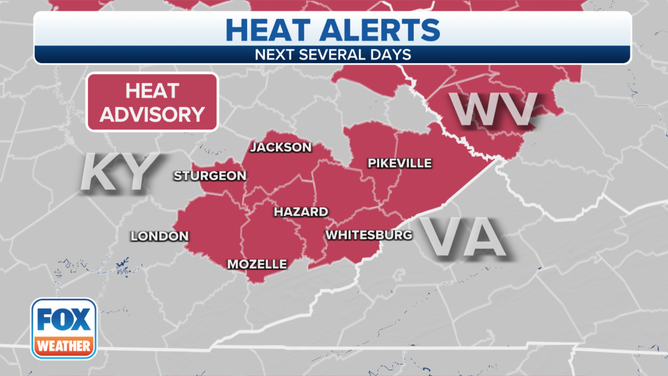 "With widespread power outage lingering after flooding and numerous first responders out in the field this week, residents and first responders are particularly vulnerable to high heat index values this afternoon through Thursday," the National Weather Service in Jackson, Kentucky, said.
Nine cooling centers across the flooding areas are open.
A cold front sliding into the Midwest will also spawn the development of heavy rain and thunderstorms across the region on Thursday before the threat expands into the Northeast on Friday.
That heavy rain could lead to flash flooding, including areas of eastern Kentucky hit by the flooding last week.
Flash flood threat on Thursday, Aug. 4, 2022.
(FOX Weather)
---
According to the FOX Forecast Center, the heaviest rainfall is likely to occur from the mid-Mississippi Valley and Ohio valleys to the interior Northeast. Flash flooding is possible in these areas, especially in locations that are soaked by repeated rounds of downpours.
Gov. Andy Beshear said eight days after the flooding, teams have moved from search and rescue to wellness checks on homes cut off by the natural disaster's impacts.
Perhaps some good news: Beshear said Friday the number of people who are still missing remains at two after someone in Breathitt County was located Thursday morning.
On Monday, President Joe Biden and First Lady Jill Biden will visit Eastern Kentucky. The president will join Beshear and First Lady Britainy Beshear in meeting with families impacted by the flooding and survey local recovery efforts. 

Hundreds of people have sought shelter at state parks and campgrounds after they were opened up for anyone needing a place to stay after losing everything in the flooding.
As of Friday afternoon, there were 526 people in emergency shelters and state parks. Beshear estimated about twice that many people impacted by the floods are staying with friends or family. 
About 75 families are using travel trailers brought in for Kentuckians to seek shelter from the elements after losing everything in the historic flooding.
Beshear said the exact number of rescues that have taken place so far is hard to know, but he said there had been over 1,300, including 600 water conducted by Kentucky State Police and 130 water rescues undertaken by the Kentucky Department of Fish and Wildlife.
In addition, Beshear said there were 389 National Guards soldiers on the ground helping with recovery efforts and have so far delivered 11,682 cases of water, 118 pallets of food and 332 meals.
Among the deaths in hard-hit Knott County are a 63-year-old man, a 65-year-old woman and two children. The bodies of two other children were recovered last Friday. The Lexington Herald-Leader reported the four children were swept away by floodwaters in Knott County. 
'HOUSES ARE FLOATING AWAY': FAMILIES TRAPPED AS FLOODWATERS TEAR THROUGH EASTERN KENTUCKY
"So keep praying. There's still a lot of people out there, still a lot of people unaccounted for," Beshear said. "We're going to do our best to find them all."
Last Friday, Biden approved a disaster declaration for Kentucky, providing federal aid to support recovery efforts. FEMA teams have been on the ground since Thursday. 
A dozen counties have also been approved to receive individual FEMA assistance. 
"The devastation is enormous and every level of support will help," the governor said in a tweet.
Beshear said homeowners and renters in Breathitt, Clay, Floyd, Knott, Leslie, Letcher, Magoffin, Martin, Owsley, Perry, Pike and Whitley counties can now apply for individual assistance through FEMA. 
Beshear warned some people who receive fundraising donations from GoFundMe and other online donation sites may lose out on federal benefits. 
So far, more than 25,000 donations have been made to the Team Eastern Kentucky Flood Relief Fund. More than $3.6 million has been raised, and the funds have already gone toward 17 funerals. The funds will cover the costs of funerals for all lost Kentuckians. 
On Friday, Beshear said the Kentucky Distillers Association would host a bourbon auction to raise money for the relief fund from Aug. 11 to Aug. 21. All the proceeds from rare bourbons will go toward flood relief. 
HERO ON THE WATER: RELATIVE AMONG SEVERAL KENTUCKIANS RESCUED BY KAYAKER
Three separate Flash Flood Emergencies were in effect last Thursday morning for areas around Hazard, Buckhorn and McRoberts. The National Weather Service allowed those emergencies to expire as the heaviest rain exited the region.
"Flash Flood Emergencies are issued only for exceedingly rare situations when we have life-threatening or catastrophic flooding ongoing within these communities," FOX Weather meteorologist Jane Minar explained. 
Rescue efforts by local first responders and the National Guard have continued across eastern Kentucky since the flooding last week.
"They see a number of people in Breathitt County alone on the roof, even we have some people in trees waiting for rescue," Beshear said last Thursday afternoon in reference to what National Guard troops were encountering in the county some 70 miles southwest of Lexington. "This isn't just a disaster. It is an ongoing natural disaster, and we are in the midst of it."
If someone wants to report a missing person, they are asked to call their local Kentucky State Patrol post instead of 9-1-1. Those local numbers are listed here.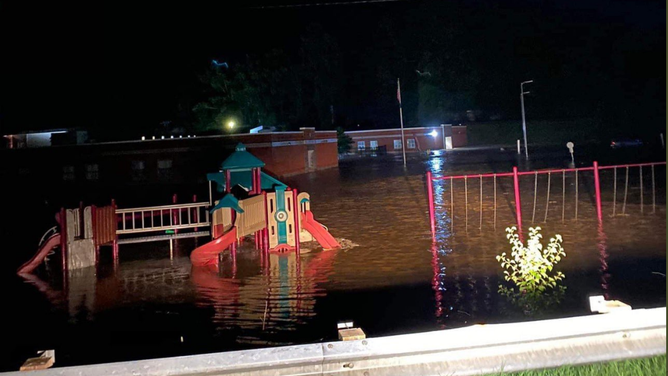 Videos and photos from Buckhorn showed a school almost entirely underwater, and officials said that the disaster might impact students' return from summer break.
Many roads in this portion of eastern Kentucky were impassable because of high water, and West Virginia's National Guard members were mobilized and sent to the Bluegrass State to help with search-and-rescue efforts.
HERE'S WHAT TO DO AFTER YOUR CAR FLOODS
Floodwaters destroy major infrastructure and create new hazards during recovery
Roofs from houses continued to be carried downstream in the floodwaters more than 24 hours after the flood emergency began.
Last Friday, Criswell said from an aerial view that the extent of the long-term impacts was becoming apparent. 
"We saw many homes that are still inundated, that the water has not receded," the FEMA administrator said. "We also saw homes, I think, that are going to have access issues for some time just because the roads are out and bridges are out. And so we know that there is definitely some significant impact to the communities that we just flew over."
Between 7 and 10 inches of rain fell in parts of eastern Kentucky between Tuesday and Thursday of last week, most of which fell in just a few hours early Thursday morning. The cities of Hazard and Jackson both received nearly 8 inches.
Buckhorn saw the highest rain total, with a report of 10.40 inches falling over those three days.
Infrastructure is a significant concern for rescue-and-recovery efforts. In Perry County, the governor said they are still trying to assess how many bridges the county lost in the flooding. Beshear noted that every culvert in low-lying areas in Letcher County is damaged.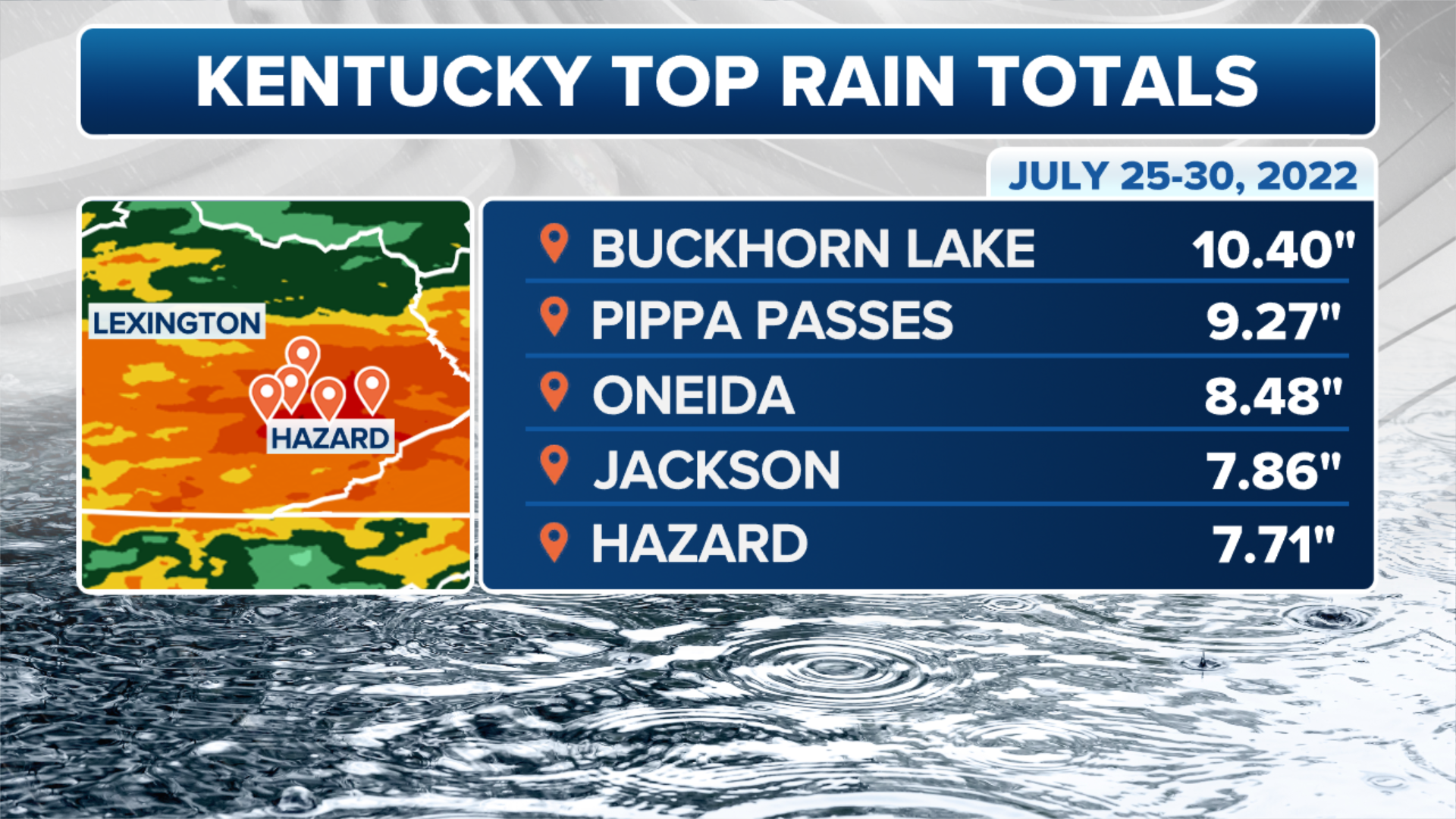 Rainfall totals in Kentucky.
(FOX Weather)
---
This catastrophic flooding in Kentucky came just two days after a historic flood in St. Louis killed one person last Tuesday when more than 9 inches of rain fell.
ST. LOUIS AND KENTUCKY FLOODING: 2 DIFFERENT 1-IN-1,000-YEAR FLOOD EVENTS IN SAME WEEK
"I wish I could tell you why we keep getting hit here in Kentucky. I wish I could tell you why areas where people may not have that much continue to get it and lose everything," Beshear said. "I can't give you the why, but I know what we do in response to it. The answer is everything we can."
Here's how you can help the victims of the devastating flash floods in Kentucky. 
Also, Patrick Wenner with Chumpy's Kitchen in Nashville, Tennessee took his BBQ trailer to eastern Kentucky to give away food to flood victims and workers, donating both his time and the food he cooks. 
Patrick makes BBQ and southern comfort food with catering services. Right now, he says catering is less important than helping the flooding victims in Kentucky as most people in the area don't have running water and many aren't able to get to the store due to washed-out roads that have yet to be repaired. 
To help Patrick to continue preparing meals and helping Letcher County recover and provide people the help they need, he created a GoFundMe page, which you can check out and donate to here. 
CLICK HERE TO GET THE FOX WEATHER UPDATE PODCAST
The FOX Weather app is a great resource that can be used to alert you of any watches or warnings issued for your area. The free FOX Weather livestream is also available 24/7 on the website and app and on your favorite streaming platform. The FOX Weather Update podcast also provides weather information for the entire country.