St. Louis and Kentucky flooding: 2 different 1-in-1,000-year rainfall events in same week
A combination of an atmosphere ripe with tropical moisture and a frontal boundary that has stalled across the region has set up a days-long summer soaker across the heartland
HAZARD, Ky. – A historic flooding event unfolding in eastern Kentucky Thursday is coming just 48 hours after another historic rainfall event buried parts of the St. Louis area under feet of water, both considered 1-in-1,000-year rainfall events.
But it's all part of the same weather pattern.
A combination of an atmosphere ripe with tropical moisture and a frontal boundary that has stalled across the region has set up a days-long summer soaker across the heartland, with some rainfall amounts never before seen in the area's recorded history.
"A warm front lifted (Monday) night, but then the boundary stalled out across the region," said FOX Weather meteorologist Jane Minar. "We have warm air to the south of (the front) … and then we have colder air off to the north. These two air masses butt up against each other but neither one wins out. So we see this boundary set up between these two and that's where that disrupting weather sits, and doesn't move."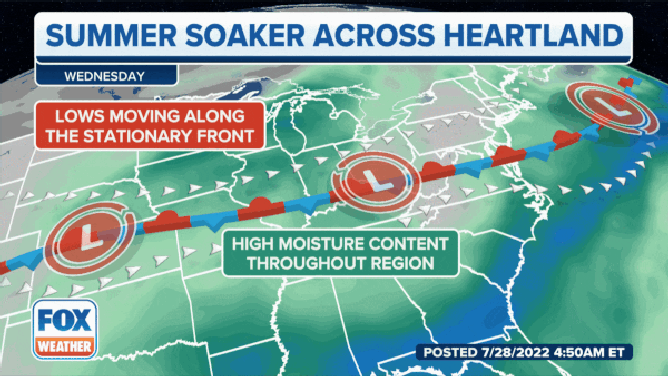 7 FACTS YOU SHOULD KNOW ABOUT FLASH FLOODS
Meanwhile, the atmosphere was pumped full of tropical moisture from the Gulf of Mexico, providing ample fuel for heavy rains as thunderstorms developed along the stalled frontal boundary.
"There's really no mechanism to push this boundary north or south," Minar said. The rain will continue like a train track along that boundary."
That set the scene for Tuesday's catastrophic flooding in St. Louis, where hours of torrential rains triggered Flash Flood Emergencies, especially in the western suburbs.
St. Louis' Lambert International Airport received over 9 inches of rain over a 24-hour period late Monday into Tuesday, shattering the old 24-hour rain record of 7.02 inches from the remnants of a hurricane that hit Galveston, Texas, in August 1915. Some rain gauges on the western suburbs reached over 10 inches, with St. Peters going over a foot of rain at 12.34 inches.
Appalachians add to rainfall misery
A low-pressure center traveled east along the frontal boundary Wednesday and by late Wednesday night had reached eastern Kentucky, where, once again, hours of rain-logged thunderstorms triggered overwhelming rainfall amounts.
Only this time, the flooding was made worse by the topography.
'THIS IS NOT NORMAL:' ST. LOUIS STREETS BECOME RIVERS AS RAIN FLOODS HOMES, HIGHWAYS
A process called orographic lift enhanced the flash flood threat in the Appalachians, including Kentucky. Orographic lift occurs when air is forced up a mountainside and cools to the point of water vapor forming. The increased moisture can cause extensive cloud cover and heavy rainfall.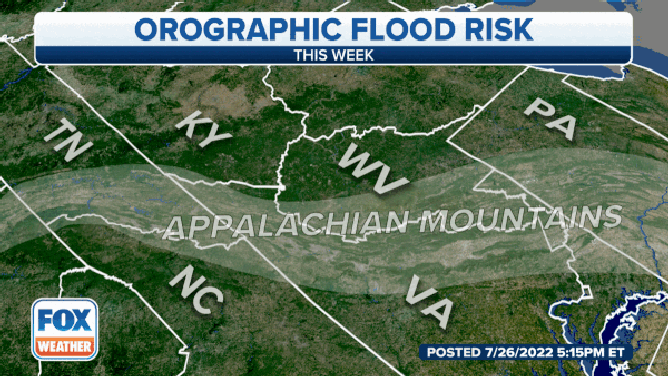 "The air is lifted up over that mountain chain, and as it does so, that air cools and condenses, forming the clouds that we see at the top of the mountain chain," Minar explained. "What tends to happen, too, is the air becomes very moisture-rich, leading to some very, very heavy rain, and that has the concern of bringing in some flash flooding."
The North Fork of the Kentucky River near Whitesburg rose 16 feet in hours, setting an all-time record crest at nearly 21 feet that so far is over 6 feet higher than the previous record.
Double 1-in-1,000-year rainfall events in same week
The town of Hazard, Kentucky – similarly to St. Louis just two days before – received close to 9 inches of rain in just 24 hours. Buckhorn Lake, Kentucky, has over 10 inches.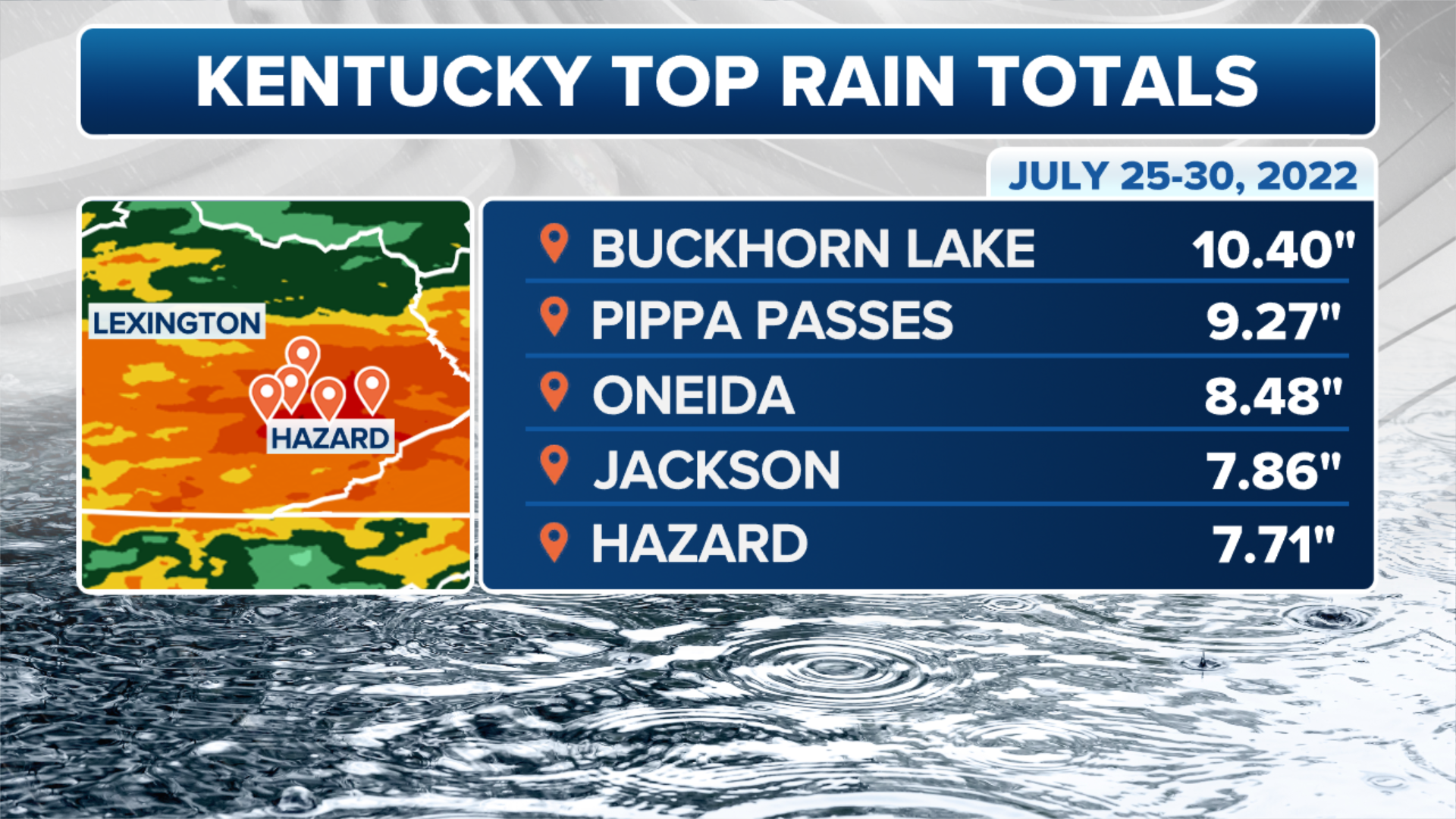 Kentucky Rainfall Totals
(FOX Weather)
---
Both the 24-rainfall totals for Hazard and St. Louis are considered "1-in-1,000-year level rainfall" events. 
That doesn't mean rainfall amounts like this can only happen every thousand years. Instead, it simply means a rainfall event of this magnitude would only have a 0.1% chance of occurring in any given year.
Now we've had two in the region in the same week.
"It is exceedingly rare to see a 1-in-1000 year flood event, and even more rare to see two within days of each other," said FOX Weather meteorologist Jordan Overton. "We are witnessing historic flooding that will have an impact on residents lives and infrastructure for years to come."
WHAT DOES THE TERM '100-YEAR FLOOD' ACTUALLY MEAN?
Heavy rains are not finished
Unfortunately, the front will remain stalled through Friday, continuing a widespread flooding and flash flooding risk across the heartland as disturbances move along the stationary front.
Friday Flood Threats
(FOX Weather)
---