'This is not normal': St. Louis flooding turns streets into rivers, submerges highways and cars
Historic rainfall drops up to 10 inches across St. Charles County, causing widespread flooding and at least one death
ST. LOUIS – Dozens of water rescues are taking place across St. Louis Tuesday as historic rainfall sent floodwaters throughout the region, flooding homes and streets.
A Flash Flood Emergency was issued because of St. Louis rainfall through 9:30 a.m. CDT as some storm rainfall totals have reached 8-10 inches, according to the National Weather Service, with rainfall rates of 1-3 inches per hour. Isolated rainfall rates up to 5 inches per hour were also reported.
The St. Louis flood emergency has since expired, but a Flash Flood Warning remains in place through 11:45 a.m. The first reports of flash flooding began around 2 a.m.
After flooding trapped residents on Herimtage Avenue, the St. Louis Fire Department rescued six people and six dogs using boats. About 15 people opted to shelter in place. By the afternoon, at least 55 people were rescued from flooding, according to the fire chief. 
HOW TO WATCH FOX WEATHER ON TV
Officials have confirmed one person died during the historic rainfall event. Their body was found in a vehicle in an area that had been flooded by 8.5 feet of water. The death is under investigation.
Missouri State Highway Patrol Cpl. Logan Bolton said residents should stay off major interstates in St. Louis and St. Charles County where first responders are seeing the biggest issues.
"Not often are we having to send our marine units onto the interstate for water rescue, getting those boats out, that's usually the lakes and rivers in Missouri," Bolton said. "They're out there in water that is in some places reaching to the tops of cars."
In Saint Charles, a resident asked for prayers as the water continued to rise in their apartment home, filling the basement. 
FLASH FLOOD EMERGENCY UNDERWAY IN ST. LOUIS AMID 'HISTORIC' RAINFALL EVENT
"Please pray for me and my family, we are in the middle of a flash flood, and it is getting very scary right now," they wrote in a tweet. "Our basement is pretty much gone, now just hoping it doesn't get into the apartment."
Stray Paws Adoptables rescue in St. Peters says after its building flooded at least 10 puppies drowned. Firefighters were able to pull the adult dogs from the rescue to safety.
"We are distraught," the rescue wrote on Facebook. "Fly high little ones. Our hearts are breaking."

Flooding was also impacting major infrastructure around St. Louis.
The St. Louis International Airport is experiencing flooding around and remains open, but flight cancellations were rising. According to flight tracker, FlightAware.com, about 45 flights from St. Louis were canceled as of 9:30 a.m. CDT.
A travel alert on the airport website reads: "Check with your airline regarding flight status. Heavy rain is expected to end at approximately 11 a.m. Please use caution for surrounding roadways that may have standing water or closures."
Interstate-70 in St. Peters was completely submerged in both directions early in the day, but roadways started to improve around noon. 
First responders were swimming through chest-deep water to get to stranded motorists. Drivers should not attempt to travel through floodwaters when they cannot see the road.  
"Definitely the call volume has been very high, the phone has been ringing nonstop in our dispatch," Bolton said. "Minute by minute it's ever-changing." 
HERE'S WHAT TO DO AFTER YOUR CAR IS FLOODED
The Metrolink station at Forest Park and DeBaliviere was covered in murky floodwaters by early morning.
"This is not normal," Tony in St. Louis wrote on Twitter. 
The St. Louis Metro Authority said MetroBus, MetroLink and Metro Call-A-Ride customers should continue to expect significant delays due to flash flooding conditions on tracks and roadways.
Brentwood resident Kristina Monllos shared photos as her street became a "river" on Tuesday. As the sun came up, photos showed the floodwaters were high enough to cover a commercial van up to the windshield.
PLAN, PREPARE, PROTECT: HOW TO BEST COVER YOUR PROPERTY AGAINST FLOODS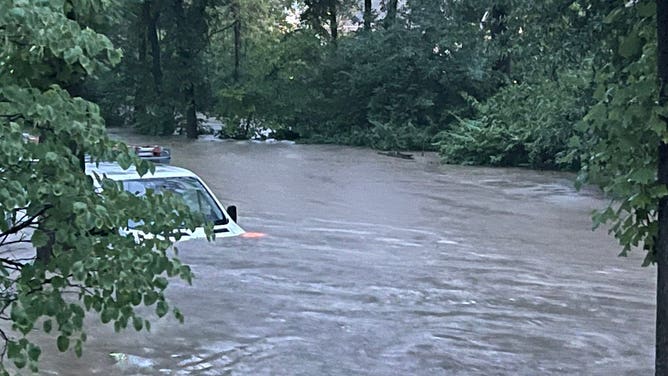 Outside of St. Louis, St. Charles city officials report hillside erosion from the flooding caused a pedestrian bridge at Frontier Park to collapse.
The historic rainfall is the combination of abundant atmospheric moisture and a frontal boundary that stalled over the heavily populated area.
As of Tuesday morning, St. Louis set a new rainfall record with 8.75 inches breaking the previous 107-year-old record set in 1915 and the rain is forecast to continue to fall through mid-morning.
The Flash Flood Emergency issued by the National Weather Service on Tuesday was the first for St. Louis since the NWS added the elevated warning in 2003. 
Be sure to download the FOX Weather app to track any storms in your area and receive potentially life-saving weather alerts issued by the National Weather Service. The free FOX Weather livestream is also available 24/7 on the website and app and on your favorite streaming platform. The FOX Weather Update podcast also provides weather information for the entire country.