Flash flooding remains a threat into weekend from Rockies to Appalachians following Kentucky, St. Louis floods
Flood Watches remain posted for parts of the Appalachians, including the waterlogged areas of eastern Kentucky
Historic flooding in St. Louis on Tuesday and catastrophic flooding in Kentucky on Thursday are the latest chapters in an expansive flash flood threat stretching from the Rockies to the Mississippi Valley and the Appalachians into the weekend.
Relentless thunderstorms dumped more than 9 inches of rain in St. Louis Tuesday morning, spawning the city's first Flash Flood Emergency and smashing St. Louis' 24-hour rainfall record set during the Galveston Hurricane of 1915 when 7.02 inches fell in 24 hours.
ST. LOUIS FLOODING: 1 DEAD AS HISTORIC RAINFALL TRIGGERS FLOOD EMERGENCY
Then, on Thursday morning, a line of slow-moving thunderstorms dumped torrential rainfall across eastern Kentucky and triggered three separate Flash Flood Emergencies. More than 10 inches of rain was recorded in Buckhorn, Kentucky, most of which fell in just a few hours early Thursday morning.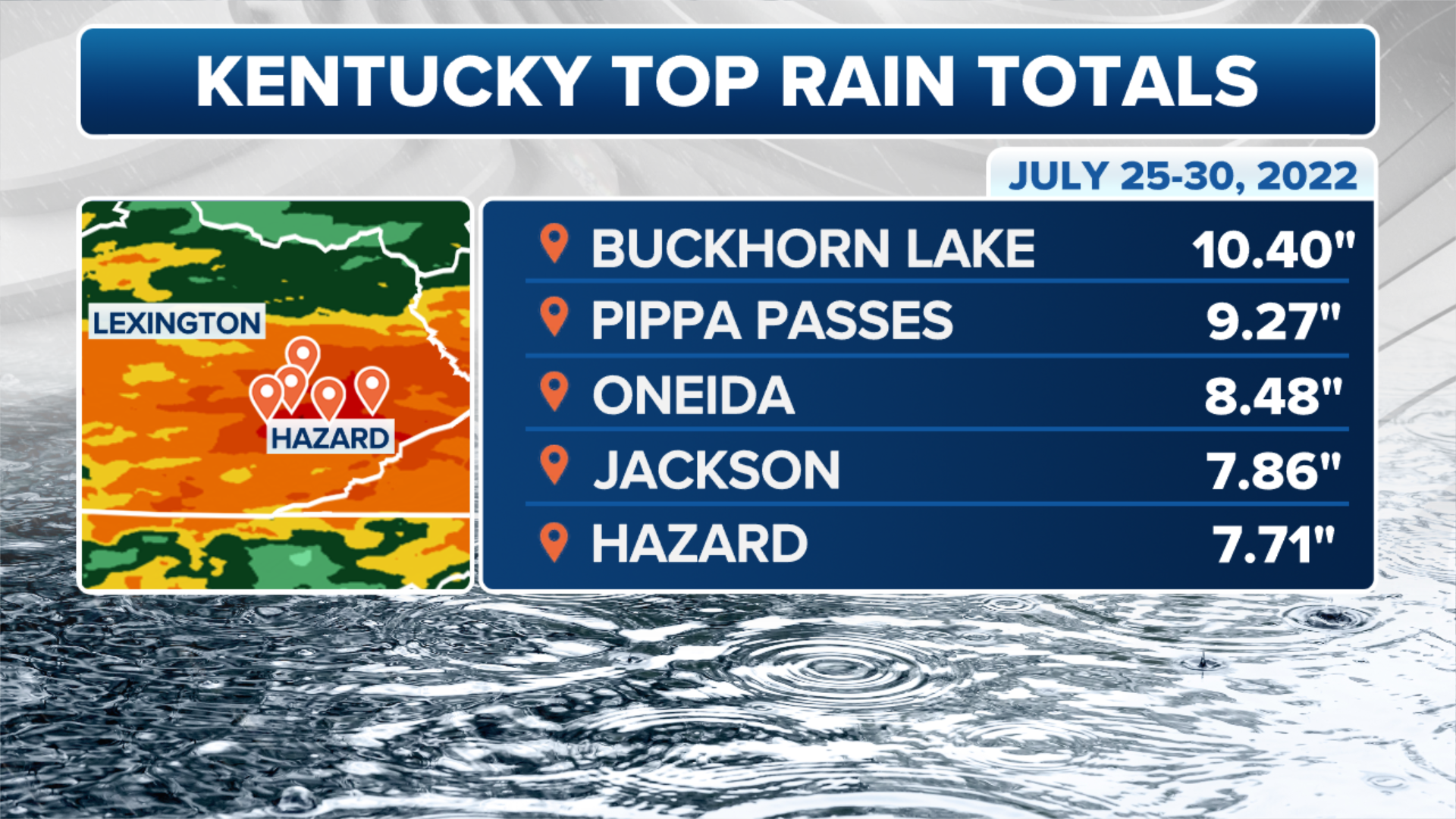 Rainfall totals in Kentucky over the past 24 hours.
(FOX Weather)
---
The same weather pattern responsible for those two flash flood events – a stalled front interacting with rich atmospheric moisture – could trigger additional areas of flash flooding into the weekend. Several rounds of showers and thunderstorms will threaten a west-to-east corridor extending from the Front Range of the Rockies to the Appalachians.
HISTORIC KENTUCKY FLOODING BLAMED FOR AT LEAST 15 DEATHS AS HOMES WERE SWEPT AWAY BY RAGING WATERS
A process called orographic lift will likely contribute to an enhanced flash flood threat in the Appalachians. Orographic lift occurs when air is forced up a mountainside and cools to the point of water vapor forming. The increased moisture can cause extensive cloud cover and heavy rainfall.
The flash flood threat will likely be enhanced in the Appalachians due to a process called orographic lift.
(FOX Weather)
---
"The air is lifted up over that mountain chain, and as it does so, that air cools and condenses, forming the clouds that we see at the top of the mountain chain," FOX Weather meteorologist Jane Minar explained. "What tends to happen, too, is the air becomes very moisture-rich, leading to some very, very heavy rain, and that has the concern of bringing in some flash flooding."
In the three-hour radar loop below, you can see where the heaviest rain is currently falling from portions of the Central Plains to the Appalachians.
ST. LOUIS AND KENTUCKY: 2 DIFFERENT 1-IN-1,000-YEAR FLOOD EVENTS IN SAME WEEK
Any active Flash Flood Warnings are indicated in green, while any active Severe Thunderstorm Warnings are indicated in yellow and any active Tornado Warnings are indicated in red. Additionally, any lightning strikes are depicted by the white lightning-bolt icons.
(FOX Weather)
---
Flash flood forecast
The flash flood threat will continue into the weekend from southern Kansas and northern Oklahoma eastward to the Ozarks, Tennessee Valley, central and southern Appalachians and mid-Atlantic.
7 FACTS YOU SHOULD KNOW ABOUT FLASH FLOODS
Flash flood threat on Friday, July 29, 2022.
(FOX Weather)
---
Many of the locations at risk of flash flooding could receive at least an additional 1 to 3 inches of rain over the next few days.
However, locally higher amounts upward of 3 to 5 inches are likely where any showers and storms stall or track over the same areas.
"Many areas in eastern Kentucky and also portions of Virginia only need an inch of rain in a short amount of time to bring flooding back into the scenario, so we have to be very vigilant in a lot of those areas that have been hit very hard," said FOX Weather meteorologist Britta Merwin.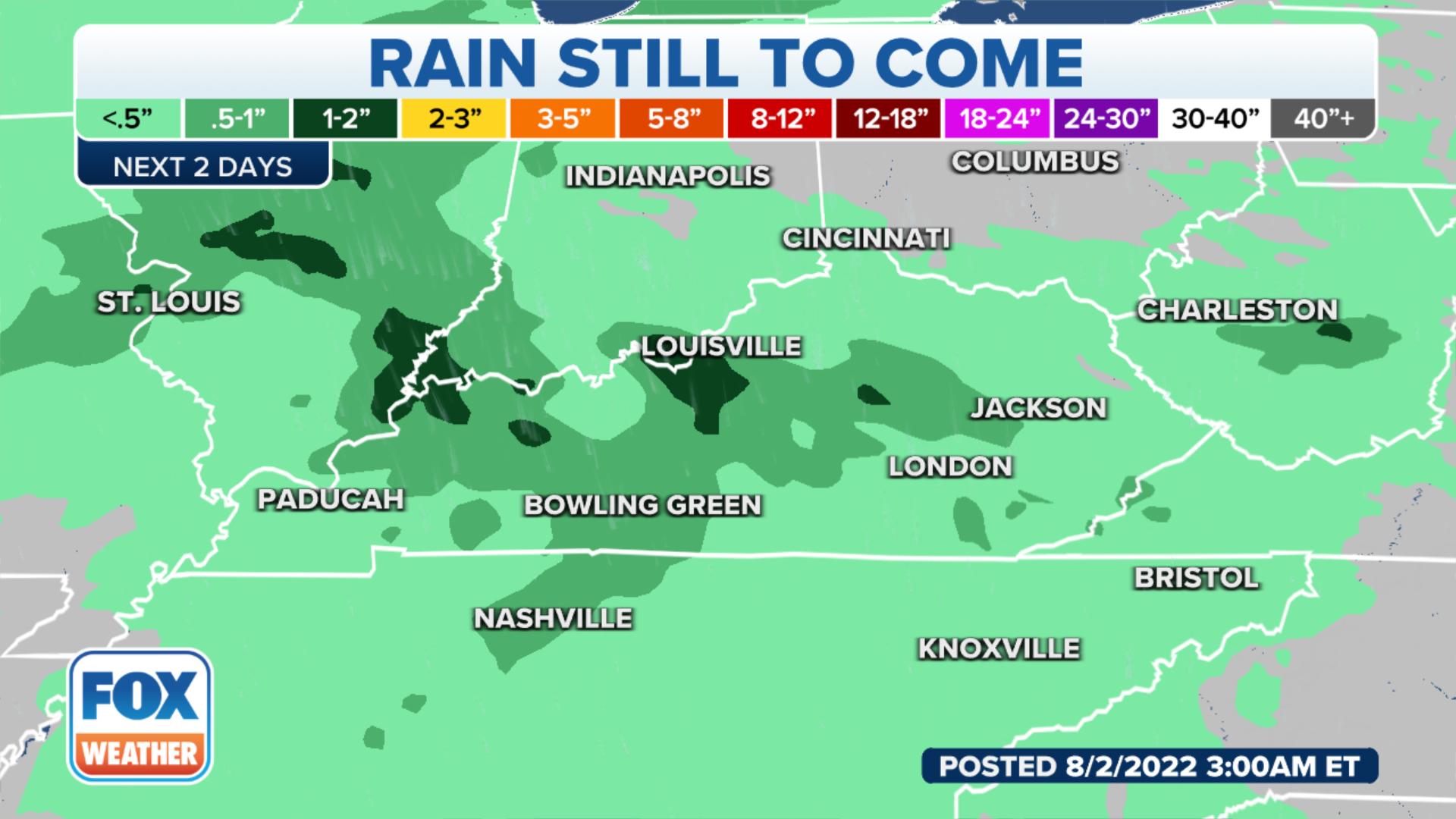 Rainfall forecast over the next several days.
(FOX Weather)
---
Flood Watches have been issued by the National Weather Service for parts of Kentucky, northeastern Tennessee, southwestern Virginia, West Virginia and southern Ohio. A watch means that flooding is possible in the indicated areas.
EXPLAINING FLOOD ALERTS ISSUED BY NATIONAL WEATHER SERVICE
Flood Watches are indicated in green.
(FOX Weather)
---
Be sure to take this flash flood threat seriously. You should have a way of receiving potentially life-saving Flash Flood Warnings issued by the National Weather Service, including the rare Flash Flood Emergency.
CLICK HERE TO GET THE FOX WEATHER UPDATE PODCAST
The FOX Weather app is a great resource that can be used to alert you of any watches or warnings issued for your area. The free FOX Weather livestream is also available 24/7 on the website and app and on your favorite streaming platform. The FOX Weather Update podcast also provides weather information for the entire country.