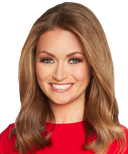 Britta Merwin
FOX Weather Meteorologist
Britta Merwin joined FOX Weather in 2021 where she currently serves as the morning co-anchor of the ad-supported streaming weather service. 
Most recently, Merwin was a meteorologist at NBC affiliate KPRC-TV in Houston, where she rose through the ranks to become the station's morning meteorologist. While there, she provided critical coverage surrounding Hurricane Harvey, as well as on numerous tropical storms and floods impacting the area. Additionally, she was very involved with the local community, visiting schools in Houston and the surrounding areas to encouraging kids to pursue careers in STEM and science. She is also a passionate advocate for the Autism community as she is the mother of a special needs child. 
Merwin began her career in meteorology with NBC Weather Plus serving as the morning meteorologist for CNBC's morning show, Squawk Box. While there she covered Hurricane Gustav and the 2008 midwestern floods for NBC's national cable news networks, including MSNBC and CNBC. She then went on to freelance for News 12 Long Island, later moving to KCRA-TV the NBC affiliated station in Sacramento, CA.
A graduate from SUNY Stony Brook in 2006 with a degree in Atmospheric Sciences and Meteorology, Merwin lives with her husband and three children in the New York metropolitan area.