Over 9 inches in 24 hours: How the St. Louis record rainfall came to be
FOX Weather Meteorologist Jane Minar explains how the historic atmospheric setup brought more than 9 inches of rain to St. Louis in mere hours
ST. LOUIS – The city of St. Louis isn't just breaking its all-time rainfall record Tuesday; they are obliterating it.
The city received over 9 inches of rain during Tuesday's historic flooding, shattering the old 24-hour rain record of 7.02 inches from the remnants of a hurricane that hit Galveston, Texas, in August 1915. Some rain gauges on the western suburbs reached over 10 inches with St. Peters going over a foot of rain at 12.34 inches.
St. Louis Rainfall Record
(FOX Weather)
---
How can so much rain fall in such a short amount of time?
The historic rainfall is the combination of abundant atmospheric moisture and a frontal boundary that stalled over the heavily populated area.
PLAN, PREPARE, PROTECT: HOW TO BEST COVER YOUR PROPERTY AGAINST FLOODS
"A warm front lifted (Monday) night, but then the boundary stalled out across the region," said FOX Weather Meteorologist Jane Minar. "We have warm air to the south of (the front) -- in fact, we have heat advisories in southern Missouri -- and then we have colder air off to the north. These two air masses butt up against each other but neither one wins out. So we see this boundary set up between these two and that's where that disrupting weather sits, and doesn't move."
THESE ARE THE RAINIEST HOUR AND MINUTE IN AMERICAN HISTORY
Meanwhile, the atmosphere in that area already had a copious amount of moisture available.
"There's really no mechanism to push this boundary north or south," Minar said. The rain will continue like a train track along that boundary." 
HERE'S WHAT TO DO AFTER YOUR CAR IS FLOODED
The storms then followed along that boundary, which unfortunately veered toward St. Louis. The phenomenon, known as training, steered relentless rainfall their way.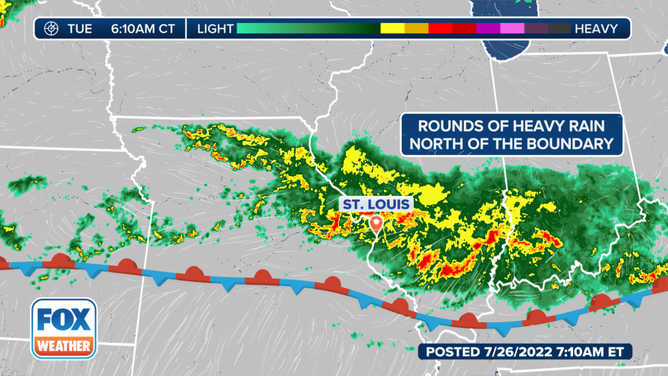 "And that's what allowed this band of rain to continue to filter in over St. Louis and drop in rainfall rates of 2-4 inches per hour, which has led to the incredible rain reports we've seen – anywhere from 5-10 inches since midnight," Minar said. "And because this boundary is not moving, these storms are going to continue to dive down and run into these same areas over the next several hours… People living in St. Louis have never seen rain like this before."
Activity is likely to continue through the mid-morning hours and then begin to wane later in the morning. Another round of heavy rain is possible Wednesday.