St. Louis' historic rain broke record set by tropical system 106 years ago
Remnants of the 1915 Galveston Hurricane set the original wettest-day record
Historic rainfall in St. Louis that prompted the city's first flash flood emergency Tuesday broke another record that was originally set by a tropical system more than a century ago.
According to the National Weather Service, more than 9 inches of rain fell in St. Louis as of early Tuesday afternoon. That trounced the previous 24-hour rainfall record for the city of 6.85 inches set in 1915.
What makes Tuesday's record-breaking rainfall even more impressive is that the previous record was caused by the remnants of a powerful hurricane that slammed into Texas.
HOW TO WATCH FOX WEATHER ON YOUR TV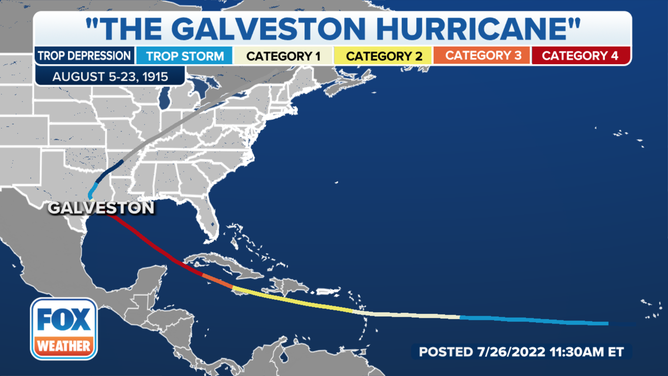 The Galveston Hurricane of 1915 was a Category 4 storm that plowed through Galveston, Texas, with winds of more than 130 mph on Aug. 17, 1915. It caused significant damage to the city of Houston, as well.
This hurricane was the first real test of the new seawall that had been built after the Great Galveston Hurricane of 1900 decimated the coastal town, killing 6,000 people. That storm still ranks as the deadliest natural disaster in U.S. history.
The 1915 hurricane killed 275 people and caused an estimated $50 million in damage. That equates to more than $100 billion in damage today.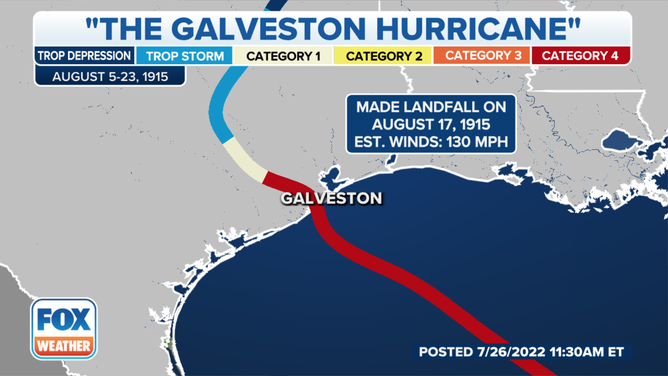 St. Louis impacts of 1915 storm
On Aug. 20, the remnants of the 1915 hurricane moved into the mid-Mississippi River Valley and dumped tremendous amounts of rain on the region.
St. Louis received 6.85 inches of rain that day, resulting in catastrophic flooding in the area. That set the original record for the most rainfall in a single day in the city's history.
According to the St. Louis Post-Dispatch, the River Des Peres swelled out of its banks and inundated streets with 7 feet of water and stranded people on a railroad platform. More than 1,000 homes were damaged or destroyed, and at least 10 people were killed.

GET THE LATEST EPISODE OF THE FOX WEATHER UPDATE PODCAST
Be sure to download the FOX Weather app to track any storms in your area and receive potentially life-saving weather alerts issued by the National Weather Service. The free FOX Weather livestream is also available 24/7 on the website and app and on your favorite streaming platform. The FOX Weather Update podcast also provides weather information for the entire country.