Hero on the water: Relative among several Kentuckians rescued by kayaker
What Larry Adams witnessed and executed in his hometown of Whitesburg, Kentucky, is indescribable and fearless following last week following a historic flood disaster
WHITESBURG, Ky. – Ask Larry Adams, and he will tell you there's nothing heroic about going after family members when you think they're in trouble.
It would also be challenging to measure the number of courageous acts in eastern Kentucky over the last week following a historic flood disaster. 
But what Adams witnessed and executed in his hometown of Whitesburg is indescribable and fearless.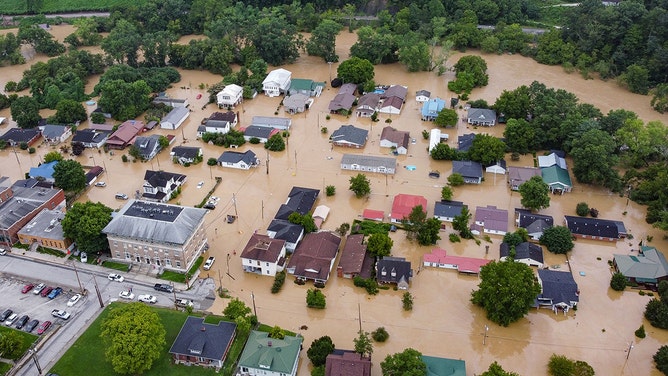 A July to remember
The professional martial arts instructor took up kayaking two years ago.
"When COVID hit, I needed to do some outdoor recreation, and I decided that the whitewater kayaking was the thing for me," Adams said.
Little did he know months later that he would soon be kayaking down residential streets in his hometown. 
In 1986, Adams, who was 11 years old at the time, remembers identical houses flooded out today had water levels to the second step.
"I remember as a kid, we would boat in a little jon boat from one house to the other," he said. "Everybody's heard of the '57 flood. It was really bad. But this one has broken that record by like eight feet."
KENTUCKY MOM SAVES CHILDREN FROM FLOOD BY USING VACUUM CORD
Adams grew up on Whitesburg's river bottom. The tiny home rule-class city in the county seat of Letcher County has a population of 2,215. He is well aware of the waters around the area and how much they will rise.
When he woke up last Thursday morning, the creek beside his home raged as he had never imagined.
"It came up like eight feet, and I automatically knew they were in trouble in that area," Adams said.
He threw his gear in his Jeep and headed to town with his kayak. What should have been a 10-minute drive took an hour. It wasn't just the flooding that caused the delay; the torrential rains generated landslides, fallen trees and snapped power poles.
"And when I got there … I knew that if anyone was down there, they were in trouble. So I just tried to get my boat in the water as quick as I could," Adams said.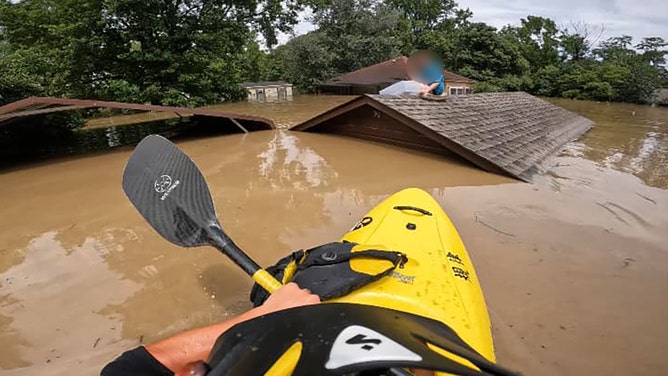 The swim of her life
As he rounded the second house on the street, Adams saw one of his uncles on the roof of his house. Moments later, he caught sight of his cousin, Chloe Adams.
The 17-year-old and her dog, Sandy, were trapped. She had been separated from her grandfather and couldn't reach the home where he had taken shelter upstairs.
By 5 a.m., the power was out, and it was pitch black outside when she decided it was time to retreat as floodwaters reached her neck. Chloe decided to put her dog in a plastic drawer that would float and swam to a neighboring garage rooftop. She waited there for over five hours for help. 
'THERE'S NOTHING LEFT': KENTUCKY FLASH FLOODING SURVIVOR BARELY ESCAPES RAGING RAPIDS
Adams took her dog to shore first, then returned to rescue Chloe.
"I was in shock that any of them were there. It was more precautionary to ensure that no one had been left behind. But to find out that everybody was in fact still there really blew my mind," Adams said.
And the swim to the perch where she took refuge is hard to fathom.
"You had major current. I'm a whitewater kayaker, and I have no idea how she made that swim," Adams said. "You try to make that swim a hundred times, you might make it twice if you're lucky. It's incredible." 
And for her not to leave her little companion, a dog she grew up with, and to make their swim one-handed took an unbelievable amount of courage to pull that off, Adams added.
STORIES OF SURVIVAL FROM RESIDENTS IN EASTERN KENTUCKY AFTER DEADLY FLOODING
Chloe's father said his family lost everything that day; everything except what mattered most, he said in a GoFundMe he established.
"This region, these incredibly humble, generous and wonderful people are in a dire situation," Adams said. "Imagine standing where your house was, where your cars were, and being hungry and not even being able to get out … not even being able to get to the food waiting for you."
And in many situations, Adams said, that unfolded for days. 
"No one could get to those people. And it's the most tragic thing I've seen personally in my lifetime. And these people need help. This community needs a lot of help," Adams said.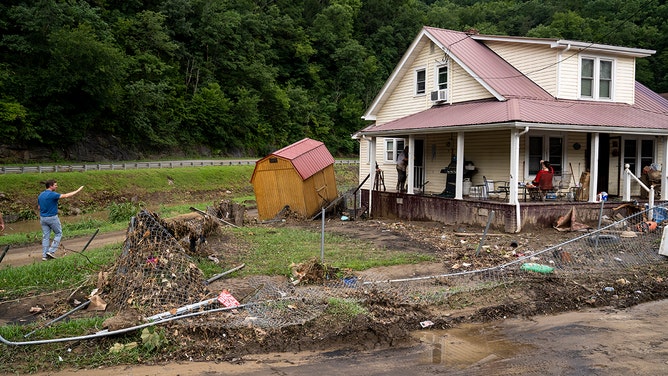 'It's something that I'll never forget'
Thursday was the highest of highs for Adams, not only by saving Chloe but the several others he rescued who were stranded. Yet, the following day was something he said he wouldn't wish upon anybody.
Adams got a call from neighboring Knott County authorities, Kentucky State Police and the National Guard in need of whitewater kayakers in search of a missing family of four. 
POTENTIALLY LIFE-THREATENING HEAT NOW MENACES FLOOD-RAVAGED KENTUCKY
"They found two of them dead the day before, and they were having serious trouble because they couldn't get into the water," Adams said. "They couldn't launch a boat because of all the debris, and they couldn't get anything motorized in there."
Adams and three members of his kayaking family helped recover their bodies on Friday.
The death toll in eastern Kentucky remains at 37, but Governor Andy Beshear warns that the number will rise as search crews discover more bodies. The governor said the exact number of rescues that have taken place so far is hard to know, but he said there had been over 1,300.
Nearly a week following the catastrophic flooding, water has receded, and FEMA has arrived in addition to a lot more help nationally. 
"I think any rescue effort is now just becoming a recovery effort at this point," Adams said.
And the cleanup effort is monstrous.
"Everyone here is just staying busy doing what we can do," Adams said. "It's something that I'll never forget, but I'm doing the best I can not to remember as well."
CLICK HERE TO GET THE FOX WEATHER UPDATE PODCAST
The FOX Weather app is a great resource that can be used to alert you of any watches or warnings issued for your area. The free FOX Weather livestream is also available 24/7 on the website and app and on your favorite streaming platform. The FOX Weather Update podcast also provides weather information for the entire country.