'Houses are floating away': Families trapped as floodwaters tear through eastern Kentucky
Slow-moving systems prompt Flash Flood Emergency in Kentucky just days after St. Louis faced historic flooding from the same rainmaker
First responders pulled families from their homes Thursday in eastern Kentucky as heavy rainfall quickly flooded homes, washed structures away and sent people swimming for safety. This happened two days after an eerily similar flooding emergency unfolded in St. Louis connected to the same stalled front. 
A Flash Flood Emergency issued by the National Weather Service for the area around Hazard, Kentucky, expired at 8:30 a.m. EDT. Other Flash Flood Emergencies were previously in effect for the area around Buckhorn and McRoberts also expired after sunrise. A Flash Flood Warning continues for eastern Kentucky.
OVER 9 INCHES IN 24 HOURS: HOW THE ST. LOUIS RECORD RAINFALL CAME TO BE
Even in the darkness, flooding images from the towns of Hindman, Buckhorn, Whick and Hazard showed a scary scene unfolding across parts of the state. In the early hours of Thursday, at least 8 inches of rain fell in Hazard, causing creeks and rivers to swell outside their banks. The flooding also caused dangerous mudslides along roadways.
People in Perry and Breathitt counties posted to social media overnight, asking for prayers and boats to help rescue their families from rising water.
Kentucky Gov. Andy Beshear said at least 16 people died during the flooding event. An 81-year-old Perry County woman is among the deaths. Two others deaths have been reported in Perry and Knott counties, but no additional details were provided. 
Live Storms Media storm chaser Brandon Clement was in West Virginia when the flooding situation became apparent in Kentucky, and he began to make his way through the mountain passes in the pouring rain.
"As soon as I got there I realized it was going to be devastation," Clement said, adding the combination of "fast moving water, late at night" with few paved routes in our out in mountain towns made the situation all the more dangerous. 

Waiting on rescue on rooftops and in trees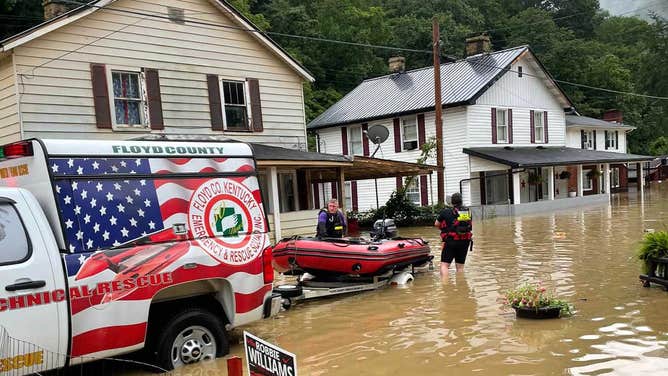 Beshear declared a state of emergency for Kentucky and has been working with the National Guard, and American Red Cross as the potentially deadly situation unfolds.
"We probably have not seen the worst of it. Sadly, we believe that we will lose Kentuckians and a lot of Kentuckians will probably lose most of what they have," the governor said.
People are still waiting on rescue into Thursday afternoon as more rain could worsen the situation, causing more flooding in the overnight hours.
FROM MAYFIELD TO HAZARD: KENTUCKY SLAMMED WITH 2 CATASTROPHIC NATURAL DISASTERS IN LESS THAN A YEAR
Beshear said the National Guard aircraft operators are reporting people on roofs and in trees waiting for rescue. About 30 people have been airlifted to safety by air crews.
FOX Weather's Will Nunley spoke to a woman in Hazard whose family was rescued when their home flooded about early Thursday morning.
Mary Warren said she and her children were woken up by a rescue team. They were taken to a neighbor's house.
"Some people's houses are floating away," Marren said. "This is my trailer right here, and my whole backyard is gone now." 
With the rain forecast to continue into the day, first responders are inundated with rescues.
HERE'S WHAT TO DO AFTER YOUR CAR IS FLOODED
"There's a lot of people that are going to be suffering for a while," Warren said.
A woman in Hindman said she was trying to reach her family, including five grandchildren and two adults, who were stuck in waste-deep flood water in their home.
"If they get out, it's waist deep, and they can go up a hill, but I don't know about the current," Barbara Wicker said. "I can't reach 9-1-1. I can't reach nobody, no troopers. There's no help in sight."
Kentucky State Police are having challenges getting to people and searching for the missing. People in Breathitt, Knott, Letcher and Perry counties who need to report a missing person are asked to call the Kentucky State Patrol Post at 606-435-6069.
ST. LOUIS AND KENTUCKY FLOODING: 2 DIFFERENT 1-IN-1,000-YEAR FLOOD EVENTS IN SAME WEEK
Cellphone service is down in many areas affected by the flooding, according to Beshear.
"We're working on … cell phone service down in many of these areas, which of course creates such challenges, we have great working relationships with at least two major providers that are actively working with us to get that service back up and running," the governor said.
A playground at the Buckhorn Elementary School in Perry County was partially submerged at about 3 a.m., creating an eerie scene with the bright red and blue play structures. The school building could be seen in the background as floodwaters lapped at the building. 
Beshear said a couple of school employees were stranded at another school in Breathitt County.
Kentucky National Guard Maj Gen. Hal Lamberton later confirmed the school faculty were rescued by the National Guard.
"We've got three up UH-60 Black Hawks who are hoist capable, meaning they are actively engaged with picking up people off the rooftops, with extracting people from one school system in particular, or folks have been trapped or trapped due to the situation," Lamberton said.
In Hazard, a flood victim described a giant mudslide washing a tree and debris onto a road, cashing her to crash.
Rain was pounding the community of Gray before 5 a.m. with the heavy rainfall sounds captured in the video below by Tim Jackson. 
Pike County Emergency Management Director Nee Jackson said Kentucky has experienced flooding before, but what's unusual is where it's occurring. Jackson recalls flooding in northern and east-central parts of Pike County.
CHILDREN TRAPPED IN A ST. LOUIS DAYCARE AFTER ANOTHER ROUND OF FLASH FLOODING
"But this is in the southwestern part of Pike County which is really an abnormal area that we would receive rain like this and we usually don't have flooding in this area," Jackson said.
Three Kentucky state parks with lodging are open for flood victims in need of a place to stay. State officials also opened parks like this after the deadly tornado outbreak in Western Kentucky in December. 
Buckhorn Lake State Resort Park, Jenny Wiley State Resort Park and Pine Mountain State Resort Park will be open to evacuees. However, the governor said because these parks are in the region affected by the flooding they are experiencing challenges, too. 
"You may show up to them, and we don't have electricity," Beshear said. "We still got a room for you, and we'll do our best to take care of you as we get everything up online."
A Team Eastern Kentucky Flood Relief Fund website was up and running by the end of the day on Thursday.
More rain forecast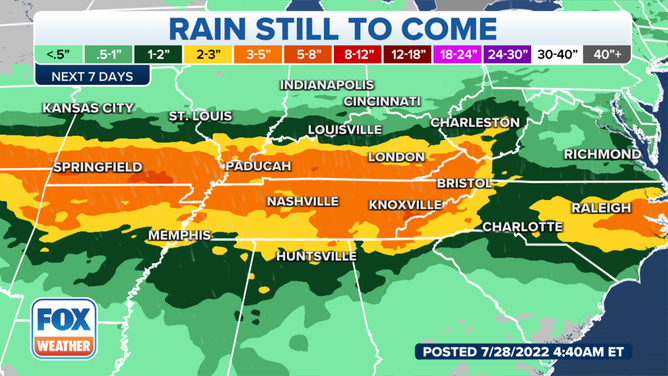 The rain is forecast to continue into Thursday morning, with up to 3 additional inches possible in some areas.
On Tuesday, the same system dumped a foot of rain in some parts of St. Louis County, Missouri. It is continuing to move east slowly. Already, the system has prompted the National Weather Service to issue multiple Flash Flood Emergencies.
"Flash Flood Emergencies are issued only for exceedingly rare situations when we have life-threatening or catastrophic flooding ongoing within these communities," FOX Weather meteorologist Jane Minar explained. "We're talking feet of water on roadways – we've seen reports of that – we have homes that are flooded out, and we've had a number of water rescues as well."
Additional areas of flash flooding are possible through the end of the week as several rounds of showers and thunderstorms threaten a west-to-east corridor extending from the Front Range of the Rockies to the Appalachians.
CLICK HERE TO GET THE FOX WEATHER UPDATE PODCAST
Be sure to download the FOX Weather app to track any storms in your area and receive potentially life-saving weather alerts issued by the National Weather Service. The free FOX Weather livestream is also available 24/7 on the website and app and on your favorite streaming platform. The FOX Weather Update podcast also provides weather information for the entire country.