From Mayfield to Hazard: Kentucky slammed with 2 catastrophic natural disasters in less than a year
In December, a deadly EF-4 tornado tore through the community of Mayfield destroying everything in its path
HAZARD, Ky. – A state of emergency has been declared in Kentucky after a deluge of rain turned roads into rapids Thursday morning, washing away buildings and vehicles and forcing residents to the roofs of their homes while they waited to be rescued.
This is the second catastrophic event that has brought Kentuckians to their knees in less than a year.
In December, a deadly EF-4 tornado tore through the community of Mayfield, destroying everything in its path.
HOW TO WATCH FOX WEATHER ON TV
Mayfield tornado
A historic tornado outbreak occurred in the nation's heartland on December 10-11, 2021.
At least 66 tornadoes touched down across eight states from Arkansas to the Great Lakes.
Among the largest tornadoes was an EF-4 twister that struck the community of Mayfield, located in Graves County.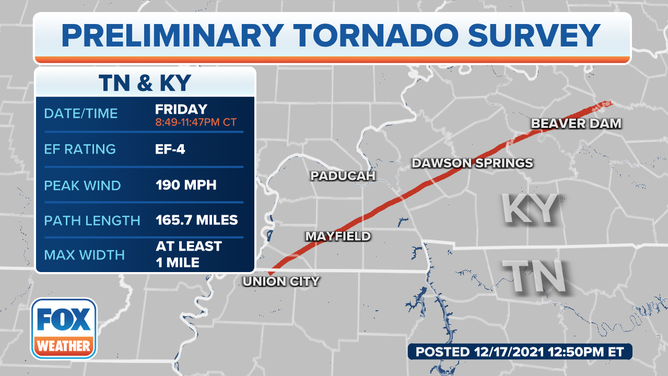 That powerful tornado was on the ground for 165.7 miles between the Kentucky/Tennessee border and Beaver Dam, Kentucky, and had a top wind speed of 190 mph.
The Mayfield tornado was on the ground for nearly three hours.
It now has the unfortunate distinction of being known as the deadliest and longest-tracked tornado in the state's history.
'THIS IS HOME': MAYFIELD RECOVERY CONTINUES AFTER DEADLY TORNADO OUTBREAK
Nearly 900 homes and businesses were destroyed in Graves County alone, with another 1,400 that were damaged.
Throughout the county, 22 people were killed, including nine inside a candle factory that collapsed when it took a direct hit from the twister.
After the tornadoes, Kentucky opened its state parks to provide housing for displaced families. Hundreds of Kentuckians and first responders sought shelter.
Kentucky Gov. Andy Beshear also opened state parks for displaced families after the historic and catastrophic flooding that swept across eastern Kentucky on Thursday.
7 VIDEOS THAT SHOW HOW TORNADO OUTBREAK IN NATION'S HEARTLAND UNFOLDED
Hazard flooding
At least 16 people have died as a result of floodwaters that swept away homes and cars when rivers and creeks rose out of their banks early Thursday morning, and Beshear fears that number will continue to rise.
"I wish I could tell you why we keep getting hit here in Kentucky," Beshear said in a Thursday afternoon press conference. "I wish I could tell you why areas, where people may not have that much, continue to get hit and lose everything. I can't give you the why, but I know what we do in response to it. The answer is everything we can. These are our people. Let's make sure we help them out."
Despite being hit with a second catastrophic natural disaster in less than a year, Beshear said Kentuckians would rise up from the devastation.
"Kentuckians are tough, resilient, good people who look out for one another," he said. "What we saw in response to the tornadoes in western Kentucky was pure love. We want to make sure we're doing the same for the people of eastern Kentucky."
On Friday, as rescue efforts continued, Beshear said he got a call from Mayfield Mayor Kathy Stewart O'Nan informing him that the Mayfield fire chief was sending resources to help in eastern Kentucky. The Mayfield Fire Station was destroyed during the December tornado outbreak. 
"That's the guy that still is rebuilding," Beshear said of Fire Chief Jeremy Creason. "Think about the amount of work we're still doing in Mayfield. They're driving to eastern Kentucky in an ambulance and some of their other equipment to help. And what they wanted to pass along is this commonwealth was there for them when they were hit by the unimaginable. And they're going to be there for the people of eastern Kentucky who are facing the same."
'HOUSES ARE FLOATING AWAY': FAMILIES TRAPPED AS FLOODWATERS TEAR THROUGH EASTERN KENTUCKY
More than 10 inches of rain has fallen in the city of Buckhorn Lake, Kentucky, with many other areas picking up between 8 and 10 inches of rain.
The heavy rainfall also led to historic flooding along rivers. The North Fork of the Kentucky River at Whitesburg rose to an all-time record crest of 20.91 feet, shattering the previous record of 14.7 feet that was set on Jan. 29, 1957. The river level rose more than 16 feet in about 9.5 hours early Thursday morning. Earlier this week, the river level was at 1.6 feet. 
7 FACTS YOU SHOULD KNOW ABOUT FLASH FLOODS
Rainfall totals in Kentucky over the past 24 hours.
(FOX Weather)
---
Kentucky officials said four aircraft are conducting rescue operations to pluck people from their roofs or trees after they were forced upward to escape the raging rapids.
The search for those who are unaccounted for will also continue.
"It's important because we want to make sure your loved one is out there and safe," Beshear said. "What we found out in the tornadoes is sometimes we had assumed the worst, but then we got the miracle we all prayed for and we're about to account for people."
The Federal Emergency Management Agency reached out to Beshear and said a FEMA response team would be on the ground in Kentucky by Thursday night.
Power is also out across the region, with at least 22,000 outages reported in Kentucky alone. That number could rise, but crews will be out in full force once it's safe to begin clearing debris and making repairs to downed utility lines and poles.
CLICK HERE TO GET THE FOX WEATHER UPDATE PODCAST
The FOX Weather app is a great resource that can be used to alert you of any watches or warnings issued for your area. The free FOX Weather livestream is also available 24/7 on the website and app and on your favorite streaming platform. The FOX Weather Update podcast also provides weather information for the entire country.