'This is home': Mayfield recovery continues 2 months after deadly tornado outbreak
The EF-4 tornado that destroyed Mayfield was the deadliest and longest-tracked tornado in Kentucky's history
MAYFIELD, Ky. – Dec. 10, 2021, is a day Kentuckians will never be able to erase from their memories.
Feelings of uneasiness quickly changed to feelings of dread when the tornado sirens sounded in the town of Mayfield shortly after 9 p.m.
Then panic and terror set in while people scrambled to get out of harm's way. But for many, that wasn't an option.
"Man, it happened so quick," Mayfield resident Larry Ryder told FOX Weather correspondent Nicole Valdes.
Ryder said he considers himself one of the lucky ones.
"I was out here on the 58th highway at the concrete plant because they've got them shelters, and I was going to get in it," he said.
He wasn't the only one looking for shelter. 
Many ran for basements and closets. Others tried to protect themselves inside bathtubs or anywhere else that they could put as many walls between themselves and the monster tornado heading straight for the town of about 10,000 people.
For Ryder, however, it was too late.
Instead, he jumped into his car to take cover from the massive EF-4 twister that was tearing a nearly 166-mile-long path of destruction across western Kentucky.
He was one of the lucky ones who survived, but that doesn't mean it's been easy.
"I guess I'll never forget that," he said.
An outbreak in the making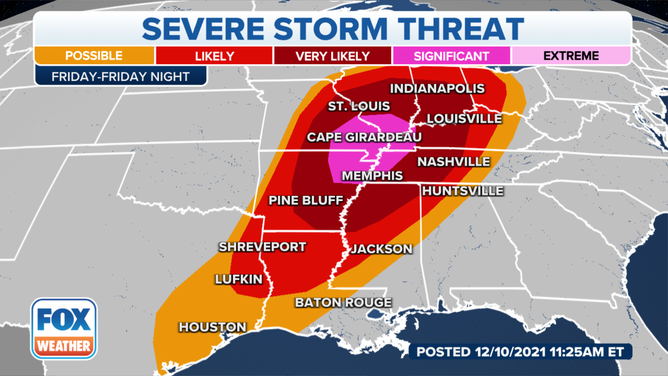 FOX Weather meteorologists had been keeping a close eye on conditions that were to be favorable for severe weather days before the historic tornado outbreak that Friday night.
Concerns for the potential of tornadoes had been growing during the week, culminating Friday morning when NOAA's Storm Prediction Center issued a "significant risk" for severe weather – something that is very rarely seen during the month of December.
"Having a threat level this high in December is not common," FOX Weather meteorologist and senior weather producer Greg Diamond said that morning.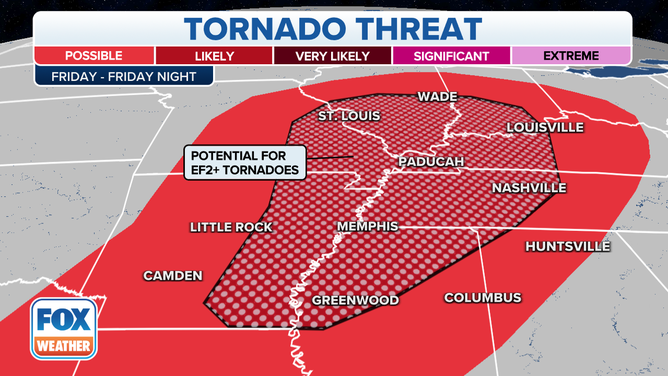 What was also concerning for FOX Weather meteorologists was how conducive conditions were in the region to spawn powerful and extremely dangerous tornadoes.
"So again, we are going to see tornadoes tonight and into Saturday morning," FOX Weather meteorologist Britta Merwin said on the morning of Dec. 10, 2021. "There's the potential that some of these tornadoes could be as strong as an EF-2 or higher. The fact that we have that type of risk is very notable."
7 VIDEOS THAT SHOW HOW TORNADO OUTBREAK IN NATION'S HEARTLAND UNFOLDED
The outbreak would begin as the day transitioned into the afternoon and evening hours.
In all, at least 66 tornadoes would touch down across eight states from Arkansas to the Great Lakes region on Dec. 10-11, according to the National Weather Service.
The EF-4 tornado that struck Mayfield was on the ground for 165.7 miles between the Kentucky/Tennessee border and Beaver Dam, Kentucky, and had a top wind speed of 190 mph. In total, the tornado was on the ground for nearly 3 hours.
It now has the unfortunate distinction of being known as the deadliest and longest-tracked tornado in the state's history.
Catastrophic damage in Mayfield
Search and rescue operations began as the storm exited the area, and by daybreak, the scope of the damage was clear. 
The tornado had left the town of Mayfield unrecognizable for those who lived there. 
In Graves County alone, where Mayfield is located, nearly 900 homes and businesses had been destroyed. About 1,400 others had been damaged.
Throughout the county, 22 people were killed, including nine people inside a candle factory that collapsed after a direct hit from the tornado.
In the days that followed, Kentuckians rallied to support their communities, and help began pouring in from around the country.
Operation BBQ Relief arrived in Mayfield and began dishing out hot meals to nearly 5,000 people every day. Kentucky's first lady Britiany Beshear launched a toy drive to collect Christmas gifts for the youngest victims of the outbreak. Kentucky Gov. Andy Beshear opened state parks for people who the tornado had displaced to take refuge.
Kentucky Emergency Management Director Michael Dossett estimated it would take months, if not years, to fully rebuild some parts along the tornado's path. 
"This is a massive event and the largest and most devastating in Kentucky's history," Dossett said.

The long road to recovery
"We serve anywhere from 8 to 1,200 meals a day," Paula Hercamp said.
FOX Weather correspondent Nicole Valdes met up with Hercamp in the center of Mayfield days before the 2-month anniversary of the deadly tornado outbreak.
Hercamp and her family are from Indiana and have been in Mayfield since mid-December, buying supplies and collecting donations for the victims.
"We don't judge the person that comes in for breakfast in the morning and then comes back for supper at night," she told Valdes. "We're trying to do it with a servant's heart."
Hercamp said the needs of victims change daily, sometimes hour-by-hour.
"The people do not need to have lost their physical home or dwelling in order to be suffering," she told Valdes. "We see a lot of people with survivor's guilt, a lot of people with (post-traumatic stress disorder), trauma, anxiety and the fear of the unknown."
But the community is receiving much-needed help from more than just Hercamp.
At least $47 million in federal assistance has already been provided to people in Kentucky.
Initially, the Federal Emergency Management Agency set up 18 disaster recovery centers across the state after the tornado outbreak. That has since been reduced to six as thousands of people have already started the process of recovering and rebuilding.
As of Feb. 8, FEMA has received more than 15,000 applications for assistance and approved more than $12.1 million through the Individuals and Households Program, including:
More than $8.7 million for housing assistance
More than $3.4 million for other assistance
The Small Business Association alone has approved nearly $35.5 million in disaster loans for homeowners, renters, businesses and nonprofit organizations.
Supporting survivors
"When they walk into the center, we have representatives available here that will sit down with them one-on-one," said Oscar Salvatier, the Task Force Lead of the FEMA Disaster Recovery Centers. "We want to make sure we get the correct information of the damages that took place."
Salvatier oversees the six remaining FEMA disaster recovery sites across the state, and two months later, new people are still showing up looking for help to rebuild their homes, pay for a hotel or rent a car.
Thousands of Kentuckians have applied for help so far, but the deadline to apply for assistance is quickly approaching.
The deadline is Friday.
Valdes followed along with disaster survivor assistance teams while they went door-to-door, looking for people who may have not yet applied for assistance.
"Some of our mission now is going to where the survivors are," Brian Montgomery, a member of the disaster survivors assistance team, said. "Some of them are in hotels. A lot of them don't have homes to come home to, so we're moving kind of into that next phase which is trying to find those survivors and trying to reassure that they are getting the assistance that they need."
'This is home for them'
There's still plenty of work that needs to be done to get Mayfield looking like the charming, historic town it once was.
"When I first arrived, it was very different than what you see around you now," George Minges, Chief of Emergency Management at the Army Corps of Engineers Louisville District, told Valdes. "The roads were barely cleared. A lot of the roads weren't passable. Just debris everywhere."
The Army Corps of Engineers has already cleared more than 280,000 cubic yards of debris.
That's about the size of 20 football fields, 10 feet deep.
However, that's only about ¼ of the debris that remains across the city.
"Mayfield stuck out to me as a small geographic area with just an extremely large amount of debris," Minges said. "This was the most concentrated debris I've ever seen on a mission."
It will likely take months, if not years, to rebuild the city.
But those who have been hard at work trying to rebuild what the tornado destroyed in December say there's more than meets the eye.
"Believe it or not, there's been a lot of progress since the tornadoes hit," Montgomery said. "They're going to rebuild and they're going to come back. This is home for them."