Tornado watch issued for mid-South as severe weather expected Friday night
'Having a threat level this high in December is not common'
The FOX Weather team is providing live updates through our FOX Weather Wire. CLICK HERE to follow along.
A significant severe weather outbreak, including the potential for nighttime tornadoes, is expected Friday night from parts of the lower and mid-Mississippi Valley into the Tennessee and lower Ohio valleys.
NOAA's Storm Prediction Center has hoisted a "Moderate Risk" area for severe weather – the second-highest threat level that can be issued – in portions of the mid-South, including northeastern Arkansas, southeastern Missouri, West Tennessee, western Kentucky and southern Illinois. This includes Memphis, Tennessee; Jonesboro, Arkansas; and Cape Girardeau, Missouri.
"Having a threat level this high in December is not common," said FOX Weather meteorologist and senior weather producer Greg Diamond. "The last time there was a Moderate Risk in December was Dec. 16, 2019, and prior to that it was Dec. 23, 2015."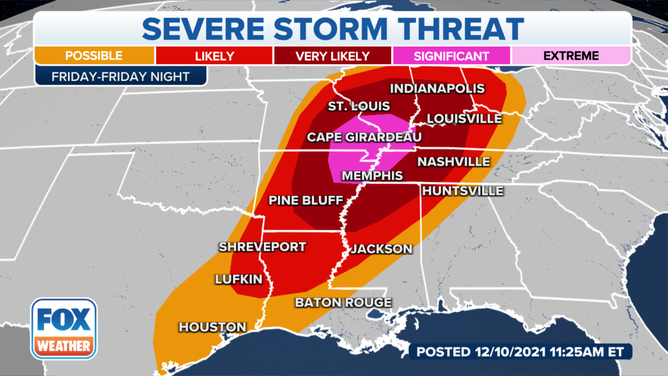 According to FOX Weather meteorologist and senior weather data specialist Shane Brown, the SPC has issued only 14 Day-1 Moderate Risks in December in records dating to 2002.
THE 5-POINT SEVERE THUNDERSTORM RISK CATEGORY SCALE EXPLAINED
On Friday afternoon, the SPC issued a Tornado Watch until 11 p.m. for parts of Arkansas, Illinois, Indiana, Kentucky, Mississippi, Missouri and Tennessee. Forecasters said several strong tornadoes are possible in the watch area.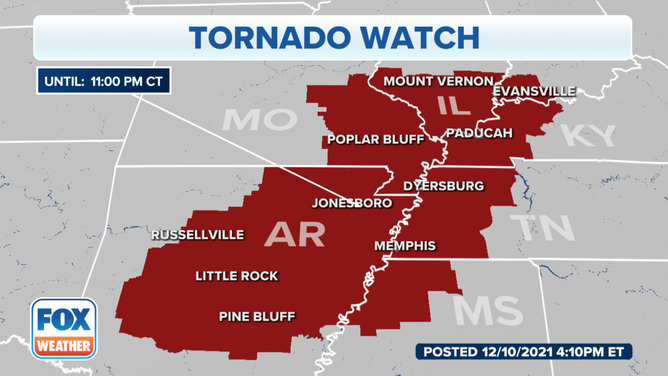 The threat for severe thunderstorms is expected to hold off until mostly after sunset, with the worst of the severe weather expected overnight and into early Saturday morning. The fact that the strongest storms will be occurring in the dark only makes this threat far more dangerous because you won't be able to see if a tornado is on the ground and potentially headed in your direction.
Here's what to expect from the potential severe weather outbreak.
Friday night
Scattered severe thunderstorms, including supercells, are expected to develop Friday evening and will eventually organize into a squall line overnight while tracking eastward across parts of the lower and mid-Mississippi Valley into the Tennessee and lower Ohio valleys.
NIGHTTIME TORNADOES FAR MORE LIKELY TO TURN DEADLY THAN THOSE DURING THE DAY
The highest threat for severe weather will be from the mid-South to the lower Ohio Valley, including eastern Arkansas, southeastern Missouri, northern Mississippi, West and Middle Tennessee, western Kentucky, southern Illinois and southwestern Indiana.
This zone also has the highest threat for tornadoes, including the potential for a few strong, long-track tornadoes spawned by supercells.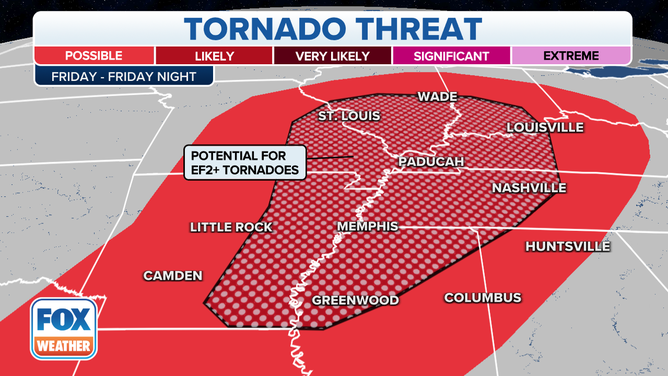 Cities in this highest tornado-threat area include Memphis and Nashville, Tennessee; St. Louis; Louisville, Kentucky; and Evansville, Indiana.
TORNADOES HIT LARGE CITIES: THIS IS WHY
Damaging wind gusts over 60 mph are also a serious threat with Friday night's severe thunderstorms. Large hail is also possible, particularly with any early-evening supercells over Missouri and Arkansas.
Saturday
A squall line will be ongoing Saturday morning ahead of the cold front from the Ohio and Tennessee valleys to the northern Gulf Coast. This line of thunderstorms will move eastward through the day, reaching the Appalachians and parts of the Southeast and mid-Atlantic by late afternoon.
Damaging wind gusts will be the main threat along the squall line, but an isolated tornado or two remains possible, especially Saturday morning from southern Ohio south-southwestward into central Kentucky and Middle Tennessee.
WHAT YOU SHOULD DO TO PREPARE FOR TORNADOES
The severe weather threat will gradually diminish Saturday afternoon as the squall line moves toward the Appalachians, Southeast and mid-Atlantic, but locally damaging winds can't be ruled out in those regions.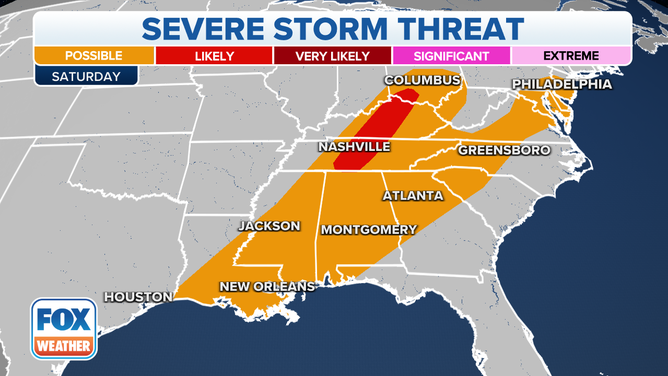 Make sure you have severe weather alerts turned on in your FOX Weather app so you can receive potentially life-saving warnings issued by the National Weather Service. Additionally, be sure to turn on government alerts in your smartphone settings and charge your battery before severe weather threatens.
If you have a NOAA weather radio, you'll want to ensure it has fresh batteries and keep it turned on by your bedside before you go to sleep Friday night.