The SPC 5-point severe thunderstorm risk category scale explained
When severe thunderstorms, damaging wind or tornadoes are possible for your area, you'll likely hear references to "SPC" risks such as "Slight" or "Enhanced" or "Moderate." Those are part of NOAA's Storm Prediction Center's thunderstorm risk scale.
When severe weather is lurking in the neighborhood, you'll likely see social media posts referencing "SPC" risks such as "Slight" or "Enhanced" or "Moderate." An example might be: "The SPC is giving Enhanced Risk of severe weather over Oklahoma today while north Texas is in the Slight Risk category."

"SPC" refers to NOAA's Storm Prediction Center, based in Norman, Oklahoma and monitors severe weather threats around the nation that include the potential for tornadoes, thunderstorms, damaging hail and wind. 
When severe weather is possible, NOAA's Storm Prediction Center will issue color-coded risk categories over geographic areas that represent the level of perceived threat.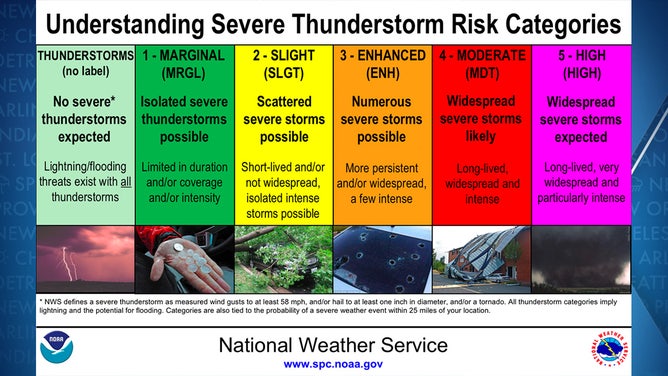 A light green shade indicates just a risk of general thunderstorms but not reaching severe levels. From there, the risk levels get a name.
According to NOAA, marginal means a risk of isolated severe storms that are expected to be limited in coverage and/or intensity. "Slight" Risk means scattered severe storms are likely, but they would be short-lived and/or not widespread.
Once you get into the Enhanced and higher risk categories, the confidence increases of a potential widespread or regional severe weather outbreak.
Moderate risk means widespread severe storms are likely, including long-lived and intense thunderstorms. 

SECRETS OF THE SPC: HOW DAILY CONVECTIVE OUTLOOK GRAPHICS ARE MADE

The "High" risk category is reserved for the most dangerous of severe weather outbreaks and means widespread severe storms are expected, with particularly intense, long-track tornadoes likely. This risk category might only be issued a handful of times a year or even less.
If the SPC issues a "High" risk for your area, forecasters are confident that Tornado Watches or Tornado Warnings will be issued, and you should be prepared with a safe place to shelter.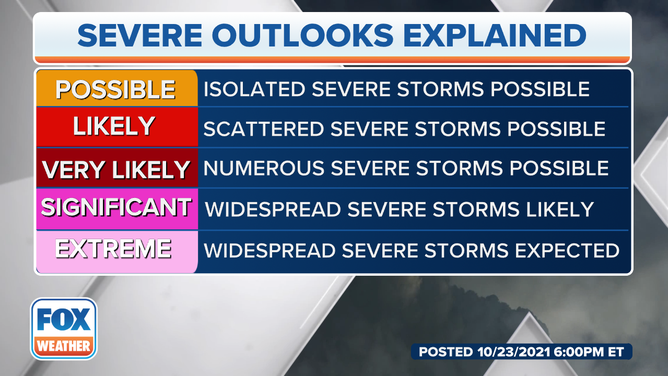 "If you're in threatened areas, really any threat; we have a five-tier scale, but if there's any risk of severe storms in your area, you have to treat it potentially very seriously in your area," says Bill Bunting of NOAA's Storm Prediction Center.
The SPC will also issue outlooks for possibilities for tornadoes, large hail or damaging winds inside severe storms. Hatched areas show an additional risk of upper-end severe weather events, such as tornadoes of EF-2 to EF-5 strength on the Enhanced Fujita Scale. 
On this particular day, strong tornadoes were a concern across much of Missouri and into northern Arkansas.
HERE'S WHAT THE 'HATCHED AREA' ON A SEVERE WEATHER MAP MEANS
The SPC issues maps for the current day and individual maps for the next day and the day after, plus a generally extended forecast. So it's an excellent resource for planning over the next few days to see if severe weather is possible.

In addition, the SPC issues Fire Weather Outlooks using a similar colored risk scale with three levels: Elevated, Critical and Extreme.