Threat for severe weather outbreak stretches from Gulf Coast to Ohio Valley
The threat for severe weather pushes into the mid-Atlantic on Saturday
The risk for severe weather exists from the Ohio Valley to the Gulf Coast on Friday, as a significant storm system marches eastward across the country's heartland.
Forecasters at NOAA's Storm Prediction Center said severe thunderstorms, capable of spawning several tornadoes and damaging wind gusts, appear likely from Friday afternoon into the early Saturday from eastern Texas into the Ohio Valley.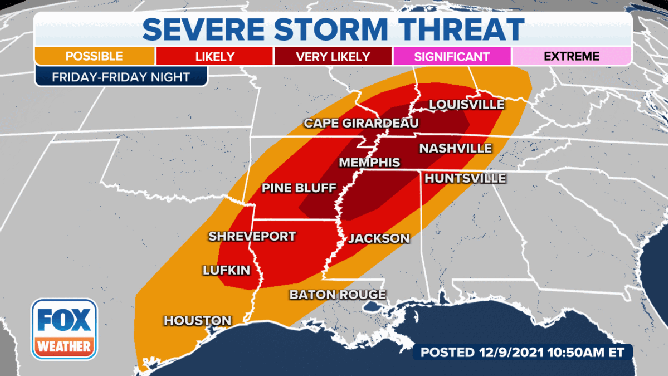 The setup for severe storms involves an upper-level disturbance punching eastward out of the Rockies and across the Plains, eventually reaching the Mississippi Valley around sunset.
A surface low-pressure system from the Plains is also expected to move eastward into the mid-South during the day Friday.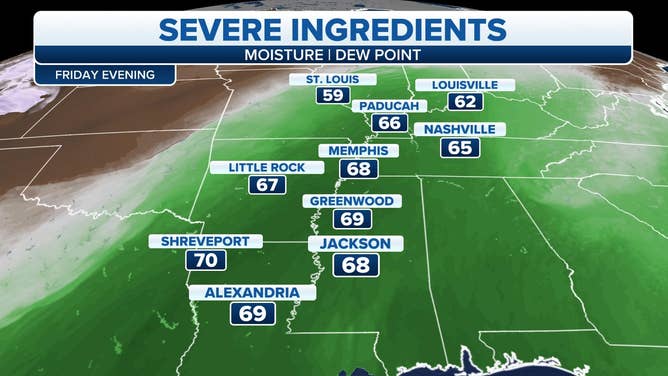 Dew points are forecast to be in the mid-60s to lower 70s Friday from central and eastern Texas into the lower Mississippi Valley and mid-South, providing the moisture and instability needed to trigger the development of severe thunderstorms. 
WHY DEW POINT IS THE BEST WAY TO CLASSIFY HOW MUCH HUMIDITY IS IN THE AIR
As the upper-level disturbance and low-pressure system continue to shift eastward, storms will fire up Friday afternoon into Friday night along a warm front that will stretch from the Mississippi, Ohio and Tennessee valleys into parts of the Southeast.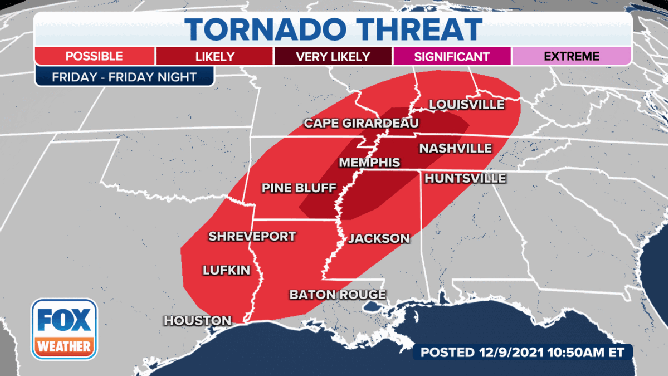 The SPC also predicts an increased the risk for tornadoes from eastern Texas northeastward to Louisville, Kentucky, and parts of Ohio and Indiana.
THIS IS THE LIFECYCLE OF A TORNADO
Forecasters say some of the tornadoes could be strong, in eastern Arkansas, northwestern Mississippi, western Tennessee and western Kentucky. There's also a higher risk for tornadoes in southern Illinois, southern Indiana and southeastern Missouri.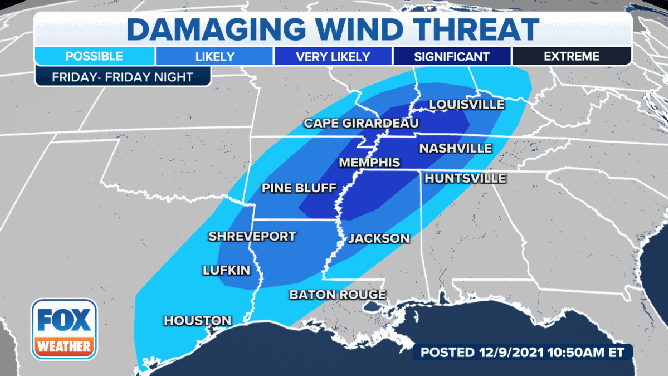 The threat for strong, damaging winds will also exist where severe thunderstorms develop. The threat for damaging winds appear likely from the lower and mid-Mississippi Valley into the lower Ohio Valley. That's also the area where the SPC has a higher risk for tornadoes.
People in these areas should keep the FOX Weather app handy in case any severe weather alerts are issued.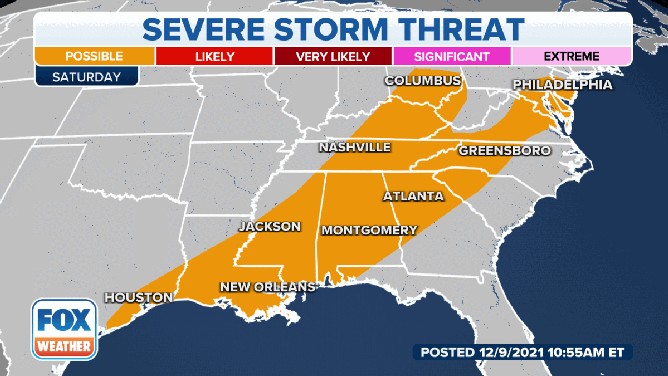 On Saturday, the threat of severe weather will shift to parts of the Southeast and into the Mid-Atlantic.
A broken line of storms will likely be occurring Saturday morning, extending from parts of the Ohio Valley across the Southeast and into coastal Texas. But low-level winds and deep wind shear should remain strong through at least Saturday morning over those regions, which should support continued thunderstorm development.
The main threat from these storms would be strong, damaging winds. However, the SPC says a brief tornado may also occur, given the conditions.