Kentucky flooding: FEMA warns accepting GoFundMe money may thwart government aid
GoFundMe money used for flooding home repairs or specific costs may impact an individual's FEMA assistance eligibility.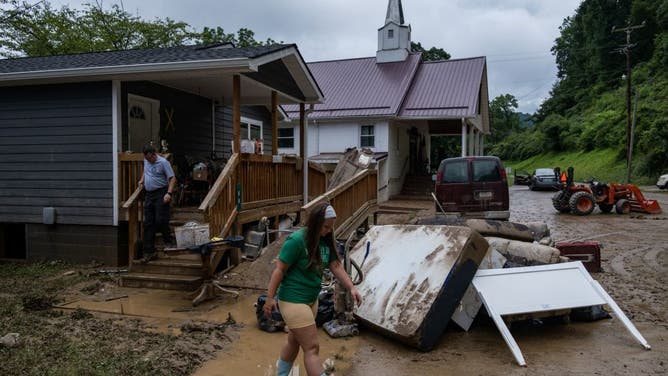 Hundreds of fundraisers were created on GoFundMe for Eastern Kentucky victims who lost their homes and everything in it during the historic and deadly floods in late July. However, those donations may prevent flood victims from receiving benefits from the Federal Emergency Management Agency after the natural disaster. 
Many people who lost their homes last week during the widespread flooding did not have flood insurance or other insurance. 
FEMA has given a disaster declaration for Breathitt, Clay, Floyd, Knott, Leslie, Letcher, Magoffin, Martin, Owsley, Perry, Pike and Whitley counties, making individuals eligible for federal assistance. Homeowners and renters can apply for benefits at disasterassistance.gov or in person at one of the FEMA mobile registration centers set up in Eastern Kentucky.
But Kentucky Gov. Andy Beshear warned some people who receive fundraising donations may lose out on federal benefits. 
2 REMAIN MISSING IN EASTERN KENTUCKY AS EXTREME HEAT, FLOODING COULD SLOW RECOVERY EFFORTS
"According to FEMA, if you receive money from a GoFundMe page for something specific, such as repairs or other aid, it may affect your FEMA eligibility," Beshear said. "What this means is FEMA cannot duplicate benefits you receive from another source, so if you got GoFundMe dollars for home repairs. FEMA says it cannot provide the same funding as it has already been received through another source."
Beshear said the agency does not have flexibility on this issue. FEMA Press Secretary Jeremy Edwards confirmed in a statement to FOX Weather that FEMA cannot duplicate benefits.
"If you receive money from a GoFundMe page for something specific, such as repairs, funeral expenses or other aid, this may affect your FEMA eligibility, but survivors should still apply for assistance and let FEMA determine if you are eligible," Edwards said. "By law, FEMA cannot duplicate benefits you receive from another source."
FOX Weather has also reached out to GoFundMe for comment on this issue.
The governor said those denied FEMA individual assistance should talk to a FEMA employee at a registration center. Some people who do not have all the documents needed are being denied. The state is opening disaster recovery centers to help provide documents that may have been lost in the floods. 
"I have been reassured that if you've been denied, you can go in and talk to one of the FEMA people at these locations. They will open up your claim, and they will talk to you," Beshear said.
HERO ON THE WATER: RELATIVE AMONG SEVERAL KENTUCKIANS RESCUED BY KAYAKER
More than 500 people are staying at Kentucky State Parks or shelters. Beshear estimated approximately 1,000 more flood victims are staying with friends or family.
Help available for Kentucky flood victims outside of FEMA
There is help for flooding victims outside of FEMA, the American Red Cross and the United Way. Like the fundraiser after the deadly tornado outbreak in December 2021 in Western Kentucky, the state started a fund for flooding relief.
The Team Eastern Kentucky Flood Relief Fund has received more than $3.6 million in donations that will go toward helping flood victims. The funds have already paid for 17 funerals for some of the 37 victims killed during the flooding emergency. All flood victims' funerals are eligible for these funds, and their families do not need to apply to receive the money.
On Friday, Beshear said the Kentucky Distillers Association would host a bourbon auction to raise money for the relief fund from Aug. 11 to Aug. 21. All of the proceeds from rare bourbons will go toward flood relief. 
CLICK HERE TO GET THE FOX WEATHER UPDATE PODCAST
The FOX Weather app is a great resource that can be used to alert you of any watches or warnings issued for your area. The free FOX Weather livestream is also available 24/7 on the website and app and on your favorite streaming platform. The FOX Weather Update podcast also provides weather information for the entire country.