Eastern Pacific hurricane season begins May 15: Here's what that means for the US
Eastern Pacific tropical storms and hurricanes can contribute to serious flash flooding in both the Southwest and Hawaii. In September 2022, even Southern California was threatened by Tropical Storm Kay when it passed within 130 miles of San Diego.
The Eastern Pacific hurricane season begins May 15, two weeks earlier than the Atlantic hurricane season which gains most of the attention, but storms from that ocean basin can also have significant impacts on the U.S.
May 15 was chosen by the National Hurricane Center as the start date of the Eastern Pacific hurricane season because waters there tend to be warmer than in the Atlantic this early in the year, providing just enough heat to fuel any tropical storms and hurricanes that are able to develop.
Additionally, wind shear – the change in wind speed and/or direction with height that can rip apart tropical cyclones – is usually weaker in the Eastern Pacific earlier in the season than it is in the Atlantic.
Despite the Eastern Pacific's earlier start to hurricane season, Nov. 30 marks the end of the season in both ocean basins.
ATLANTIC, EASTERN PACIFIC TROPICS CAN BEGIN TO AWAKEN IN MAY
The graphic below shows the complete list of names selected by a committee of the World Meteorological Organization for the 2023 Eastern Pacific hurricane season.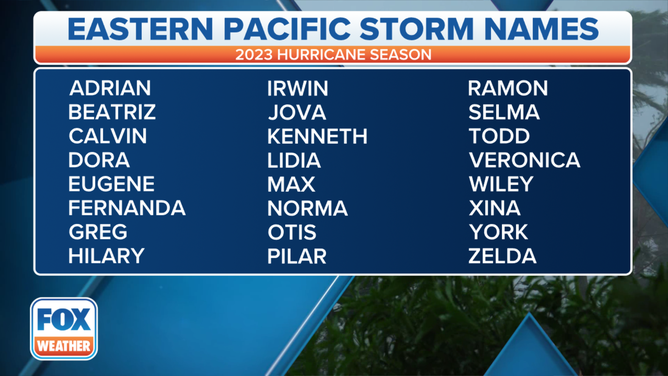 Just as it does for storms in the Atlantic, the NHC also assigns a name to any Eastern Pacific tropical cyclone that becomes a tropical storm (39-plus-mph winds) or hurricane (74-plus-mph winds). The NHC goes through the list in alphabetical order, so the first tropical storm or hurricane receives the "A" name (Adrian) and the 24th such storm receives the "Z" name (Zelda).
The name lists in both ocean basins rotate every six years, so the 2023 list was last used in 2017 and will be recycled again in 2029.
TROPICAL DEPRESSION VS. TROPICAL STORM VS. HURRICANE: WHAT'S THE DIFFERENCE?
While many tropical storms and hurricanes that form in the Eastern Pacific track westward and away from land, some of them follow a different route.
"Most Pacific storms affect Central America and particularly Mexico, but there are direct U.S. interests involved as well," FOX Weather hurricane specialist Bryan Norcross said. "Storms are usually weakened by their trek over Mexico, but they can still cause significant impacts in the southwestern U.S., especially flooding and occasionally strong winds."
Tropical storms and hurricanes can also affect Hawaii if they are able to survive the roughly 4,000-mile journey from the Eastern Pacific to the Central Pacific.
Here's what this all means for the U.S. as the Eastern Pacific hurricane season begins.
Flash flooding threat in the Southwest
It may sound surprising, but Arizona has a direct encounter with a tropical storm or tropical depression about once every five years, according to the National Weather Service office in Tucson. Moisture associated with a tropical cyclone or its remnants triggers flash flooding in the state even more frequently: about once every two years.
Five tropical storms and three tropical depressions since 1965 have survived the trip through the mountains and deserts of northern Mexico and remained intact all the way into Arizona, though they were in a weakened form by the time they crossed the international border.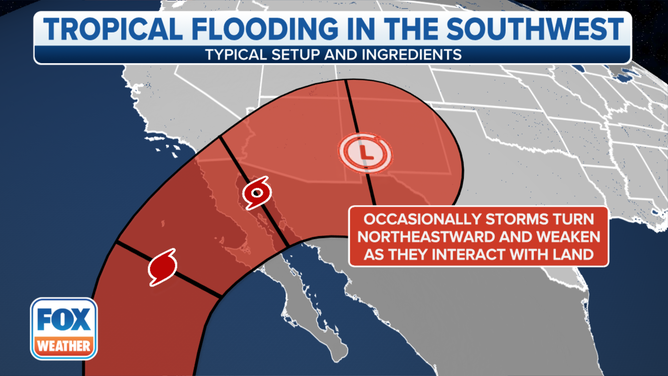 But even if a storm dissipates hundreds of miles away from the southwestern U.S., as is often the case, heavy rain and flash flooding can still develop across the region.
For example, 17 tropical cyclones since 1965 have triggered flash flooding in Arizona despite dissipating south or southwest of the state because their remnant moisture was pulled northward by the upper-level winds.
According to the NWS, four of the five most serious floods in southern Arizona over the last 53 years were caused by the remnants of a hurricane, tropical storm or tropical depression.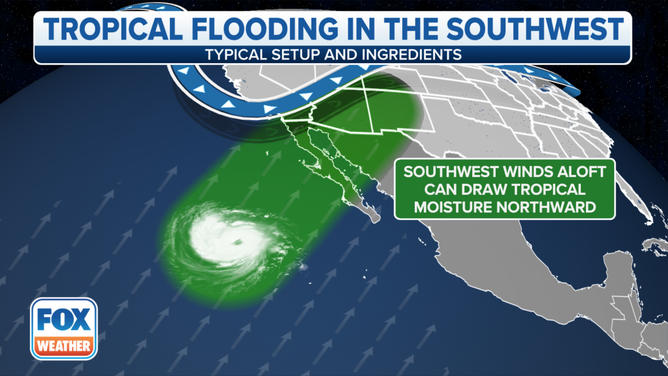 Arizona isn't the only state that can be impacted by an Eastern Pacific tropical cyclone or its remnants, however.
Last year, Tropical Storm Kay, once a Category 2 hurricane, made landfall as a strong tropical storm on Mexico's Baja California Peninsula and produced flooding rain, mudslides and debris flows not only in parts of Mexico, but also across the southwestern U.S. from California to Nevada to Arizona in early to mid-September.
As much as 5.85 inches of rain fell at Mount Laguna in Southern California, while 4.60 inches drenched Green Valley in Arizona and 3.40 inches was tallied near Berry Creek in Nevada.
Kay and its remnants were responsible for at least four direct deaths in Mexico and one in Southern California. According to the NHC, a 62-year-old woman died in San Bernardino County, California, on Sept. 12 after heavy rainfall over burn scars caused a debris flow that destroyed her home and buried the area underneath several feet of mud, rocks and other debris. As many as 30 homes were damaged or destroyed over the Apple and El Dorado burn scars in San Bernardino County, resulting in $6 million in damage.
HOW WILDFIRE BURN SCARS COULD HAVE LASTING IMPACTS
In mid-October 2021, Hurricane Pamela crashed ashore in Mazatlán, Mexico. It dissipated shortly after landfall, but moisture from the remnants of Pamela was drawn northward into a cold front over Texas.
A large area of 3 to 6 inches of rain drenched portions of Central Texas between Oct. 13 and 14, according to the NHC's final report on the hurricane. As much as 9.9 inches of rainfall was recorded in the city of Gonzales, Texas, about 65 miles south of Austin.
Even Utah can be affected by the remnants of an Eastern Pacific tropical cyclone.
In mid-September 2015, moisture that partially originated from Hurricane Linda contributed to heavy rainfall that was responsible for Utah's single deadliest flash flood event on record. The NHC's final report on the storm noted that 20 people were killed by the flash floods in Utah on Sept. 14.
Earlier that season, in California, moisture from the remnants of Hurricane Dolores in mid-July interacted with an upper-level disturbance off the West Coast. This resulted in very rare July heavy rainfall in parts of Southern and Central California. According to the NHC, all-time July monthly rainfall records were set in San Diego (1.03 inches) and Los Angeles (0.28), as well as in nearly a dozen other locations across the state.
WATER FROM HURRICANES, TROPICAL STORMS KILLS MORE IN U.S. THAN WIND
Eastern Pacific tropical cyclones can threaten Hawaii
It's not always paradise in Hawaii. The island chain is occasionally brushed by tropical cyclones that survive the roughly 4,000-mile journey from the Eastern Pacific to the Central Pacific, and this has been especially true in recent years.
Last year, Tropical Storm Darby formed several hundred miles off the coast of southwestern Mexico on July 9. It tracked westward over the following days, eventually intensifying into a Category 4 hurricane on July 11 over the open waters of the Eastern Pacific. By July 14, a weakening Hurricane Darby had entered the Central Pacific, where it became a tropical storm the next morning.
Darby made its closest approach to the Big Island of Hawaii on July 16 when it passed about 140 miles south of Hilo as a 40-mph tropical storm. The tropical cyclone and its remnants churned up the surf and sent massive waves crashing ashore along Hawaiian beaches.
In late-August 2021, the remnants of Hurricane Linda in the Eastern Pacific moved across the Hawaiian Islands as a post-tropical cyclone. The center of the system passed north of Maui, across Molokai and just south of Oahu, spreading heavy rainfall and high winds across portions of the state, according to the NWS office in Honolulu.
The most recent hurricane to threaten Hawaii was Hurricane Douglas in late-July 2020. The hurricane's center of circulation passed only 30 miles north of the northern tip of Oahu.
The NHC had issued Hurricane Warnings for the islands of Maui, Oahu and Kauau, but fortunately, they were spared the strongest winds and heaviest rainfall. It was an extremely close call, however, as tropical-storm-force winds (39-plus mph) were estimated within about 10 miles of Oahu's northern tip.
AMONG SUREST WEATHER BET IN AMERICA: PREDICT RAIN IN THIS HAWAII TOWN IN JULY
The NWS said Douglas was the closest a hurricane had come to Oahu since before Hurricane Dot in 1959, which passed about 60 miles off the western coast of the island.
In late-August 2018, Hurricane Lane passed about 150 miles southwest of the Hawaiian Islands after making the journey from the Eastern Pacific into the Central Pacific.
The storm intensified into a Category 5 hurricane to the southeast of Hawaii, becoming only the second Category 5 on record to be located within 350 miles of our nation's 50th state, according to the NWS. The last such storm was Hurricane John in 1994.
Despite weakening significantly at its closest pass to Hawaii, Lane became the second-wettest tropical cyclone on record to ever impact the U.S. after it dumped 58 inches of rain in Kahuna Falls on the Big Island. A database maintained by NOAA's Weather Prediction Center shows only Hurricane Harvey from 2017 was wetter, with 60.58 inches reported in Nederland, Texas.
THESE ARE THE RAINIEST HOUR AND MINUTE IN AMERICAN HISTORY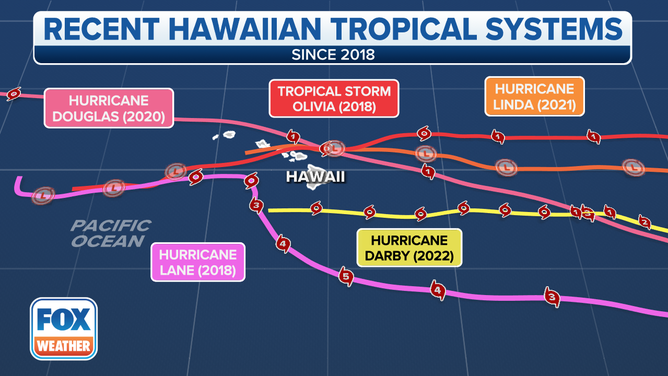 Just a few weeks after Lane impacted Hawaii, Olivia became the first tropical storm to ever make landfall on the islands of Lanai and Maui in mid-September 2018.
Maui and Oahu were swamped by heavy rainfall and flash flooding from Tropical Storm Olivia. Several vehicles and homes were reportedly swept away by floodwaters, the NHC noted in its final report on the storm. Additionally, several landslides and dozens of power outages were blamed on Olivia.
A San Diego hurricane?
Believe it or not, the city of San Diego, known for its abundant sunshine and pleasant weather for much of the year, was once struck by a hurricane from the Eastern Pacific.
"There are examples in the historical record of a hurricane and some tropical storms impacting Southern California," Norcross said.
Dubbed the 1858 San Diego hurricane, this rare storm just missed making an official landfall in "America's Finest City" on Oct. 2, 1858, turning west-northwestward away from the coastline before it moved ashore.
It is the only known hurricane to ever directly impact Southern California, which is the only part of the U.S. West Coast that could potentially be hit by a landfalling tropical cyclone.
WHY DON'T TROPICAL STORMS OR HURRICANES EVER HIT CALIFORNIA?
According to a paper published in the Bulletin of the American Meteorological Society in 2004, San Diego suffered extensive damage from the 1858 hurricane as hurricane-force winds (74-plus mph) lashed the city. Many homes lost roofs, some houses were entirely blown down, numerous trees were uprooted and fences were demolished.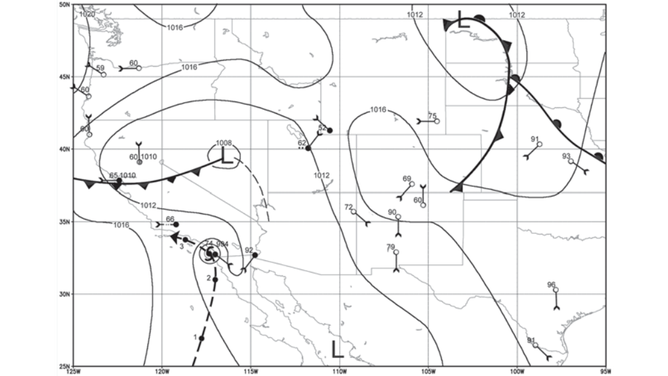 While Tropical Storm Kay passed within 130 miles of San Diego in September 2022, the only tropical cyclone to ever make an official landfall in Southern California was a September 1939 tropical storm that crossed the coastline in Long Beach, about 20 miles south of downtown Los Angeles.
Flooding and high winds from the storm killed 45 people in Southern California, while 48 additional people died at sea, according to the NWS office in San Diego. Damage to crops and structures near the coast was estimated at $2 million in 1939 dollars, or more than $42 million in 2023 dollars when adjusted for inflation.
In response to Californians' lack of preparedness for this tropical storm, the NWS opened a new forecast office in San Diego, which began operations in February 1940.
NOAA UPGRADES STORM SURGE MODEL AHEAD OF 2023 HURRICANE SEASON
Pacific Ocean water temperatures off the U.S. West Coast are relatively cool for much of the year, so that's why it's extremely rare for a tropical storm or hurricane to hit Southern California.
The water turns much warmer and is far more conducive for supporting tropical cyclones farther south toward Mexico's Baja California Peninsula and down along the western coasts of Mexico and Central America.