Legacy of Tropical Storm Kay leaves flash flooding impacts across Desert Southwest for days
Abundant tropical moisture still left over from Tropical Storm Kay's demise last weekend got caught up in the jet stream and carried into parts of the Desert Southwest and Great Basin, triggering a substantial threat of flash flooding.
LAS VEGAS – Tropical Storm Kay may have fizzled at sea last week, but its legacy lived for days as its remnants pelted the Desert Southwest with numerous showers and thunderstorms, leading to areas of flash flooding and a number of water rescues across Southern California, Nevada and Utah.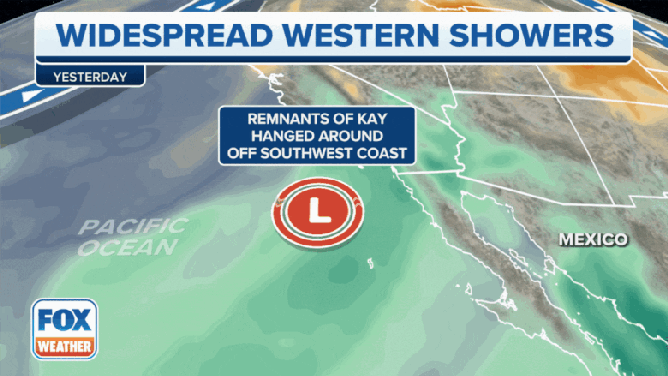 "When that happens, it takes all that tropical moisture with it," said FOX Weather meteorologist Britta Merwin. "So you don't necessarily need a tropical storm or a defined circulation to really bring in all that moisture; it just takes a little bit of that spin."
HOW TO WATCH FOX WEATHER ON TV
Flood Watches were in effect for three days in the region, though while a few lingering showers and thunderstorms were rumbling across the Intermountain West and inland Northwest on Thursday, all flood alerts had been dropped.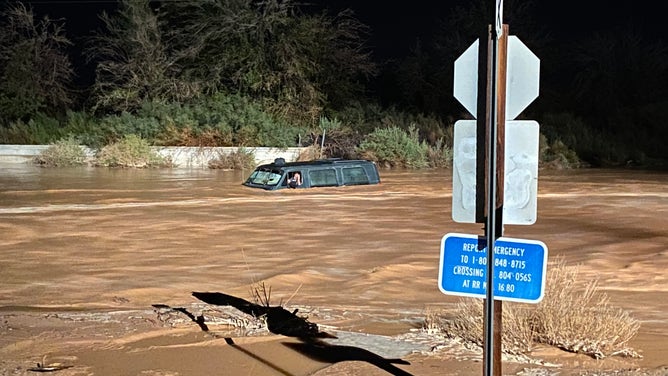 In Southern California, heavy rains hit San Bernardino and Los Angeles counties particularly hard. Police officers in the city of San Bernardino rescued a mother and her children who were nearly swept away during a raging flash flood Sunday.
A mom had called police about an unrelated problem Sunday afternoon, according to the SoCal News Outlet. But as the family was heading back to their car, an impromptu river roared down the street, nearly washing them away. 
Dashcam video from San Bernardino Police shows three of their officers rescuing the mother who had lost her balance while trying to cross the rapids. Officers then assisted two children and others who had become stranded on the other side of the water.
Farther out in San Bernardino County, flash flooding rolled through the Forest Falls area, causing severe damage and leaving one person still missing. 
Over 120 search-and-rescue personnel are combing the area looking for the missing resident as the area begins to clean up the damage.
In nearby Los Angeles County, dozens were trapped after a mudslide and debris flow in Lake Hughes. Los Angeles County Fire Department officials confirmed they rescued approximately 50 people who were taken to a nearby county fire station to meet with the American Red Cross.
DOZENS RESCUED IN SOUTHERN CALIFORNIA AFTER HEAVY RAINFALL TRIGGERS MUDSLIDE IN FIRE BURN SCAR
Also in Southern California, heavy rains in Oak Glen near Yucaipa sent a wall of mud into town, burying part of a restaurant under feet of mud.
'GET OUT OF HERE': WATCH AS MUD BARRELS DOWN CALIFORNIA HILLSIDE AFTER HEAVY RAIN
In Nevada, thunderstorms brought instant torrents of water across Clark County – home to Las Vegas. 
Two people who had pulled off the highway in their van to rest Tuesday night found themselves in the middle of a flash flood, with water climbing chest high. Las Vegas Police sent a rescue helicopter to hoist the two to safety without injury.
Rescue crews also had to save a semi-truck driver who got stuck in floodwaters on State Route 169, prompting a soggy escape:
"There's a big upper level supporting these showers, and because it's an upper-level feature… we don't necessarily need that daytime heating to hold onto those nocturnal storms," Merwin said. "So we are going to showers and storms even lasting through the overnight, but it will be more widespread during the afternoon because of the sunshine's (heating)."
In neighboring Utah, heavy rains pushed through drought-stricken Salt Lake City, providing some cheers…and jeers. 
Ramps connecting Interstate 215 to Interstate 80 were closed Wednesday after a semi jackknifed on slick roads and crashed into a barrier, according to Utah's Department of Public Safety. 
A trailing car smashed into the truck, causing a fuel leak.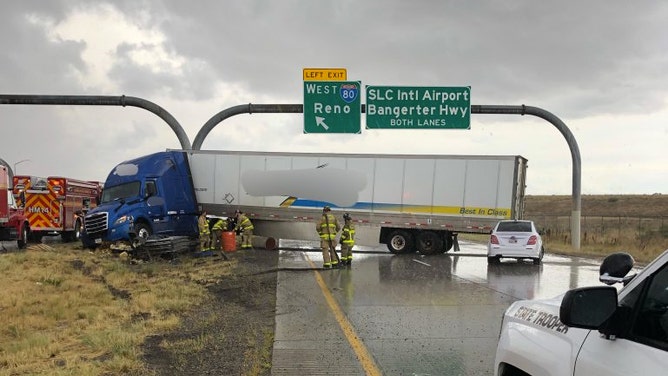 Students at Salt Lake City's Skyline High School got to end the day a little early after heavy rains flooded the building.
Over an inch of rain fell in spots around the Salt Lake City area, though only 0.22 inches of it fell at the airport.
"This is beneficial (rain) – we need it," Merwin said. "We have drought conditions across the area, but we could see some short-term flooding because of how much rain we're anticipating."