'Get out of here': Watch as mud barrels down California hillside after heavy rain
Father says he was on his way to pick up his children from school when he was stopped by the landslide in Oak Glen near Yucaipa.
OAK GLEN, Calif. – Heavy rain across Southern California over the weekend and early this week resulted in landslides and debris flows that prompted rescues and damaged roads in parts of the region.
Roger Seheult had his camera rolling Monday as one of those mudflows came barreling down a hillside in the mountain town of Oak Glen, just northeast of Yucaipa.
HOW TO WATCH FOX WEATHER ON TV
According to Seheult's tweet about the incident, he was on his way to pick up his children from school when he was stopped on Oak Glen Road by the mudflow. That was when a surge of muddy debris came flowing down the hill and blocked the road in front of him.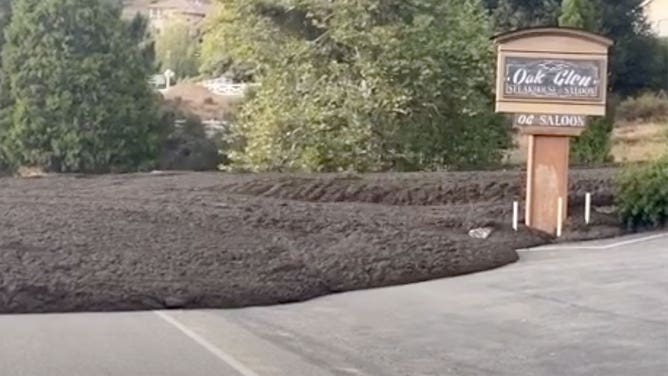 Seheult's video shows at least three surges of gunk came roaring across the road, each one more destructive than the next. At the end of the video, metal can be heard banging as a man looking up the hill sprints away from the area shouting, "Hey! Get out of here!" A Dumpster is seen being shoved by the mud just before the video ends.
Seheult, who survived the ordeal, said in a tweet that he wondered what would've happened if he, "had been 2 min earlier."
7 WARNING SIGNS A LANDSLIDE OR MUDSLIDE IS IMMINENT
This is the same area where the El Dorado wildfire consumed more than 22,000 acres in late 2020. That fire was started by a couple's gender reveal party, according to FOX News. It's likely that Monday's slide was a result of heavy rain over the burn scar left by that wildfire.

Late Sunday, authorities responded to a separate landslide in Los Angeles County that trapped dozens. About 50 people had to be rescued, and one person suffered minor injuries.