Atlantic, Eastern Pacific tropics can begin to awaken in May
June 1 marks the official start date for the Atlantic hurricane season, but tropical cyclones can occasionally develop before then, as we saw for seven consecutive years from 2015 to 2021.
Although the Atlantic hurricane season doesn't formally begin for another month, recent history has shown the tropics can begin to awaken in May. Meanwhile, the Eastern Pacific hurricane season is just two weeks away with an official start date of May 15.
The Eastern Pacific has an earlier start to hurricane season because sea-surface temperatures in that ocean basin tend to be warmer than the Atlantic's waters this early in the year, providing just enough heat to fuel any tropical storms and hurricanes that are able to develop.
EASTERN PACIFIC HURRICANE SEASON BEGINS MAY 15: HERE'S WHAT THAT MEANS FOR THE U.S.
Additionally, wind shear – the change in wind speed and/or direction with height that can rip apart tropical cyclones – is usually weaker in the Eastern Pacific earlier in the season than it is in the Atlantic.
Many Eastern Pacific tropical storms and hurricanes track westward and away from land, but that's not always the case. They can impact parts of Central America and Mexico, and sometimes moisture from these tropical cyclones can surge into the southwestern U.S., where dangerous flash flooding could develop.
CENTRAL AMERICA IS PRONE TO HURRICANE DISASTERS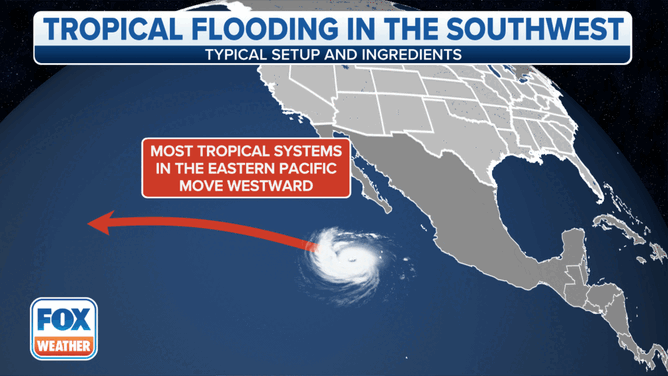 Atlantic hurricane season can start early
June 1 marks the official start date for the Atlantic hurricane season, but tropical cyclones can occasionally develop before then. The most favored areas for tropical development in May are the western Caribbean Sea, the Gulf of Mexico and near the southeastern U.S. coast.
WHERE TROPICAL STORMS AND HURRICANES TYPICALLY OCCUR DURING EACH MONTH OF ATLANTIC HURRICANE SEASON
Since 1851, 42 systems of at least tropical storm intensity (sustained winds of 39 mph or higher) have developed in the Atlantic Basin between Jan. 1 and May 31, according to NOAA's historical hurricane tracks database. That's an average of approximately one pre-season tropical cyclone every four years.
There was recently a seven-year stretch between 2015 and 2021 in which at least one tropical storm or hurricane developed in the Atlantic before June 1. Last year finally ended the unusual streak of pre-season named storms when Tropical Storm Alex, the first Atlantic tropical cyclone of 2022, didn't develop until June 5.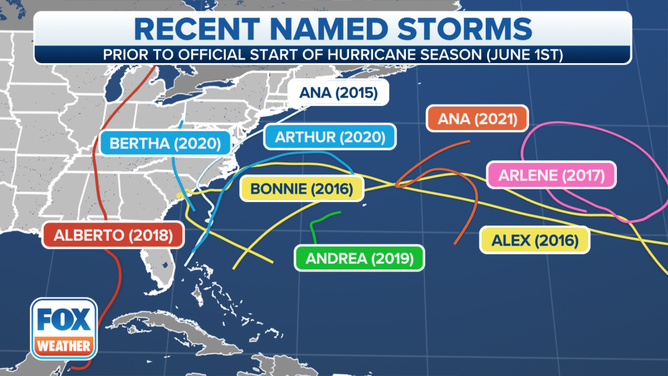 HERE'S WHY THE ATLANTIC HURRICANE SEASON RUNS FROM JUNE TO NOVEMBER
Early outlooks for the 2023 Atlantic hurricane season suggest a slightly below-average season due to the expected influences of El Niño. That's because El Niño typically causes much more wind shear in the Atlantic, and water temperatures tend not to be as warm as they would be during a La Niña season. Tropical cyclones need minimal wind shear and warm waters in order to grow into formidable tropical storms and hurricanes.