How the fading La Nina pattern will impact hurricane season activity in 2023
El Niños are known to suppress tropical activity in the Caribbean, Gulf of Mexico and Atlantic Ocean, but there is typically a lag after entering the ENSO state and seeing the associated climate impacts. Data shows that the probability of hurricane impacts are higher during La Niña years.
There are less than 100 days before the arrival of the 2023 hurricane season, but for Mother Nature, the processes that lead to tropical cyclone production begin well before the year's annual start on June 1, and these signals can provide clues as to how busy the season will be.
Forecasters pay close attention to trade winds in the Pacific and water temperature anomalies to determine the status of the El Niño-Southern Oscillation index, or what is commonly referred to as the ENSO.
Historically, La Niñas have produced busy tropical seasons, while the opposite is known to be true during El Niños - when conditions are typically hostile for storms in the Atlantic basin.
During La Niña patterns, water temperatures in the Atlantic, Caribbean and Gulf of Mexico are usually warmer than average and upper-level winds, which tend to tear systems apart, are less hostile.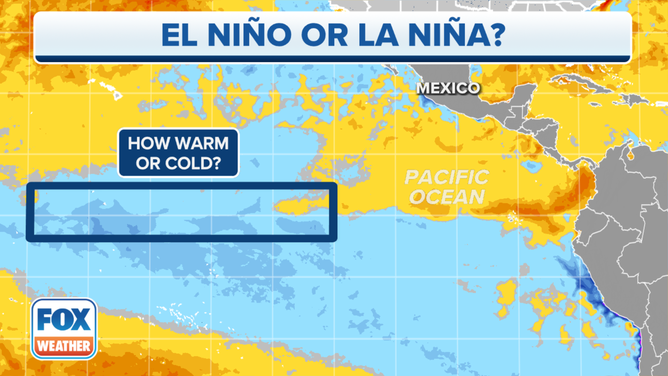 In El Niños, forecasters say there is usually much more wind shear around, and water temperatures tend not to be as warm in the Atlantic basin.
HURRICANE SEASON 2022 ENDS WITH TROPICAL ACTIVITY BELOW EXPECTATIONS
Current state of ENSO
The current La Niña pattern continues to weaken, and climate models anticipate the world will enter a neutral status during the spring.
A march out of La Niña to neutral and potentially into an El Niño would require the continued warming of water temperatures in the central and eastern Pacific.
Once water temperature anomalies reach -0.5 °C or warmer, the triple-dip La Niña will be considered over, and the world will officially be in neutral status. A neutral ENSO runs from -0.5 °C to 0.5 °C, and El Niños are christened once levels reach 0.5 °C or warmer.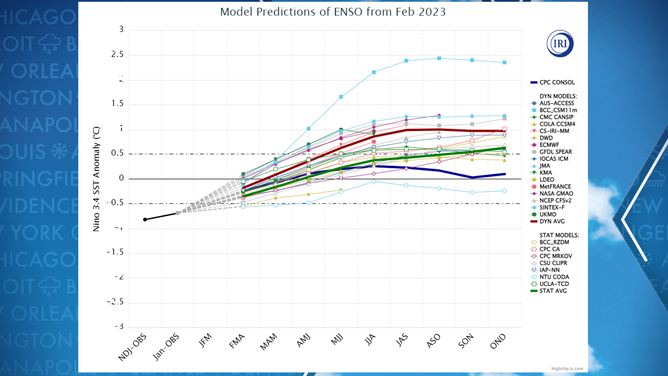 Agencies such as the National Oceanic and Atmospheric Administration commonly refer to La Niña as being the cold stage and El Niño as being the world's warm stage.
WHAT ARE EL NINO AND LA NINA CLIMATE PATTERNS?
Satellite observations indicate a portion of the eastern Pacific, mainly around the Galápagos Islands and off the coast of South America, has already reached an El Niño threshold, but a vast stretch of the equatorial Pacific has water temperatures below average.
Climatological studies have previously warned that La Ninas have been slow to decay, and the overall weather patterns associated with the event tend to be slow to change around the world.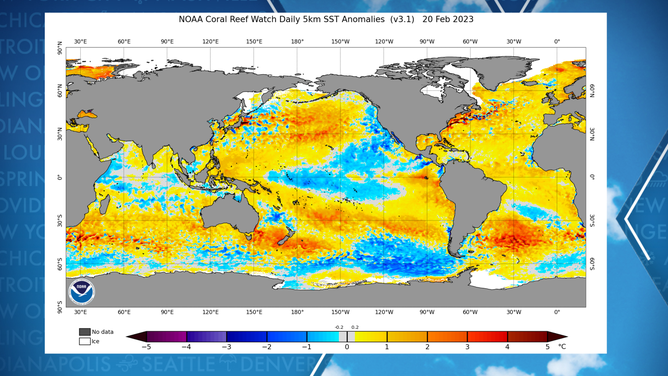 Due to the slow nature of change and climate forecast models showing an entrance into an El Niño during the late summer or fall, the 2023 hurricane season will already be well underway by the time atmospheric winds, temperatures and instability levels reach what are considered to be normal for the state.
ATLANTIC HURRICANE SEASON BEGINS IN 100 DAYS: HERE ARE THE NAMES YOU'LL SEE IN 2023
What the neutral or El Niño status means for the 2023 season
An average Atlantic basin hurricane season produces 14 named storms, of which seven go on to become hurricanes and three normally reach major hurricane status with winds of at least 115 mph.
Six of the last seven years have all finished with above normal activity, including 2018, when an El Niño was in control in the Pacific.
Before the 2018 season began, private and government entities called for a season that would be largely at or below normal due to the development of hostile conditions in the Atlantic basin. A rather slow development of El Niño allowed both the Atlantic and eastern Pacific basins to exceed preseason expectations.
The year produced systems such as Hurricane Florence, which impacted the Carolinas in September, and Hurricane Michael, which slammed into Florida as the third-strongest landfalling cyclone on record in the U.S.
SAVED BY HUMAN EFFORTS: HOW A SPECIES OF FISH WAS GIVEN A SECOND LEASE ON LIFE AFTER HURRICANE MICHAEL
The 2023 season could be in a similar state, especially if El Niño is slow to emerge and gain control over weather patterns.
If the onslaught of El Niño is faster than anticipated, then hostile conditions across the basin could be at play earlier in the season and lead to reduced tropical cyclone development. If the start of less-than-prime conditions is delayed until after the heart of the season, such as in late October or November, it could give potential cyclones a decent four or five months largely without El Niño interference.

An analysis of similar years when the state of the atmosphere was in transition and either stuck in a neutral state or heading into El Niño produced, on average, 13 named storms, six hurricanes and two major hurricanes – totals that are shy of the typical season.
There is known to be significant variability when it comes to neutral or weak El Niño-influenced seasons that run the gamut from being slow to very busy. The 2012 tropical weather season produced 19 names storms, while the 2013 season only saw two hurricanes – the fewest ever reported in the satellite era.
5 THINGS TO KNOW ABOUT THE SARAHAN DUST
Features that forecasters will keep an eye on that tend to have a rather unpredictable nature include the Saharan dust layer, available instability, the African monsoon and many others ingredients that have a role in tropical season activity.
Not all these ingredients came together during 2022, which caused some outlooks to overestimate the amount of cyclones that were expected during the six-month season.
Key outlooks for the 2023 hurricane season will begin to be released in April and May ahead of the season's June 1 start.