California has a history with tropical systems but they rarely hit the state
While the Golden State can occasionally get hit by moisture-laden remnants of a tropical storm or hurricane in the Eastern Pacific Ocean, getting a direct strike from an actual storm is exceedingly rare.
LONG BEACH, Calif. – Hurricane season is well underway along the East and Gulf coasts of the U.S., but it's one of the few weather events that Californians can blissfully ignore despite their similar perch in a warm climate along an ocean shoreline.
While the Golden State can occasionally get hit by moisture-laden remnants of a tropical storm or hurricane in the Eastern Pacific Ocean, getting a direct strike from a storm is exceedingly rare there – records indicate perhaps once a century.
One must go back to the dawn of the 20th century on Sept. 24, 1939, to find the last and only tropical storm to make an official landfall in California. A hurricane approached the Los Angeles area but lost hurricane strength just before making landfall at San Pedro as a tropical storm.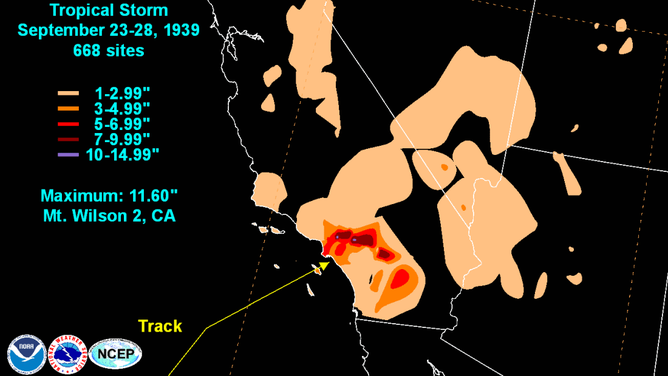 The tropical storm's winds were not the main issue, but its torrential rainfall; causing the greatest September rainfall on record across Southern California.  
7 FACTS TO KNOW ABOUT HURRICANES
Los Angeles received 5.42 inches of rain in just 24 hours – nearly a third of their annual rainfall average, according to NOAA records. Indio received nearly 7 inches of rain in three hours and a total of 9.24 inches in six hours.  Nearly a foot of rain fell at Mount Wilson.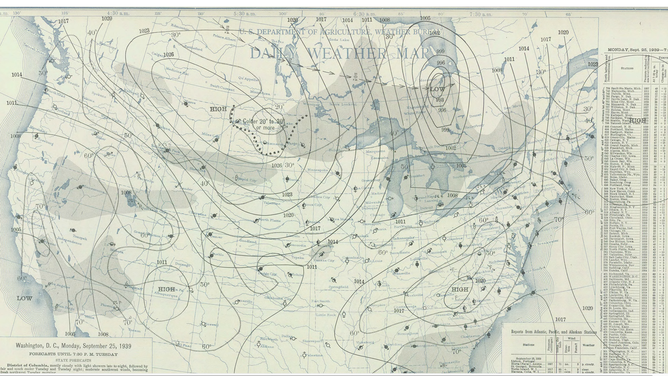 The resulting floods left 45 dead across Southern California and another 48 people died at sea. The eastern Coachella Valley was left under 2 feet of water and the tropical storm caused an estimated $2 million in damage to structures and crops along the California coast, NOAA says.
The storm struck in the days before tropical systems were named, but it was known locally as "The Lash of St. Francis", according to NOAA.
"Californians were generally unprepared and were alerted to their vulnerability to tropical storms," NOAA's report on the storm stated. "In response, the weather bureau established a forecast office for southern California, which began operations in February of 1940."
WHAT IS THE 'CONE OF UNCERTAINTY' IN HURRICANE FORECASTS?
What's worse, it was the fourth system with tropical remnants to hit southern California in just that month alone!  
The California Hurricane of 1858
The only other tropical system to strike California since records have been kept was in early October 1858.
Meteorology researchers, piecing together what few weather records were available at the time and matching with stories in local newspapers, believe the San Diego area was likely hit with winds that would today be deemed a Category 1 hurricane -- the only tropical system ever considered to have struck the U.S. West Coast at hurricane strength.
HOW ARE HURRICANES RATED? THE SAFFIR-SIMPSON HURRICANE WIND SCALE EXPLAINED
"In the fall of 1858, nighttime temperatures in San Diego had been uncommonly warm due to the 1857-1859 El Niño," according to FOX Weather Hurricane Specialist Bryan Norcross. That was a hint that nearby ocean waters were warmer than average, providing fuel for an approaching hurricane – just barely, though.
"We don't know exactly what the weather pattern was like in 1858, but apparently the northern limit of the just-warm-enough water didn't extend far north of San Diego since the storm died quickly as it moved along the coast to San Pedro -- although the heavy rain continued north, but without the wind," Norcross said. "It was apparently moving just fast enough to survive to just offshore of San Diego."
Why no hurricanes in California?
Hurricanes have three strikes against forming off the U.S West Coast: Cold water, cold currents, and unfavorable winds.
Tropical systems get their fuel from warm ocean waters that need to be at least 80 degrees to power significant storms. Those temperatures exist farther south in the Pacific, not along the West Coast.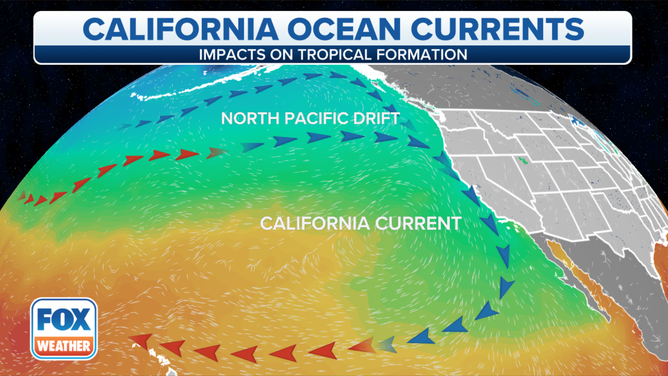 "Normally, the California Current is the dominant feature," Norcross says. "It brings cold water north to south down the coast."
5 DIFFERENT NAMES FOR HURRICANES AROUND THE WORLD:
Ocean temperatures are in the 50s off the Pacific Northwest coast and gradually warm to the mid-upper 60s off Southern California – still way too cold for hurricane development.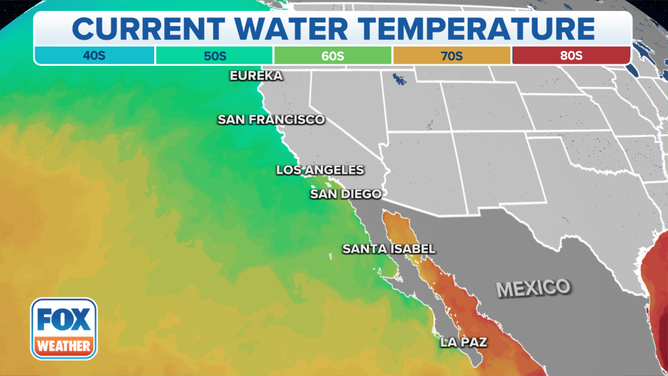 In addition, a prevailing northerly wind in the summer and fall pushes warmer sun-kissed waters away from the coastlines, drawing up water from the cooler sun-starved depths of the oceans to replace, and cooling the sea surface temperatures even more – a process known as upwelling.
And lastly, prevailing upper-level winds typically would steer any storms approaching from western Mexico off to the northwest and away from southern California. The change in direction of winds with height – known as wind shear – also plays a heavy hand in limiting storm survival off the California coast.
Here is how a California hurricane could happen:
But, never say never.
"There are theoretically two ways to get a strong tropical system as far north as SoCal," Norcross says. "Either the water is exceptionally warm, or the steering currents are moving the storm so fast that it can survive for a while over quickly cooling water. Or maybe a combination of both."
For the waters to become warm enough, you'd need two events to happen in tandem. First, it would help to occur during a moderate to strong El Niño year which gives a warming boost to water temperatures across the Central and Eastern Pacific Ocean. That was the case in the 1858 and 1939 storms, Norcross said.
Second, you need that cooling California current to take a detour.
"Sometimes for complicated and somewhat random reasons, (that current) will bend offshore allowing a tongue of somewhat warmer water to extend farther north right along the coast," Norcross said. "In El Niño years, there is warmer water on the east side of the tropical Pacific. Some of that tends to spread up the Mexican coast and can reach Southern California."
Hurricane Linda nearly crashed into California
And it nearly happened again in 1997.
"In the very strong El Niño year of 1997, when there were big floods in Los Angeles, Hurricane Linda looked like it would make it to Southern California," Norcross said. "In fact, the National Hurricane Center forecast it to reach the California coast for a while.  It ended up turning out to sea, but that was because of the atmospheric steering.  The water was warm enough."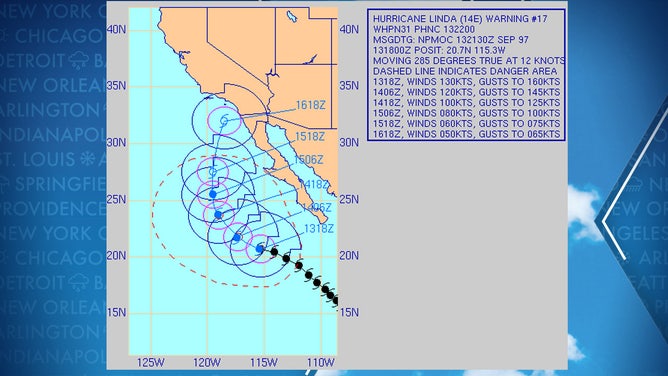 But Norcross stresses even if a tropical storm or hurricane managed to muscle its way into Southern California, it would be the rain, more than the wind, that would likely have a greater impact on the region.
"The biggest tropical impacts in California are normally from the moisture," he said. "Tropical moisture and mountainous terrain cause extra-heavy rainfall - which is what happened in 1939."
WATER FROM HURRICANES, TROPICAL STORMS KILLS MORE IN U.S. THAN WIND:
While we don't know if or when California will be hit with a tropical system, it likely won't happen this hurricane season. El Niño's opposite effect  of La Niña and its cooling ocean waters are present again and likely to persist through the year, keeping ocean temperatures near California well below the threshold for tropical system survival.