NOAA upgrades storm surge model ahead of 2023 hurricane season
Storm surge is produced when winds pile water up along the shore. The more powerful the winds are, the higher the storm surge is. A Category 1 hurricane typically produces a storm surge of 4-5 feet, while a Category 5 storm can lead to a sea level rise of at least 18 feet.
The agency tasked with tracking some of the world's worst tropical cyclones says it has upgraded a critical model that will enhance capabilities of accurately predicting dangerous storm surge.
NOAA says it is now using Probabilistic Storm Surge model 3.0, enabling forecasters to track simultaneous hurricanes and improve depictions along varying terrain along the U.S. coastline.
The original P-Surge model was originally developed after Hurricane Isabel produced a deadly storm of 6–8 feet along the coasts of North Carolina and Virginia in 2003.
"We are seeing a sharp increase in catastrophic storm surge impacts in our coastal communities," Ken Graham, director of NOAA's National Weather Service, said in a statement. "Our new capabilities to effectively and accurately model and forecast storm surge is critical to upholding the NWS mission of protection of life and property."
7 FACTS TO KNOW ABOUT HURRICANES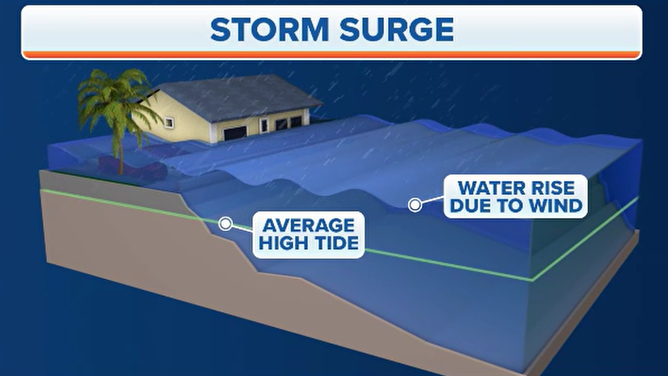 The surge model combines historical and hypothetical information with data from the National Hurricane Center on the current storm to produce probabilistic products.
Forecasters then are tasked with determining the likelihood of the severity of the upcoming event and relay the risks to the public.
A relatively new graphical alert product debuted in 2017 to warn coastal residents of the threat of water rise and uses watches and warnings in the potentially impacted area.
A Storm Surge Watch means areas under the alert may experience life-threatening water inundation within 48 hours. A watch is upgraded to a Storm Surge Warning when life-threatening conditions occur within 36 hours.
The alerts take into account the forecast track, intensity, size of the tropical cyclone, land elevation and astronomical tide levels.
NOAA says storm surge is often the greatest threat to life and property, accounting for nearly half of the deaths of a landfalling tropical cyclone.
Agencies estimate more than 22 million people along the Gulf and East coasts are vulnerable to storm surge, with areas along shallow coastlines most at risk.
A shallow shelf's slope allows water to rise higher and further than where the continental shelf drops off quickly. 
According to the National Hurricane Center, a Category 4 that produces a storm surge of 20 feet along the Louisiana coastline would mean a storm surge of less than 10 feet around Miami.
HERE ARE THE HURRICANE NAMES FOR THE 2023 ATLANTIC SEASON
The 2023 hurricane season will officially begin on June 1, and experts with Colorado State University are calling for a year with activity that is around or slightly below normal.
The CSU outlook expects 13 named storms to form, with six that could become hurricanes. Forecasters expect two could reach major status with winds of at least 115 mph and a storm surge of at least nine feet.