Idalia weakens to post-tropical storm after carving deadly path of destruction from Florida to Carolinas
Authorities have attributed at least three deaths to Idalia -- two in Florida and one in Georgia, and about 125,000 still remain without power as Idalia has pushed out to sea. Affected residents across Florida and the Southeast are now focused on the massive cleanup.
KEATON BEACH, Fla. – Florida and the Carolinas are still picking up the pieces two days after powerful Hurricane Idalia made landfall and left a deadly trail of destruction from blasting the region with destructive winds, a powerful storm surge and flooding from torrential rain.
The storm made a historically-rare landfall in Keaton Beach along Florida's Big Bend region Wednesday morning as a Category 3 hurricane with winds of 125 mph that spawned tornadoes, brought down trees and power lines and ripped the roofs away from homes and buildings across the region, leaving three dead in its wake.
POWER OF HURRICANE IDALIA'S STORM SURGE SEEN IN DEVASTATING BEFORE-AND-AFTER SATELLITE PHOTOS
Two men were killed in separate, rain-related crashes in Florida during the storm. One man was killed in Alachua County, according to the Medical Examiners Commission (MEC) from the county, and a second man was killed in a crash in Pasco County, according to Florida Highway Patrol officials.
Another person was killed in Georgia when a tree fell onto a vehicle in Lowndes County, according to state officials.
As of Friday morning, PowerOutage.us reports that approximately 125,000 people are still without electricity, while over 400,000 people have had their power restored since the storm hit. 
The work to pick up the pieces after the monster storm began almost immediately, with crews fanning out to clear debris from roadways.
"The priority has been clearing impacted roadways," DeSantis said Thursday. "All state bridges, including the Cedar Key Bridge, have been cleared, and that happened within 12 hours of landfall."
President Joe Biden approved DeSantis' request for a major disaster declaration in 25 affected Florida counties, allowing debris removal and providing money for individual assistance such as temporary housing. 
IDALIA TRACKER: LIVE RADAR UPDATES, POWER OUTAGES, WATCHES, WARNINGS
Dozens of rescues made in Florida after Hurricane Idalia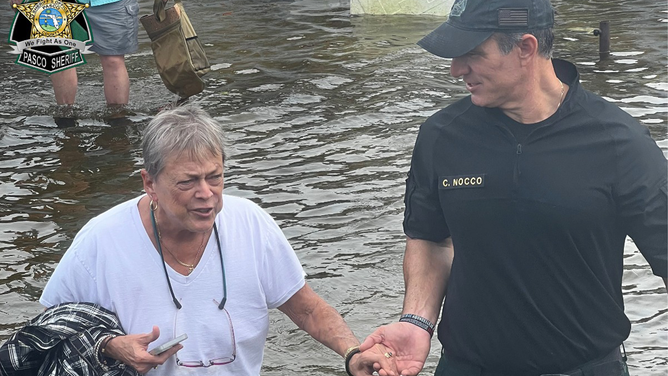 Flooding and storm surge led to several calls for help. The Pasco County Sheriff's Office in Florida said it helped evacuate more than 60 people from flooded homes in the Hudson area, with deputies braving Hurricane Idalia's wrath to patrol the streets.
St. Petersburg officials said more than 75 people were rescued there from areas that saw flooding during Idalia, with boats being used to evacuate those who became trapped.
HURRICANE IDALIA TOPPLES 100-YEAR-OLD OAK TREE ONTO FLORIDA RON DESANTIS' MANSION
Big Bend takes brunt of Hurricane Idalia's landfall
The effects of Hurricane Idalia were felt all along Florida's west coast as the monster storm approached from the Gulf of Mexico.
Time-lapse video recorded in Cedar Key, about 60 miles south of where Idalia made landfall, showed the calm before the storm along the coast. As the hurricane continued to advance, the water rose, and waves began to crash on shore.
A poorly placed car is seen sitting adjacent to the coast before the storm, but as the water rose and angry waves continued to batter the area, that car was eventually picked up by the storm surge and floated away. The video continues and shows that the water rises during the height of the storm – eventually reaching a record 6.89 feet above tide level.
Another video shows the powerful hurricane-force winds within Idalia's eyewall as it roared ashore in Perry, Florida, snapping trees and sending debris flying through the air like missiles.
"So, the top of the roof just caved in on me and my three kids and my grandson," Perry resident Belond Thomas told FOX Weather. "My daughter is pregnant. She's five months pregnant. So, she was laying on the side of the bed where the roof was coming in, and it fell on her. But I was able to pull her out of it."
VIDEOS CAPTURE DRASTIC BEFORE-AND-AFTER SHOTS OF IDALIA'S LANDFALL
The Category 3 winds at landfall created a massive storm surge that sent walls of water into Florida's Gulf Coast, including a surge several feet deep where the storm made landfall in Keaton Beach.
Deep storm surges were also reported in Horseshoe Beach and Steinhatchee.
Farther south in the Tampa Bay area, officials had warned people to stay away from the beach in Clearwater, Florida, as a storm surge inundated the coast. The storm surge in Tampa Bay and Clearwater reached more than 3 feet by early Wednesday morning, with more water rushing in during the high tide.
The storm left a number of homes in shambles, leaving many homeowners to wonder what the future may hold.
"It's going to be a tremendous rebuilding," said June Sims, a Horseshoe Beach resident who lost her home in Hurricane Ida. "I don't really know how, a lot of these people can't afford, probably, to rebuild. You'll have to rebuild back up to hurricane standards, and that's very expensive."
Tornado spawned by Idalia tosses car in South Carolina
In addition to the ferocious winds and swells of storm surge, Hurricane Idalia spawned strong thunderstorms across cities from Florida to the Carolinas, and some even produced flash flooding and tornadoes.
A jaw-dropping video recorded in Goose Creek, South Carolina, showed a tornado crossing a road and picking up a car before spinning it in the air and slamming it back down onto the roadway. Police reported only minor injuries.
The tornado was one of several reports of waterspouts and funnel clouds in South Carolina, but so far was the only reported incident where a touchdown happened as of Wednesday afternoon.
Idalia floods the Southeast with heavy rains, more storm surge

Hurricane Idalia led to numerous reports of flooding across the region from Georgia to the Carolinas. 
Charleston, South Carolina, was also slammed with a storm surge due to Idalia. Winds of up to 40 mph pushed water from the Atlantic Ocean onto city streets, and the National Weather Service said Wednesday evening that water breached the Charleston Battery, the seawall in Charleston. 
Major coastal flooding was also reported in downtown Charleston and Edisto Beach. Water levels eventually reached their 5th-highest levels on record in town, and the highest since Hurricane Irma in 1997.
In Georgia, it wasn't water from the ocean but from the skies that caused problems. A rare Flash Flood Emergency was issued in Valdosta, Georgia, as Idalia dropped more than 7 inches of rain in hours, leading to the town's wettest day in more than 20 years and reports of water rescues as flooding affected homes.
Idalia's winds gusting over 65 mph uprooted trees across the city and damaged businesses.
What's next for Post-Tropical Storm Idalia?
The latest with Tropical Storm Idalia.
(FOX Weather)
---
The latest advisory from the National Hurricane Center (NHC) said Idalia is now a post-tropical cyclone – meaning it is no longer drawing its energy from warm water but from more traditional atmospheric interactions. The storm is pulling away from North Carolina and expected to affect Bermuda this weekend with gusty winds.
Idalia is currently located about 290 miles west of Bermuda. The storm had winds of 60 mph, and it was moving off to the east at 16 mph. That general motion is expected to continue before Idalia begins to move east and then east-southeast on Friday and Saturday.
The forecast track of Tropical Storm Idalia.
(FOX Weather)
---
On that track, Idalia will continue moving away from North Carolina and approach Bermuda over the weekend, where a Tropical Storm Watch has been issued.
Gradual weakening is expected through Friday night. The forecast then calls for a reorganization as it moves north and increasing winds, with Idalia becoming a tropical storm again by Saturday.