Power of Hurricane Idalia's storm surge seen in devastating before-and-after satellite photos
The powerful and historic Category 3 hurricane made landfall in the Big Bend region of the state, close to Keaton Beach. It sent a storm surge feet-deep along parts of Florida's Gulf Coast, including Ozello and Crystal River, some 100 miles away from landfall.
OZELLO, Fla. – Recent satellite images show the aftermath of Hurricane Idalia as storm surge flooding inundated parts of Florida's Gulf Coast.
The powerful and historic Category 3 hurricane made landfall Wednesday morning in the Big Bend region of the state, close to Keaton Beach. 
Images captured by Maxar show the storm surge impact in Ozello and Crystal River on Wednesday – about 100 miles south of the storm's landfall.
IDALIA'S TROPICAL THREATS STILL PUMMEL SOUTHEAST AFTER LEAVING TRAIL OF DAMAGE FROM HISTORIC LANDFALL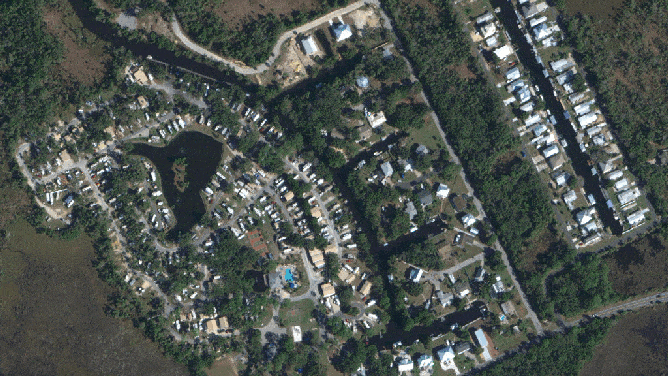 Storm surge reached 7 feet in Cedar Key, about 40-50 miles away from Crystal River, setting its highest storm surge mark and breaking the old record set by Hurricane Hermine in Sept. 2016.  
The surge even reached south into the Tampa Bay area. Officials had cautioned individuals to avoid the beach in Clearwater, Florida, as the coast was inundated with storm surge. 
By early Wednesday morning, the storm surge in Tampa Bay and Clearwater had reached over 3 feet, and additional water continued to rush in during high tide.
CHARLESTON SLAMMED WITH STORM SURGE AS IDALIA CONTINUES POUNDING THE SOUTHEAST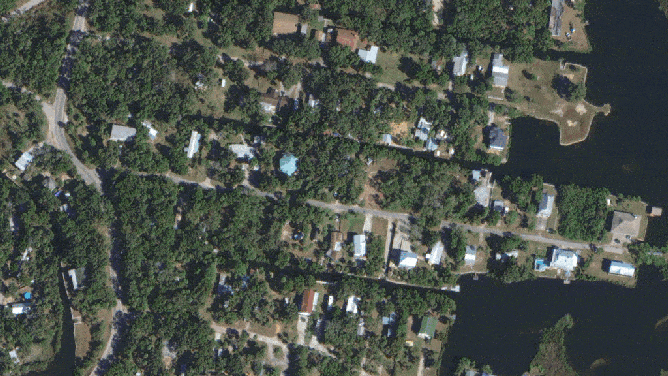 As the day progressed, Idalia lost strength and was downgraded to a tropical storm as it moved towards Georgia and South Carolina. 
The storm caused a storm surge in Charleston, South Carolina, with winds reaching up to 40 mph pushing water from the Atlantic Ocean onto the city streets. 
The National Weather Service confirmed on Wednesday evening that water had breached the Charleston Batters, which is the seawall in Charleston. Major coastal flooding was also observed in downtown Charleston as well as Edisto Beach.  Water levels reached the fifth-highest levels in Charleston, and highest since Hurricane Irma in 2017. 
WATCH: TORNADO SPAWNED BY IDALIA FLIPS CAR IN SOUTH CAROLINA

Florida Gov. Ron DeSantis stated that Hurricane Idalia had not caused any confirmed fatalities, although two men were killed in separate rain-related crashes in Gainesville and Pasco County, according to the Florida Highway Patrol.