Hurricane Idalia uproots trees, prompts flooding emergency in Valdosta, Georgia as deadly storm races east
Between 3 and 6 inches from Hurricane Idalia had already fallen in Valdosta, Georgia with up to 2 inches more. The National Weather Services declared a Flash Flood Emergency for parts of Brooks and Lowndes counties.
VALDOSTA, Georgia – A Flash Flood Emergency was underway in southern Georgia on Wednesday after Valdosta experienced its wettest day in more than two decades from Hurricane Idalia.
Hurricane Idalia made landfall early Wednesday near Keaton Beach, Florida as a Category 3 storm, bringing dangerous 10-foot storm surge to the Big Bend. As Idalia tracked northeast toward Tallahassee and southern Georgia, the combination of wind, storm surge and torrential tropical rains led to life-threatening flooding in the Valdosta, Georgia area.
A Flash Flood Emergency - the most severe of flood warnings from the National Weather Service -- was issued for two counties around Valdosta where some homes were being evacuated due to flash flooding. The Flash Flood Emergency was declared for southeastern Brooks and Lowndes counties through Wednesday afternoon.
SCENES OF HURRICANE IDALIA'S DESTRUCTION AS STORM BLASTS REGION WITH 125 MPH WINDS
According to the NWS in Tallahassee, between 3 and 6 inches of rain have already fallen and an additional 2 inches are possible in the area.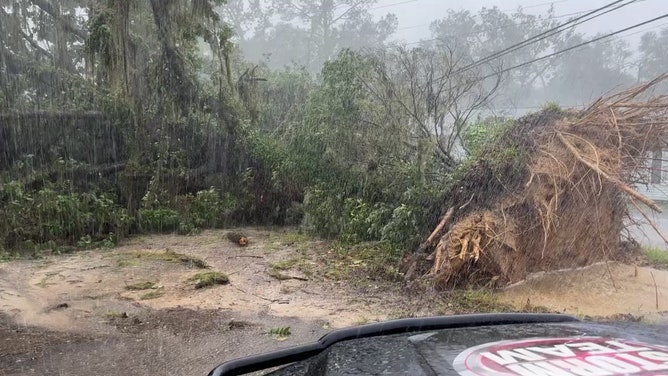 "This is a particularly dangerous situation," the NWS said. "Seek higher ground now!"
Squalls from Idalia brought 5.5 inches of rain to Valdosta by 10:30 a.m. ET with heavy rains still falling as the center of Idalia continued to track into Georgia. Recorded wind gusts in the area reached 67 mph, according to the NWS. 
HURRICANE IDALIA TRACKER: LIVE RADAR UPDATES, POWER OUTAGES, WATCHES AND WARNINGS AND STORM SURGE
According to the FOX Forecast Center, Wednesday marked the wettest day at Valdosta Regional Airport since 1984. 
Idalia's winds and rain uprooted trees across Valdosta and damaged businesses on North Ashley Street.
Idalia is expected to continue tracking east up through the Carolinas before entering the Atlantic Ocean later by Thursday evening.