Time-lapse videos capture drastic before-and-after shots of Idalia's landfall
Record storm surge from historic Hurricane Idalia inundated much of the Florida Coast. FOX Weather caught it on video.
Major Hurricane Idalia made landfall Wednesday morning in the Big Bend area of Florida. Storm Tracker Mark Sudduth set up cameras and reporters on the coast from Tampa to the Apalachee Bay, south of Tallahassee.
One of the remote cameras Suddath set up was in Cedar Key, Florida, which is north of Tampa. The area was picturesque just before 9 a.m. on Tuesday. A day later, after Idalia made landfall, the coastal road disappeared. Water flooded half of the first floor of the building.
DRONE VIDEO REVEALS DAMAGE, FLOODING FROM HURRICANE IDALIA LANDFALL NEAR KEATON BEACH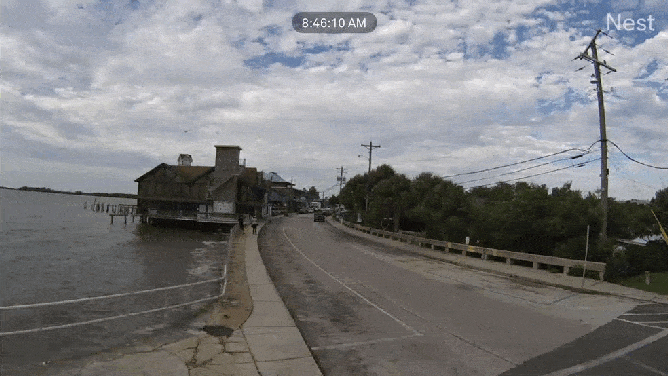 The video shows waves riding on top of the storm surge, crashing onto a poorly parked Cadillac. By 4 a.m. local time, the car was floating and headed down the coast.
Cedar Key saw a record storm surge of 6.89 feet. Their previous record was 6.1 feet from Hurricane Hermine in 2016.
DRAMATIC PHOTOS, VIDEO CAPTURE HURRICANE IDALIA'S HISTORIC LANDFALL IN FLORIDA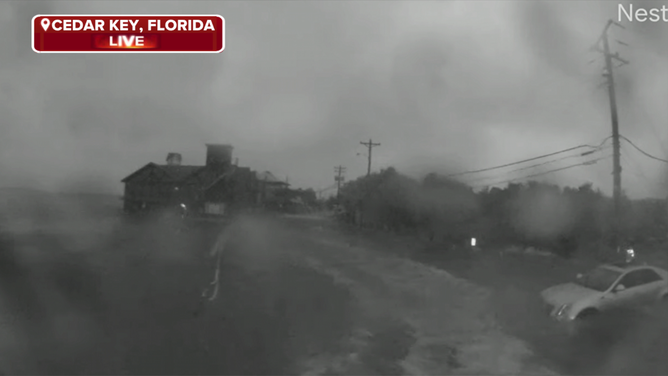 Suddath also set up a remote camera in the Low Key Hideaway Tiki Bar in Cedar Key. The bar is on a small island protected from the waves by the main barrier island of Cedar Key. This is the before picture of the crowded bar.
STORM CHASER GOES THROUGH FEROCIOUS EYE OF HURRICANE IDALIA AS IT MADE FLORIDA LANDFALL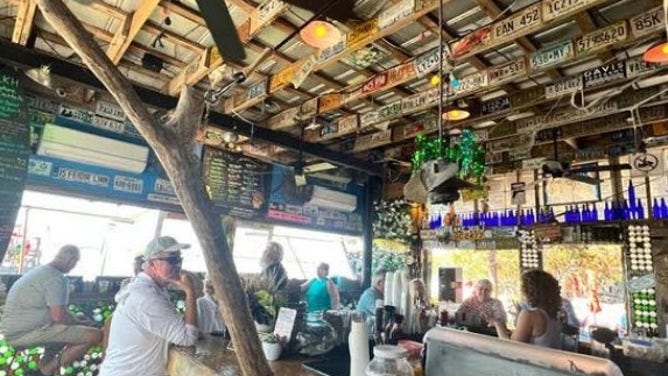 The storm surge swamped the restaurant despite being on stilts. Water churns above the level of the tables.
One of Sudduth's cameras in Horseshoe Beach didn't fare as well. He set up his camera network well above the record storm surge on bridges and poles. 
SCENES OF HURRICANE IDALIA'S DESTRUCTION AS STORM BLASTS REGION WITH 125 MPH WINDS

The water was high at 5:42 a.m., he said on social media.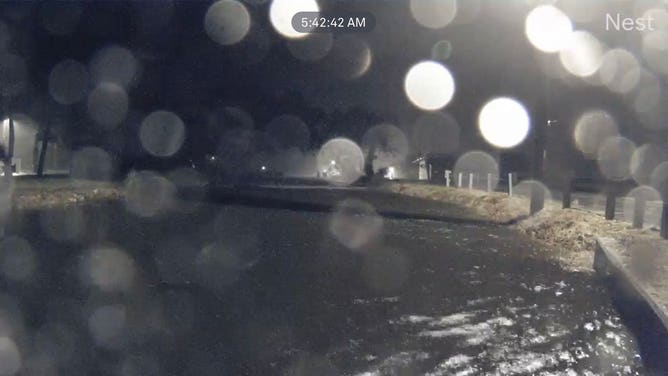 A little over an hour later, it was underwater and still recording. 
Clearwater Beach saw a record 5.2 feet of storm surge. Meteorologist Bob Van Dillen started out Friday evening on a wide beach.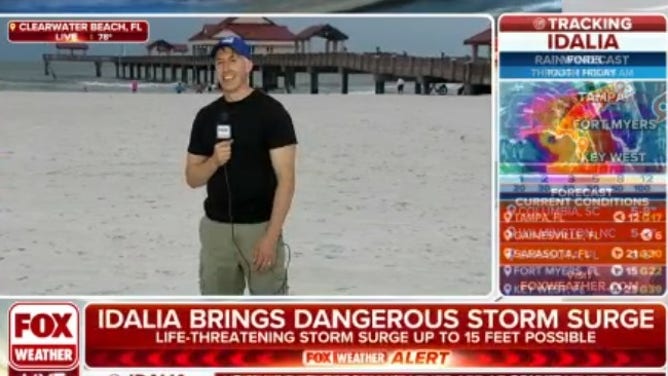 After landfall, he had to retreat to a high-rise hotel. The beach was underwater, as well as several streets inland.
The storm surge retreated as quickly as it arrived. FOX Weather's Robert Ray was at Clearwater Beach while Idalia made landfall to the north in thigh-deep water, dodging falling palm fronds. Hours later, he was walking on dry pavement.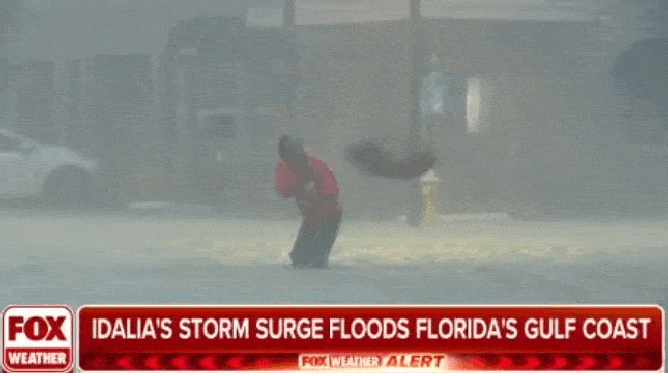 Satellite images show the extent of the flooding across the Big Bend of Florida.