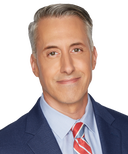 Bob Van Dillen
FOX Weather Meteorologist
Bob Van Dillen serves as an on-air host and meteorologist for FOX Weather. He joined the platform in July 2023.
Prior to joining FOX Weather, he served as the meteorologist of HLN's Morning Express with Robin Meade for over 20 years. Throughout his tenure with the network, he covered a number of major weather events, including Hurricanes Matthew, Michael and Harvey, as well as Superstorm Sandy and several tornadoes. He also had the opportunities to cover numerous Macy's Thanksgiving Day Parades, ice climb on a glacier in Alaska and fly with the Blue Angels.
Prior to HLN, Van Dillen was a weekend meteorologist at NBC-affiliate WCNC 6 News in Charlotte, North Carolina. He also spent over two years in Syracuse, New York as a morning meteorologist at the CBS affiliate WTVH-TV where he delivered forecasts for the evening newscasts and produced a weekly El Nino/La Nina weather series. Additionally, he spent time as a meteorologist at FOX-affiliate WXXA in Albany, New York, ABC-affiliate WUTR in Utica, New York and Metro Weather Service on Long Island, New York.
A graduate of Millersville University of Pennsylvania, Van Dillen holds a bachelor's degree in meteorology. A native of New Jersey, he was awarded the American Meteorological Society (AMS) Seal of Approval in 1997 and is a full member of the AMS.