Dramatic photos, video capture Hurricane Idalia's historic landfall in Florida
More than 200,000 power outages have been reported in Florida as Hurricane Idalia made its historic landfall near Keaton Beach early Wednesday morning
KEATON BEACH, Fla - Hurricane Idalia made a historic landfall near Keaton Beach, Florida, as a Category 3 hurricane on Wednesday morning bringing with it a catastrophic storm surge and destructive winds of around 125 mph, and new pictures and videos are showing the extent of the monster storm's impacts.
Hurricane Idalia is also causing power outages to skyrocket with more than 250,000 outages reported as of Wednesday morning. State officials have warned residents to prepare for long-duration outages, although tens of thousands of line men are standing by to restore power as quickly as possible.
LIVE: LANDFALL TRACKER, POWER OUTAGES AND MORE IMPACTS
Several dramatic videos show Hurricane Idalia as the ferocious storm was making landfall in Keaton Beach on Wednesday morning.
Video shows a storm surge rushing inland and covering the porch of a home, sending waves crashing over the railing.
After the storm, drone video recorded above the area shows several homes that were severely damaged by the storm and one that was completely destroyed, with the roof peeled away.
More dramatic video was recorded in Perry, Florida, as Hurricane was making landfall. The jaw-dropping video was recorded in the hurricane's eyewall and shows trees and other debris being blown through the air during the storm's ferocious winds.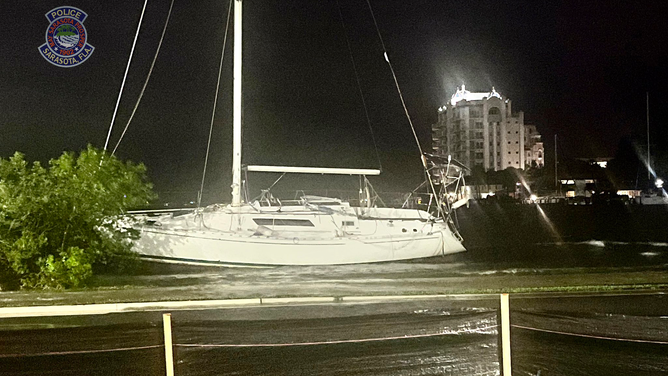 The Sarasota Police Department shared several photos on X, the company formerly known as Twitter, showing flooding along roads in the downtown area and near the water. The police department said several boats were damaged and sank in the Marina Jacks Basin when Hurricane Idalia spun by the area.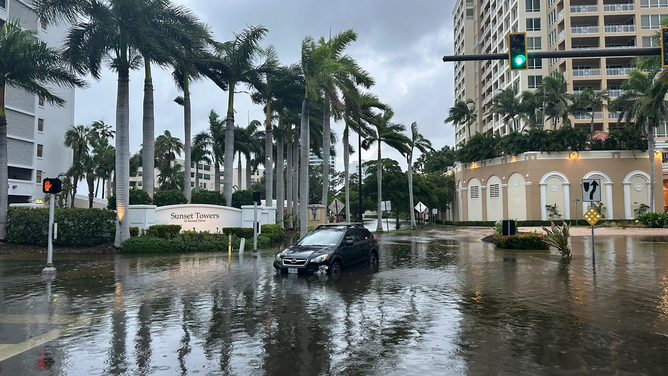 The police department said flooding has been reported downtown and several areas have been closed. Police have also been busy placing barricades so no cars can drive into areas that flooded as a result of Hurricane Idalia.
LIVE COVERAGE: HOW TO WATCH FOX WEATHER
The St. Petersburg Police Department also shared videos on X showing water covering a parking lot on Derby Lane, and bridges in the area have been closed.
Clearwater Beach, Florida, also appears to have been hit hard by flooding due to Hurricane Idalia. Video from the area shows vehicles trying to drive over water-covered roads, which is not advisable.
The police department has warned that several areas of Clearwater Beach are under water and access to the beach has been closed.
Video recorded in Steinhatchee, Florida, shows a boathouse collapsing and floating away in floodwaters caused by Hurricane Idalia.