Hurricane Idalia topples 100-year-old oak tree onto Florida Governor Ron DeSantis' Mansion
According to Florida first lady Casey DeSantis, the family was inside the mansion at the time but no one was hurt.
TALLAHASSEE, Fla. – Florida first lady Casey DeSantis and her three children were home when an oak tree split and fell onto the Governor's Mansion during Hurricane Idalia's march through Florida.
The National Weather Service in Tallahassee reported wind gusts of up to 53 mph in Leon County, where the Florida state capital and Governor's Mansion are located.
An image of the tree shows that it split down the trunk, and the two halves of the tree were splayed out toward the ground. One half is seen having fallen onto the home.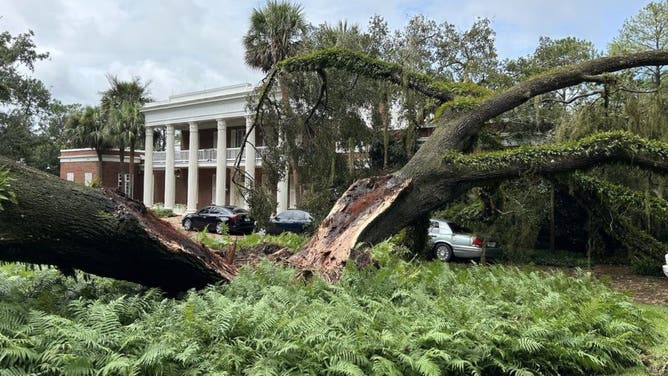 According to DeSantis, neither she nor her children were injured.
"Our prayers are with everyone impacted by the storm," she tweeted.
DRAMATIC PHOTOS, VIDEOS CAPTURE HURRICANE IDALIA'S HISTORIC LANDFALL IN FLORIDA
When asked about the fallen tree during a press conference, Florida Gov. Ron DeSantis said he was not sure whether the whole tree would need to be cut down. 
"If they do cut down the whole tree, that's just going to be more room for my kids to hit baseballs in," he said.
Storm damage was seen across Tallahassee and throughout parts of Florida, with many fallen trees leading to power outages.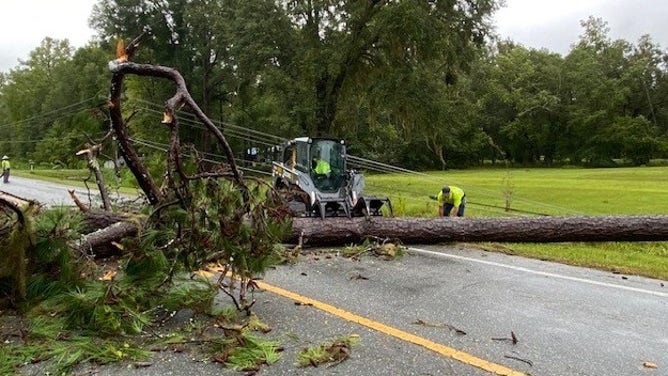 More than 250,000 Florida residents are without power as of Wednesday afternoon. The majority of the outages are concentrated in the main path of the storm, the governor said. 
He added that restoration efforts are ongoing.
"We're going to do whatever we need to do to help these local communities get back on their feet," the governor said.