Deadly severe weather outbreak in South leads to nearly 4 dozen tornado reports across 4 states
As of Friday afternoon, at least 47 reports of tornadoes had been tallied by the National Weather Service from Louisiana and Mississippi to Alabama and Georgia.
A deadly severe weather outbreak that began Tuesday and lasted into Wednesday morning led to at least 47 reports of tornadoes from Louisiana and Mississippi to Alabama and Georgia, and cleanup efforts were still ongoing across the region Friday.
The Montgomery County Sheriff's Office in Alabama confirmed to FOX Weather that two people were killed in the Flatwood community north of the state capital of Montgomery during an EF-2 tornado early Wednesday morning. The victims were later identified as a 39-year-old woman and her 8-year-old son. Officials said the woman's husband was also injured.
MOTHER, 8-YEAR-OLD SON IDENTIFIED AS VICTIMS OF DEADLY TORNADO IN MONTGOMERY COUNTY, ALABAMA
Speaking to FOX Weather on Wednesday morning, Christina Thornton, the director of the Montgomery City-County Emergency Management Agency, said the two died when trees fell on top of their mobile home.
Thornton said there were also multiple reports of people who were injured across the county.
The National Weather Service assigned an EF-2 rating to the Montgomery County tornado, which packed estimated winds of 115 mph – an upgrade from an initial preliminary rating of EF-1 given earlier Wednesday. Tornado surveyors found additional significant tree damage and damage to high-tension power lines that added 5 mph to their initial 110-mph peak wind assessment and increased the tornado rating to an EF-2.
HOW ARE TORNADOES RATED? THE ENHANCED-FUJITA SCALE EXPLAINED
In Louisiana, four people were seriously injured, and several animals were killed in Caldwell Parish during an EF-3 tornado Tuesday evening, according to reports from photojournalist Michael Beard with Live Storms Media and a damage survey conducted by the NWS office in Shreveport, Louisiana.
Nearly 4 dozen reports of tornadoes during outbreak
The FOX Forecast Center said 79 Tornado Warnings were issued from Tuesday afternoon into Wednesday morning as supercells energized and rolled through the South.
As of Friday afternoon, at least 47 reports of tornadoes had been tallied by the NWS from Louisiana to Georgia.
HERE'S WHERE TORNADOES ARE MOST LIKELY TO OCCUR IN EACH MONTH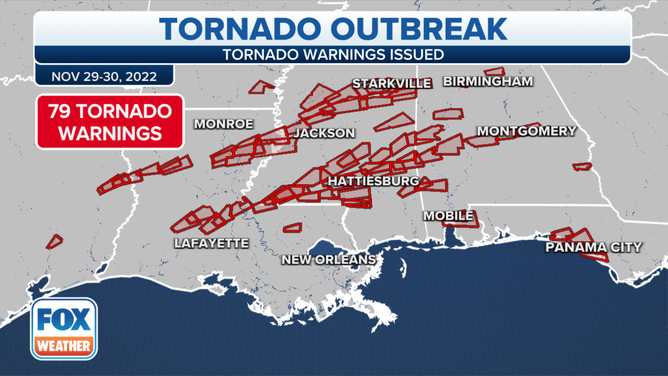 Damage surveys by NWS offices across the region were still ongoing to determine the exact number of tornadoes that happened during the outbreak.
Preliminary findings had confirmed at least 24 tornadoes, but that number was expected to rise as tornado surveyors continued to assess the damage across four states.
Map showing the location of each confirmed tornado so far.
(FOX Weather)
---
A storm chaser reported observing a large "wedge" tornado along Highway 42 east of Bassfield, Mississippi, with several downed trees and power flashes, according to the NWS office in Jackson, Mississippi. This twister was assigned an EF-1 rating with winds of 110 mph.
HOW METEOROLOGISTS DETERMINE IF A TORNADO IS TO BLAME FOR STORM DAMAGE
Another tornado struck near Bywy, Mississippi, just after 5:15 p.m. CST on Tuesday evening. Preliminary findings by the NWS discovered evidence of an EF-1 twister with winds of 90 mph.
"We're seeing trees down all throughout that area … homes are seeing severe damage; there was a camper flipped completely on its roof," Sgt. Dillon Cates with the Choctaw County, Mississippi, Sheriff's Office told FOX Weather. "There was a house in the Sherwood community that the roof was actually lifted off of the house, twisted 180 degrees and dropped back down on the home."
HOMES SEVERELY DAMAGED WHEN TORNADO TEARS THROUGH CHOCTAW COUNTY IN MISSISSIPPI
In Steens, Mississippi, a tornado damaged the Mt. Zion Cumberland Presbyterian Church. An NWS damage survey assigned the twister an EF-2 rating.
SEE TORNADOES RIP THROUGH SOUTH, DAMAGING CHURCHES AND DESTROYING HOMES

At least two homes were damaged in southern Lawrence County, Mississippi, where the NWS confirmed an EF-1 tornado with 90-mph winds touched down.
"We had a tornado touch down approximately for about a mile … and probably about a quarter-mile wide," said Donnie Weeks, Lawrence County fire coordinator. "We had two brick homes that suffered significant roof damage. A couple livestock farms were completely destroyed."
WHAT YOU SHOULD DO IF YOUR PROPERTY SUSTAINED TORNADO DAMAGE
While an EF-2 tornado damaged several homes and a grocery store in Caledonia, Mississippi, Lowndes County Emergency Manager Cindy Lawrence said that no one was harmed by the storms.
"No injuries. I did have a couple people say they were trapped in their house, but crews went to the scene and got them out," Lawrence said. "Nobody was hurt. We didn't have to transport anyone to the hospital."
DAYLIGHT REVEALS DEVASTATION IN MISSISSIPPI COMMUNITIES HIT HARD BY TORNADO OUTBREAK
The NWS in Jackson confirmed another EF-2 tornado in Marion County from Wednesday morning with no injuries or deaths associated with the tornado.
The NWS confirmed that the two strongest tornadoes so far were the EF-3 twister with 140-mph winds that hit Caldwell Parish, Louisiana, and another EF-3 tornado that tracked from Greene County, Mississippi, into Washington County, Alabama. Winds in that twister were also estimated to be 140 mph when it tore through heavily forested areas before going on to cause significant damage to a high school in Fruitdale, Alabama, between 2:30 and 3 a.m. CST Wednesday.
According to FOX 10, U.S. Highway 45 had to be closed in both directions in Fruitdale because of debris on the road.
MISSISSIPPI STORM CHASER TRAPPED IN TRAFFIC JAM OF ONLOOKERS
Additional reports of damage were received by the NWS early Wednesday morning in Elmore County, Alabama, after a tornado struck near Blue Ridge and Emerald Mountain at about 3:30 a.m. CST. This twister was assigned an EF-2 rating and packed winds of 120 mph.
"Some of those storms were rotating very strongly at the cloud level, but for some reason, they just could not spin their way all the way down to the surface," said field meteorologist Brett Adair with Live Storms Media, who was chasing the storms across Mississippi on Tuesday evening. "So I think we dodged somewhat of a bullet in terms of the number of tornadoes and maybe the longevity of the tracks." 
WATCH: DRONE FOOTAGE CAPTURES DEVASTATION FROM TORNADOES IN THE SOUTH
November's typical tornado risk area
The tornado reports from this outbreak were found right where you'd expect them in late November.
In November, the highest chance of tornadoes based on long-term averages stretches from East Texas into the lower Mississippi Valley and parts of the Southeast.
The U.S. averages 65 tornadoes each November, making it the most active month in the fall severe weather season of October, November and December in the South.
In addition, there's a notable peak in nighttime tornadoes in November, with the month averaging more than 400 twisters in the dark, according to data from NOAA's Storm Prediction Center.