See tornadoes rip through South, damaging churches and destroying homes
At least two fatalities have been reported, and multiple people have been injured. There was also extensive damage to homes and businesses throughout the South.
Severe storms swept across the South starting late Tuesday through Wednesday morning and led to more than 35 reports of tornadoes in the region.
At least two fatalities have been reported, and multiple people have been injured. There was also extensive damage to homes and businesses throughout the South.
HOW TO WATCH FOX WEATHER ON TV
Here is a closer look at the twisters and the damage that they left behind.
Mississippi
The NWS confirmed that the strongest of the nearly 3 dozen tornadoes was an EF-3 that struck southern Mississippi and Alabama overnight. Winds were estimated to be at 140 mph when the twister tore through heavy-treed areas. The supercell caused significant damage to a high school in Fruitdale, Alabama.
Video showed a twister spinning near Bassfield, Mississippi, on Tuesday evening. A storm chaser reported it appeared to be a "wedge" tornado, according to the National Weather Service in Jackson.
Several places in Lowndes County were also ravaged by the storms. Cindy Lawrence, the county's emergency manager, said a tornado hit Malone's Grocery in Caledonia, Mississippi, causing severe damage. She said that other homes in the area were destroyed, but luckily no one was harmed by the twister.
The steeple of a church was also toppled in the town of Steens, just south of Caledonia.
NIGHTTIME TORNADOES FAR MORE LIKELY TO TURN DEADLY THAN DAYTIME ONES

Deputies in Monroe County, Mississippi, warned residents to avoid roads in the area after a bridge was washed out due to heavy rains and flooding.
Sgt. Dillon Cates with the Choctaw County, Mississippi, Sheriff's Department said several homes were damaged by tornado-warned storms.
Alabama
At least two people were killed by the overnight storms that tore through Alabama. Officials in Montgomery County said an apparent twister ripped through communities northeast of the state capital city of Montgomery. Powerful winds knocked over trees that fell onto a mobile home and crushed the people inside, officials said.
What may have been the same storm led to extensive damage in neighboring Elmore County. Drone video showed aerial footage of storm damage in the town of Wetumpka.
WHAT YOU SHOULD DO IF YOUR PROPERTY SUSTAINED TORNADO DAMAGE
Trees were also knocked down in Eufaula, Alabama, with some landing on mobile homes there. No injuries were reported in the southeast Alabama town.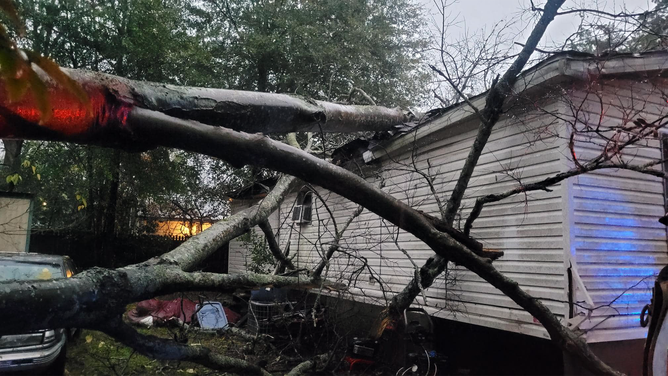 Storms caused extensive damage to the roof of storage buildings in Sumiton, in north-central Alabama, as well. 
Louisiana
At least four people in Louisiana have been seriously injured by severe storms. Several animals were killed in Caldwell Parish, Louisiana, after a violent tornado hit the county Tuesday evening, according to photojournalist Michael Beard with Live Storms Media.
Florida
Multiple tornado warnings were issued in Florida on Wednesday morning as severe storms rumbled along the northern Gulf Coast. Video showed a waterspout spinning off the coast of Panama City Beach. No injuries or damage has been reported.
The threat of severe thunderstorms has shifted east on Wednesday, but the FOX Forecast Center said the risk of severe weather would be much lower than Tuesday.
Damaging wind gusts are expected to be the primary hazard with any severe storms from the northern Gulf Coast to Georgia. However, an isolated tornado is not ruled out near the Gulf Coast.