Deadly severe weather outbreak exits US East Coast after spawning dozens of tornadoes
Tornadoes were reported from Texas to Florida, with three people killed in Louisiana. More than a dozen injuries have been reported.
A multiday severe weather outbreak finally came to an end Thursday after producing dozens of tornadoes across six states all while the country's northern tier saw blizzard conditions.
The severe storms were blamed for at least three deaths in Louisiana. A mother and her 8-year-old son were killed Tuesday night in Caddo Parish after an EF-2 tornado destroyed their home. A third death was reported Wednesday afternoon after what is believed to be an EF-2 twister struck Killona, just west of New Orleans.
3 KILLED IN LOUISIANA AS SEVERE STORMS TEAR ACROSS SOUTH
Significant damage was also reported in the New Orleans area after a tornado touched down late Wednesday afternoon on the southern and eastern sides of the metro, in a similar location to another twister that hit the area in March.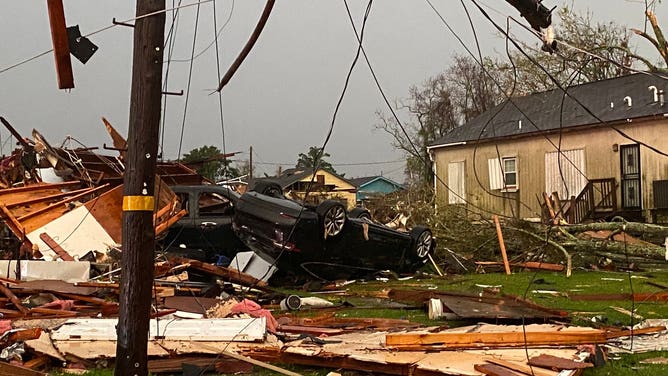 'I'M SUPER SHOOKEN UP': NEW ORLEANS-AREA RESIDENT DESCRIBES MOMENTS TORNADO HIT TOWN
More than 50 tornadoes have been reported since Tuesday from Texas eastward to Louisiana, Mississippi, Alabama, Florida and Georgia, according to the National Weather Service.
As of Thursday evening, more than two dozen of those tornadoes had been confirmed by NWS storm survey teams. Seven of them were rated EF-2 on the Enhanced Fujita Scale, and one twister that injured at least two dozen people in Farmerville, Louisiana, was assigned an EF-3 rating with winds of 140 mph.
HOW METEOROLOGISTS DETERMINE IF A TORNADO IS TO BLAME FOR STORM DAMAGE
Tornado outbreak causes death, destruction across South
Prior to the suspected twister in the New Orleans metro, a tornado touched down late Wednesday morning in New Iberia, Louisiana. It damaged several homes in the Southport subdivision and tore windows out of a medical center across town. The damage forced 60 families in the city limits out of their homes.
TORNADO DAMAGES HOSPITAL, HOMES IN NEW IBERIA, LOUISIANA
Extensive damage was also reported Wednesday in Killona, Louisiana, where officials said in a tweet that deputies were checking homes that were damaged by a tornado. Law enforcement in St. Charles Parish, where Killona is located, confirmed that one woman died and seven others were injured. The NWS has since rated the twister an EF-2 with winds that reached at least 111 mph.
Wednesday morning, a possible tornado damaged a chicken farm in Pelahatchie, Mississippi, according to reports from Rankin County Sheriff Bryan Bailey. Maggie Wade, a news anchor at FOX 40 in Jackson, tweeted a photo showing the extensive damage at the farm.
INCREDIBLE VIDEOS SHOW TORNADOES CARVING DEADLY PATH OF DESTRUCTION ACROSS LOUISIANA, OKLAHOMA AND TEXAS
Farther west in the Magnolia State, damage was reported early Wednesday in Sharkey County after a severe thunderstorm hit the Mason Trailer Park community in Anguilla. FOX 40 in Jackson reported that mobile homes were severely damaged, and debris littered the park following the storm.
Tuesday evening, in addition to the deadly EF-2 twister in Caddo Parish, Louisiana, apparent tornadoes were spotted moving across other portions of that state. Video from Four Forks, Louisiana, showed debris being lofted into the air as a large tornado barreled across Richland Parish. A storm chaser said he watched as the Four Forks tornado destroyed mobile homes.
'I WAS WORRIED': STORM CHASER CAPTURES MASSIVE LOUISIANA TORNADO
Tuesday's twisters injure 5 
Earlier Tuesday morning, more than a million people were covered by a Tornado Warning that included the city of Fort Worth, Texas. Doppler radar had detected a tornado with debris being lofted just north of Fort Worth. A "Shelter in Place" was activated at Dallas-Fort Worth International Airport due to the nearby Tornado Warning. The warning was allowed to expire 30 minutes later.
This tornado caused roof damage and flipped vehicles in the North Richland Hills and Grapevine areas in Tarrant County, Texas, according to reports from North Richland Hills Fire-Rescue and the Grapevine Police Department. Police confirmed that five people were injured in Grapevine, and all victims were taken to a local hospital.
Two EF-1 tornadoes were confirmed to have touched down in the Grapevine area.
The NWS issued a rare "Particularly Dangerous Situation" Tornado Warning for a radar-confirmed tornado near Decatur, Texas, about 7:20 a.m. CST Tuesday. Extensive damage to homes was reported on the south side of Decatur. The NWS later confirmed an EF-2 tornado with 125-mph winds swept through Wise County, where Decatur is located. 
TORNADOES CARVE PATH OF DESTRUCTION ACROSS PARTS OF OKLAHOMA, TEXAS
Another tornado-warned storm that struck Wayne, Oklahoma, at about 5:30 a.m. CST Tuesday, caused significant damage to several homes and barns and left the town without power. No injuries were reported, according to emergency management officials. Schools were closed Tuesday in Wayne because of "no electricity and the high probability of storm damage," the school district said in a Facebook post.
An NWS storm survey later confirmed the damage in the town of Wayne was caused by an EF-2 tornado with winds between 120 and 125 mph, marking the strongest December tornado to strike Oklahoma since another EF-2 twister on Dec. 12, 2015.
Another NWS storm survey determined a tornado that struck the town of Farmerville in Union Parish, Louisiana was an EF-3 with estimated winds around 140 mph. The NWS said the twister was on the ground for about 9 miles in the northern part of Louisiana. There were 14 injuries from the EF-3 tornado, but fortunately, there were no reported fatalities.
The Farmville tornado is the strongest confirmed by the NWS thus far during the multiday outbreak.