3 killed in Louisiana as tornadoes tear across South
One person died in Killona on Wednesday after a tornado with a preliminary rating of EF-2 swept through the area. A mother and child died on Tuesday after a tornado hit Keithville.
Three people were killed in Louisiana this week when a coast-to-coast storm system led to a severe weather outbreak in the South and produced several strong tornadoes.
The severe weather outbreak began early Tuesday morning and produced tornadoes in Texas and Oklahoma. The tornadoes turned deadly when they reached Louisiana on Tuesday night.
St. Charles Parish
St. Charles Parish Sheriff Greg Champagne said one woman was killed and seven others were injured when a tornado with a preliminary rating of EF-2 moved through Killona on Wednesday evening.
"She was outside the residence, so we don't know exactly what happened," he said in a news conference. "All kinds of things could have happened in the debris everywhere. You know, she could have been struck. We don't know for sure."
According to a report from WVUE in New Orleans, the victim was identified as 56-year-old Allison Alexander.
St. Charles Parish posted on Facebook that the tornado touched down near the Nelson Coleman Correctional Facility.
Residents called in damage to the sheriff's office, including flipped mobile homes, downed power lines and roads blocked by debris. Champagne said he saw a house trailer that was blown two lots away to end up in the front yard of another home.
"I know we have tens of structures that are damaged," continued the official. "And so I would say that there's 15 to 20 families, at least, that that that have a need. We're still gathering that information."
President Matthew Jewell of St. Charles Parish declared a state of emergency.
Caddo Parish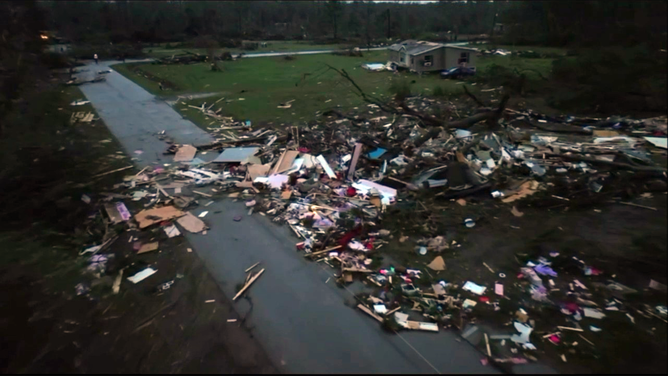 Caddo Parish Homeland Security and Emergency Preparedness Division Commander Robert Jump said most of the damage from the tornado spanned a mile-long path through the Pecan Farms subdivision in Keithville on Tuesday night.
The EF-2 tornado, which the National Weather Service estimates had winds of at least 130 mph, also brought down power lines and trees. He estimates that about 50 to 60 properties have been seriously damaged, and 10 to 15 have been completely destroyed.
In a press release, the Caddo Parish Sheriff's Office in Louisiana said Nikolus Little, 8, was found dead in a wooded area of Pecan Farm where his home was destroyed. Officials said that the body of his mother, who was identified as Yoshiko A. Smith, 30, was found early Wednesday under storm debris a street over from where the family's home was destroyed.
The Louisiana Department of Health told WVUE in New Orleans that they both died of blunt-force trauma.
FOX Weather correspondent Robert Ray said emergency officials have blocked off the area where the boy and his mother were killed, and residents are still not being allowed back.
"This is a town that is not used to dealing with disasters, clearly, and I think they are trying to put the puzzle together this morning," Ray said. "Meanwhile, trying to be sensitive to the fact that a little boy and his mother lost their lives last night to this system."
HOW ARE TORNADOES RATED? THE ENHANCED FUJITA SCALE EXPLAINED
At least two other injured people were taken to a hospital after the Caddo Parish storm, according to the sheriff's report.
Approximately two dozen people were injured in Farmerville, Louisiana, when the severe weather moved through that area as well, according to police. They said they received calls well into the overnight hours for help from those impacted by the severe weather.
WHAT IS THE DIFFERENCE BETWEEN A TORNADO WATCH, TORNADO WARNING AND TORNADO EMERGENCY?
Roads and highways are slowly reopening after the severe weather, but before that occurred, police said residents were driving themselves to hospitals for treatment because EMS workers could not reach those who needed help.
No one has been reported missing as of Wednesday morning.