Deadly tornado rips through heart of New Orleans
A tornado tore through a part of New Orleans Tuesday evening, leaving a trail of damage in its wake.
NEW ORLEANS – Two tornadoes tore through a part of New Orleans Tuesday evening, leaving at least one dead and more than half a neighborhood in ruins.
The largest of the two, rated at least an EF-3 so far by the National Weather Service, was seen as a large, multi-vortex tornado that tracked 11 miles into the Arabi and Lower Ninth Ward area.
WHAT IS A MULTI-VORTEX TORNADO
A 25-year-old man was killed in the storm, according to officials with St. Bernard Parish, and several others were injured.  
"We have widespread damage in St. Bernard Parish," St. Bernard Parish President Guy McInnis told WVUE-TV in New Orleans. "The fire department and sheriff's department are doing search and rescue. All of our people are out there working hard to make sure our community is safe."
McInnis said damage stretched a number of miles across Arabi, from the Mississippi River to the levee on the neighborhood's north end.  One home was blown off its foundation and into the middle of the street.  Damage was estimated at 50-60% of all structures in Arabi.
"There are some houses that are completely gone, completely destroyed, and business places that have been destroyed. Automobiles destroyed," said St. Bernard Parish Vice President Louis Pomes. "A lot of these people, just seven months ago, put new roofs on our houses, and some of them just bought new houses in this area."
Officials urged residents to stay inside even after the tornado warning was lifted as they try to keep the streets clear for search and rescue.  A shelter was set up for residents from damaged homes. 
Bobcats and Earth movers were busy less than 12 hours after the storm ripping up the debris to try and get it out of the street to get residents and commerce moving again.
Gov. John Bel Edwards declared a state of emergency for four parishes that were hit by the storms, including Orleans, St. Bernard, St. Tammany and Jefferson. The Louisiana National Guard has sent 93 Guardsmen to the scene to help with search and rescue, emergency supply distribution and engineering assessments. About 100 other search and rescue personnel from fire departments across the region are combing through the debris.  
Stories of Survival
One resident told WVUE-TV he could hear the tornado and its wind coming through his house. 
"I put my family in the bathroom. All of our ears popped and you just knew," he said, adding he emerged from the bathroom just 10 seconds later to find his neighborhood had been heavily damaged.

Timothy O'Neill, along with his wife and 12-year-old daughter, survived the storm.
"So when the power went out, our daughter came running in," O'Neill said. "And then when she ran in, my wife laid on top of her. I laid on top of both of them, pulled the blanket over us. The wall started shaking, sheetrock fell on us -- it was pretty, pretty scary."
A sergeant with the Gretna Police Department who lives in St. Bernard Parish witnessed the tornado from his house.
"The path was heading toward St. Bernard Parish," said Sgt. Ashton Gibbs. " Decided to look out my window and the tornado -- it was literally in front of my face."
Widespread power outages have been reported on the east side of New Orleans.
The National Weather Service will send out three storm survey teams on Wednesday to investigate three tornadoes in the region from Tuesday. One team will go to the tornado that hit the Arabi and Lower Ninth Ward, a second on the westbank near Gretna and a third on the northshore through LaCombe.
It's another blow from Mother Nature for New Orleans. 
The town of Arabi was devastated by Hurricane Katrina in 2005. Some spots were 10 to 20 feet underwater when the levees broke. 
The community was also still recovering from Hurricane Ida, a Category 4 storm that rolled through just west of Arabi seven months ago.
MORE: Down but not out: Resilient New Orleans residents vow to rebuild after deadly tornado
Michele Gautreaux told FOX Weather she is used to tropical systems, like hurricanes, but this was her first tornado. While she built her home after Katrina, her neighbors lost everything.
"They were an inspiration to me, because I know if they could make it through that … this is nothing compared to Katrina," Gautreaux said.
Strong Tornadoes Rare in New Orleans
Before Tuesday, there were 21 tornadoes reported in Orleans Parish, which includes New Orleans, since 1950. Of those, seven have been rated EF-2 and an eighth rated the parish's lone EF-3 tornado.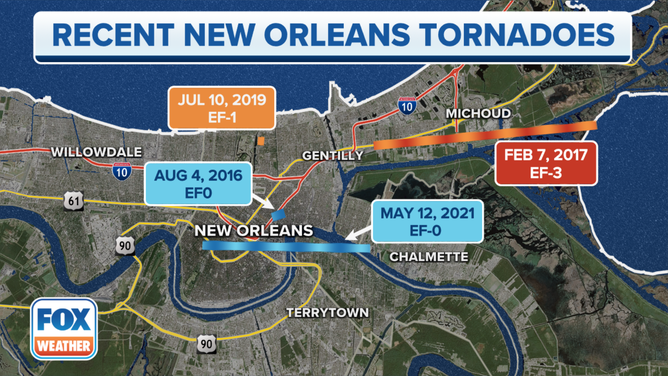 That tornado struck in Feb. 2017 with peak winds of 150 mph, according to the National Weather Service. The storm destroyed 638 homes.
The most recent tornado in the parish before Tuesday was an EF-0 tornado last May.