'It's surreal': How a father and his family rise from the rubble in a tornado-torn Louisiana town
Timothy O'Neill describes his devastated hometown of Arabi, about half of which was lost to an EF-3 tornado on Tuesday
Cars, flipped. Trees, twisted and broken. Homes, gone.
This is what the people of Arabi, Louisiana woke up to on Wednesday morning.
Sitting just a few miles east of downtown New Orleans, Arabi was struck by a wedge tornado on Tuesday night. 
St. Bernard Parish officials estimate about 50-60% of Arabi was damaged during the storm, which killed 1 person and injured several others.
GET THE LATEST STORM AND RECOVERY UPDATES WITH FOX WEATHER
Timothy O'Neill, along with his wife and 12-year-old daughter, survived the storm.
He spoke with FOX Weather's Robert Ray about their experience when the tornado struck.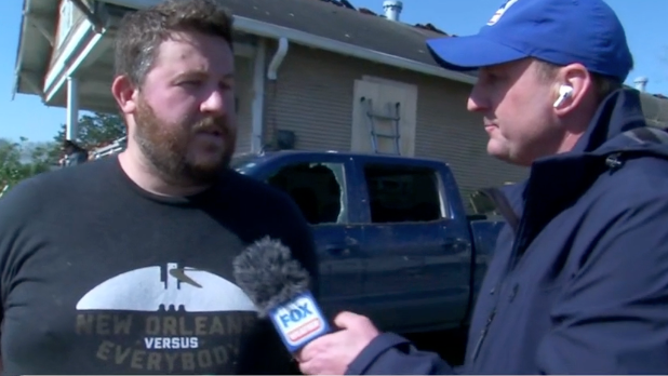 "We don't have a room in our house where we can all go to either, because every room in the house, as you can see, has windows," O'Neill said.
"So when the power went out, our daughter came running in. And then when she ran in, my wife laid on top of her. I laid on top of both of them, pulled the blanket over us. The wall started shaking, sheetrock fell on us -- it was pretty, pretty scary."
The National Weather Service (NWS) said the storm included a multi-vortex tornado, meaning that it had at least one smaller tornado encircling a larger one. 
The NWS also found that the damages in O'Neill's town of Arabi are consistent with those caused by at least an EF-3 tornado. EF-3 tornadoes can have wind speeds of 130-150 mph.

As O'Neill spoke to FOX Weather, neighbors could be seen behind him, sifting through debris — pieces of their lives scattered on the ground like shattered glass.
"There's tons of damage, as you can see," he said. "But you know, everybody was concerned with each other, with the human aspect of it, which is great about this neighborhood."
DOWN BUT NOT OUT: RESILIENT NEW ORLEANS RESIDENTS VOW TO REBUILD AFTER DEADLY TORNADO
"The whole point is that you pull together in our community. You know, neighbors help neighbors, and that's really what gets it done."