We've entered the peak time of year for major Northeast winter storms
Nearly three-quarters of all Northeast snowstorms rated Category 3 or higher on the Northeast Snowfall Impact Scale between 1956 and 2022 occurred from late January through February.
Winter storms can dump heavy snow across the Northeast at any time during the colder months, but there is a distinct peak in the frequency of these major snowstorms beginning in the back half of January.
According to data from NOAA's National Centers for Environmental Information, nearly three-quarters of all Northeast snowstorms rated Category 3 or higher on the Northeast Snowfall Impact Scale, or NESIS, between 1956 and 2022 occurred from late January through February.
There were 36 such storms during that 66-year period, of which 26 happened between Jan. 16 and Feb. 29. An even more pronounced peak was observed in the first 14 days of February, comprising one dozen of the Category 3 or higher winter storms.
WINTER STORMS AREN'T NAMED, BUT THEY ARE RATED ON A 1-TO-5 SCALE
Most recently, a coast-to-coast winter storm at the end of 2022 that tracked from California to Maine between Dec. 12 and 20 was assigned a Category 4 NESIS rating. After bringing 6 to 7 feet of snow to the Sierra Nevada mountain range, blizzard conditions to the northern Plains and a deadly severe weather outbreak to the South, the winter storm left its mark across the Northeast.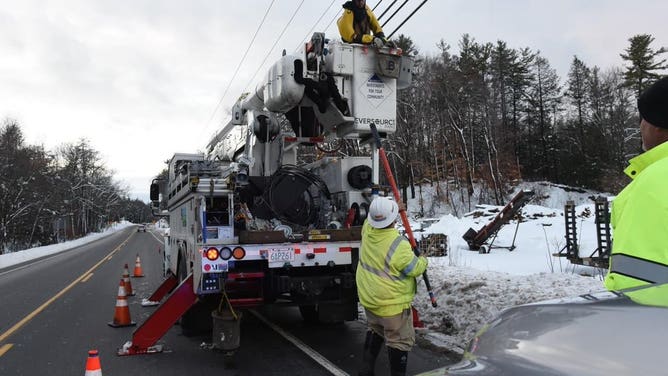 At the height of the storm in the Northeast, more than 130,000 people lost power from West Virginia to Maine due to the combination of heavy snow and freezing rain that resulted in significant ice accretion. The highest snowfall total in the region was found at Pinkham Notch in New Hampshire, where 31 inches of snow piled up. Farther south, Sabillasville in Maryland measured the region's highest ice total with 0.60 inches of accretion.
Prior to that, the last snowstorm to receive at least a Category 3 NESIS rating was one that hit the Northeast from Jan. 30 to Feb. 3, 2021. Central Park recorded 17.4 inches of snow, and much of the New York City tri-state area picked up more than a foot.
High-impact Northeast winter storms receive higher ratings on NESIS scale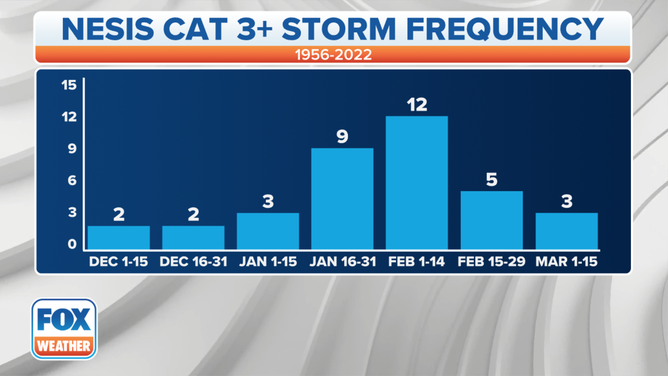 The NESIS scale, developed in 2004 by National Weather Service meteorologist Paul Kocin and retired NWS director Dr. Louis Uccellini, is used to rank the impact of Northeast snowstorms based on snowfall amounts, the area affected by the storm and the population living in its path.
A widespread, heavy-snow event over a highly populated area such as the Boston-to-Washington Interstate 95 corridor will yield a high ranking on the NESIS scale. A Category 1 winter storm is considered "notable," while a Category 5 snowstorm is classified as "extreme."
WHAT MAKES A STORM A NOR'EASTER?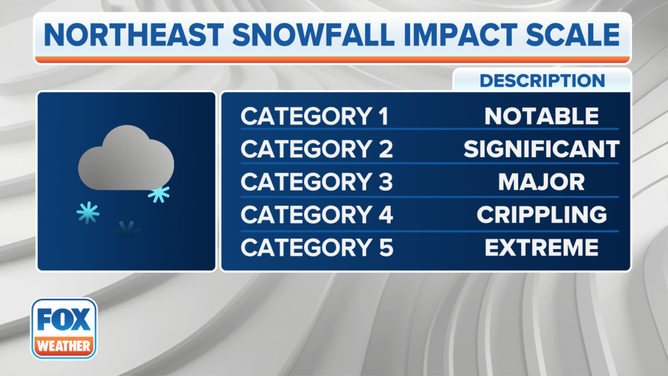 For many cities along the Interstate 95 corridor, the late-January-through-February peak in major Northeast winter storms is highly evident in their average snowfall during that time period.
New York City, Philadelphia and Washington each typically receive more of their seasonal snow between Jan. 16 and Feb. 29 than over the rest of the winter combined. 
HOW ONE POINT ON A MAP CAN DETERMINE WHETHER I-95 CORRIDOR SEES SNOW OR RAIN FROM A NORTHEAST SNOWSTORM
The average snowfall in Central Park over the entire winter is 29.8 inches, but in an average year, more than half of that falls from late January through February. This holds true in Philly and the nation's capital as well.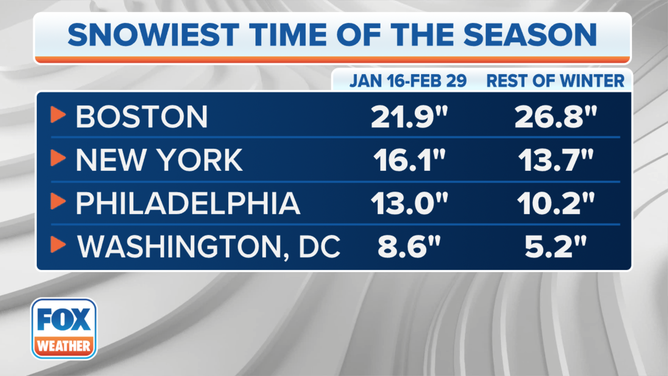 There have been only two Category 5 winter storms on the NESIS scale since 1956. The first was the "Storm of the Century" in March 1993, and that was followed by the "Blizzard of '96" just three years later in January 1996.
Click here to read more about those two winter storms, as well as five other memorable Northeast snowstorms.