Stubborn blizzard enters 3rd day across northern Plains amid coast-to-coast winter storm
Blizzard Warnings stretch into their third day Thursday across South Dakota and western Nebraska with heavy snows reaching east into Minnesota and Wisconsin. Several highways remain closed across the Upper Midwest.
A major winter storm is wreaking havoc on travel across the Upper Midwest and northern Plains, again, on Thursday, dropping feet of snow and producing howling winds that have shut down hundreds of miles of interstates and highways across the region before it moves into the Northeast later this week.
The storm system is the same event that produced deadly tornadoes across the South over the last 48 hours.
Blizzard Warnings and Winter Storm Warnings stretched into their third day from the northern Plains into the Great Lakes, with widespread wind gusts of 40 to 60 mph. The gusty winds caused blowing snow and whiteout conditions.
Winter weather alerts
 
---
Rapid City, South Dakota, has been in the heart of the storm for days. While not quite reaching official blizzard status, the city has experienced more than 56 consecutive hours of snow and wind gusts over 40 mph. Several gusts have been reported over 55 mph with a peak storm gust of 63 mph. 
To reach official blizzard status, gusts must be over 35 mph and wind-driven snow has to reduce visibility down to a quarter-mile or less for at least three hours.
All departing flights from Rapid City's airport were canceled due to the weather.
WATCH: CRIPPLING BLIZZARD BRINGS WHITEOUT CONDITIONS AS MAJOR WINTER STORM BARRELS THROUGH NORTHERN PLAINS
"This is a 'we are not kidding' kind of storm," South Dakota public safety officials tweeted ahead of the storm.
They weren't kidding either. As much as 3 feet of snow has fallen in western South Dakota, 2 feet in Nebraska and Wyoming and a foot in Minnesota and North Dakota.

Strong winds are blowing snow that has already fallen, producing large snow drifts and whiteout conditions and making travel extremely difficult.
"What's really dangerous with travel is if you have a blizzard ongoing for 24 to 48 hours, if you get stuck on a roadway in your car with near-zero visibility, no help is going to be coming your way," FOX Weather Winter Storm Specialist Tom Niziol said. "The temperatures on the backside of this system are dropping into the single digits, and wind chills below zero mean very serious conditions, and it can turn into a catastrophe."
No Travel Advisories remained posted on almost all secondary highways throughout central and western South Dakota, according to the state's Department of Transportation. Several highways in the south-central portion of South Dakota are currently physically impassable "due to widespread deep snow and drifts," including Interstate 90.
Tracking Snowfall Totals
 
---
"We've had countless vehicles become stuck and stranded on secondary state highways in the motorist's attempt to avoid an interstate closure," said Craig Smith, SDDOT director of operations. "Stranded vehicles create personal risk for the motorist and extreme hazards for snowplow operators. Ultimately, as DOT personnel assist with removing stranded vehicles, plow operations are delayed." 
In North Dakota, roughly the entire western 2/3rds of the state's highways remained closed Thursday morning, including a long stretch of Interstate 94. A similar story was found Thursday in the Nebraska Panhandle including the closure of Interstate 80.
"Most of western Nebraska and some of southwest Nebraska is now IMPASSABLE!" Nebraska State Patrol troopers tweeted Tuesday morning near the start of the blizzard. "Roads are closing as blizzard conditions worsen."
Heavy snows were moving east Thursday, dumping several additional inches across much of Minnesota, Wisconsin and Michigan's Upper Peninsula. A foot of snow had already fallen in some places by Thursday morning.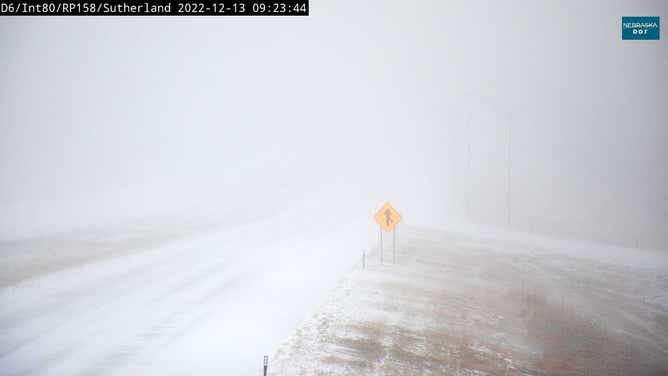 Additional accumulations should be generally between 4-8 inches, with higher amounts of 8-12 inches or more possible in the Red River Valley and in the Arrowhead of Minnesota, where snowfall rates will reach 1-2 inches per hour, according to the FOX Forecast Center. Strong, gusty winds upwards of 50 mph will lead to blizzard conditions for northeastern Minnesota, while blowing snow will remain a concern over the High Plains even after the snow has stopped.
Forecast Snow
 
---
Overall, the snow will become lighter Thursday afternoon, with brief embedded bouts of heavy snow continuing across the eastern Dakotas, Minnesota, northern Iowa, Wisconsin and Michigan.
Conditions will relax on Friday as the storm system weakens to only scattered snow showers, but temperatures will remain very cold, with teens and 20s for the northern high Plains amid wind chills dipping below zero, and 20s and 30s elsewhere in the northern and central Plains and Upper Midwest.
Wintry weather moves into Northeast later this week
As a final stop on its cross-country tour, the winter storm will bring impactful wintry weather from the central Appalachians to the interior Northeast on Thursday and last through Saturday.
A brief wintry mix is expected for the I-95 corridor before it becomes primarily a rain event in the big cities.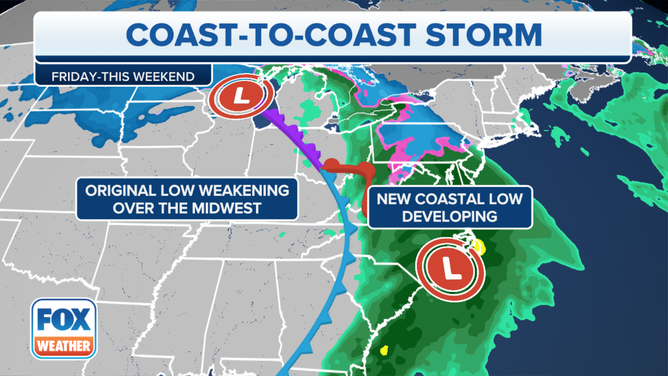 IMPACTFUL ICE, THEN HEAVY SNOW AHEAD FOR NORTHEAST AS COAST-TO-COAST WINTER STORM BIDS ADIEU
The storm system will develop a new area of low pressure that will slide just south of New England and create winter weather. Ice Storm Warnings are in effect where the most disruptive ice is expected, from the Blue Ridge and Allegheny Mountains of Virginia and West Virginia northward to western parts of central Pennsylvania.
DRIVING IN LIGHT SNOW IS JUST AS DANGEROUS AS A MAJOR SNOWSTORM, RESEARCHERS SAY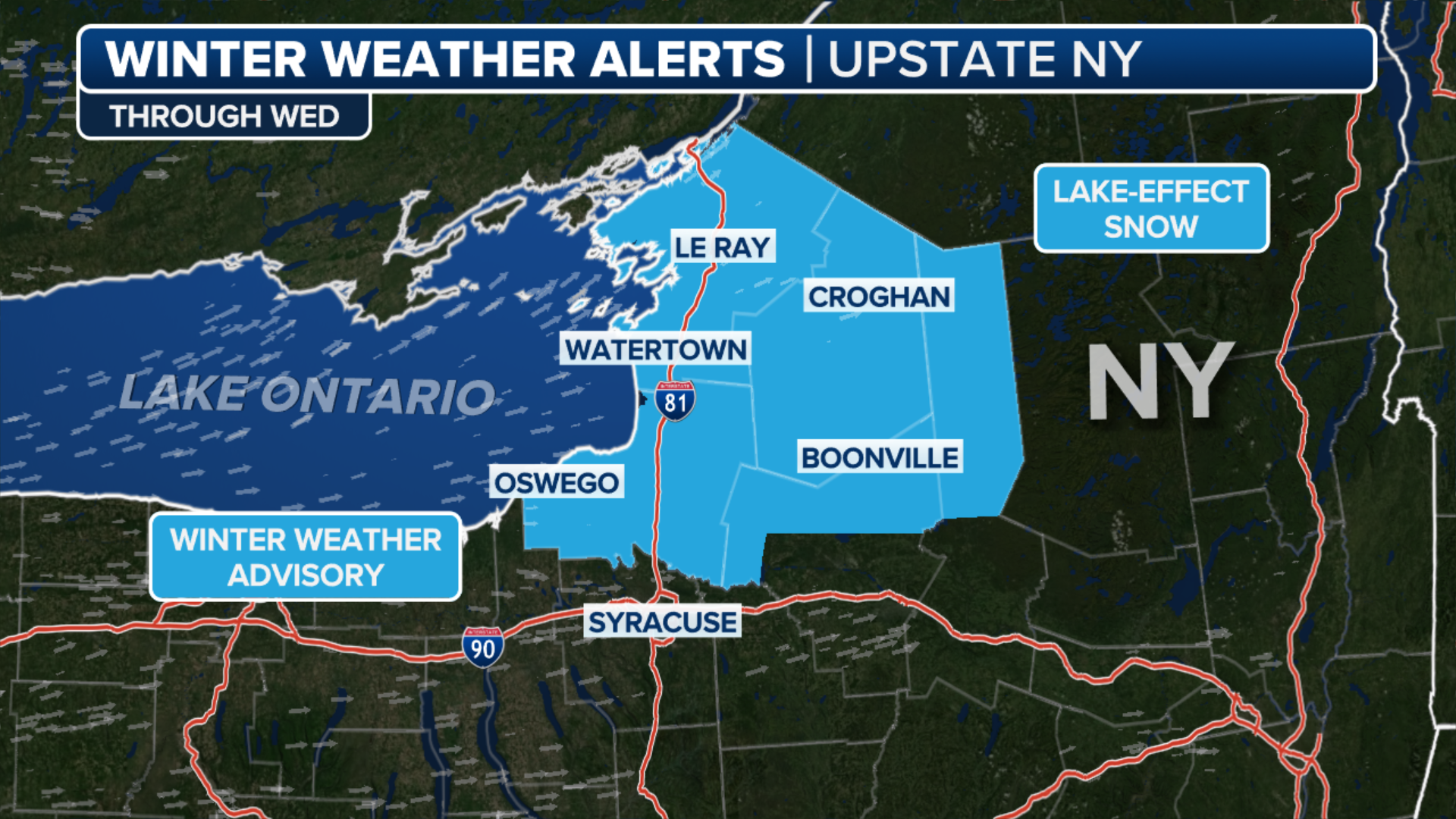 Northeast Winter Alerts
 
---
Winter Storm Warnings are posted for the rest of central and northeastern Pennsylvania to central and upstate New York and portions of northern New England, where mainly snow is expected.
Winter Weather Advisories have been issued for parts of the Interstate 95 corridor, including Philadelphia, Baltimore and Washington, where a brief wintry mix of snow, sleet and freezing rain could create slick travel Thursday morning before the precipitation changes over to plain rain in the afternoon.
HOW ONE POINT ON A MAP CAN MAKE OR BREAK A NORTHEAST SNOWSTORM FORECAST
The FOX Forecast Center said the snow will overspread much of central and northeastern Pennsylvania and upstate New York on Thursday afternoon, then expand into Vermont, New Hampshire and western Massachusetts on Thursday night. 
Snow will continue all day Friday while also spreading into Maine before it finally winds down on Saturday.